Mummy's Nutty Saffron Rice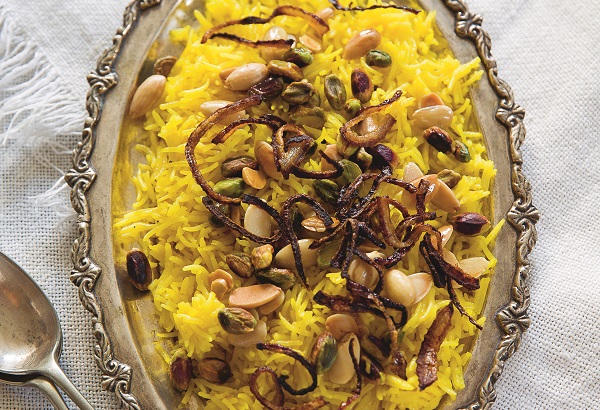 If you're looking for a spectacular side dish, perfect for any dinner, look no further than this delicious Saffron Rice. It's easier to make than you might think…but you don't have to let anyone know that. We saw this dish in Summers Under The Tamarind Tree: Recipes and memories from Pakistan, the World Spice Cookbook Club featured selection for April 2017 and knew that we had to get permission from author Sumayya Usmani to share it with everyone.
From the Author: " I was never fond of raisins and rice as a child, but as my taste buds matured, I realized that my mother's Persian-influenced recipe is a spectacular yet simple midweek rice dish, a good accompaniment…The saffron is infused in the water that cooks the rice, much like a pulao, and it gives the final dish a rather elegant biryani look."
Ingredients
For the nut and sultana mix
1/2 tablespoon ghee, for frying
handful each of shelled unsalted pistachios, skinned whole almonds and sultanas (golden raisins)
4 tablespoons vegetable oil
1 red onion, cut into thin rings
Instructions
Soak the saffron in a bowl of hot water for 30 minutes. Wash the rice, rinse and soak in another bowl of cold water for at least 30 minutes, then drain.
To make the garnish for the rice, start by heating the ghee in a small frying pan over a medium heat. Add the nuts and allow to brown lightly, then add the sultanas and heat through until puffy. Set aside.
Then heat the oil in a shallow frying pan over a medium heat. When hot, add the onions and fry for 7 - 8 minutes until medium brown. Remove and drain on paper towels, then set aside.
For the rice, heat about 2 tablespoons vegetable oil in a saucepan with a lid over a medium heat. When hot, add all the whole spices and fry for 30 seconds, or until they start to splutter. Add 800ml/28 fl oz/3-1/2 cups water to the oil and spices, bring to a boil. Add the saffron and drained rice. Make sure the rice is well covered by the water, adding more if necessary. The water should turn a light yellow.
Reduce the heat to medium-low. After about 4 - 5 minutes, check to see if the rice is cooked. If not, replace the lid and cook for a further 2 - 3 minutes until done. Drain the rice and leave in the sieve for 2 - 3 minutes until all the moisture has evaporated and the rice is light and fluffy.
Transfer to a platter and serve, garnished with the nuts, raisins and browned onions.
© 2023 World Spice Merchants https://www.worldspice.com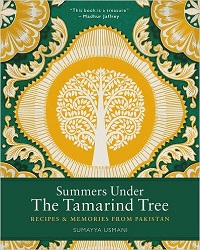 Recipes and images reprinted from Summers Under The Tamarind Tree: Recipes and memories from Pakistan. Copyright © 2016 by Sumayya Usmani. Photographs copyright © 2016 by Joanna Yee. Published by Frances Lincoln, an imprint of The Quarto Group."
Summers Under The Tamarind Tree is the April 2017 selection for the World Spice Cookbook Club. Summers Under The Tamarind Tree is currently available for purchase online at www.amazon.com.