Rooster Ramen with Black Garlic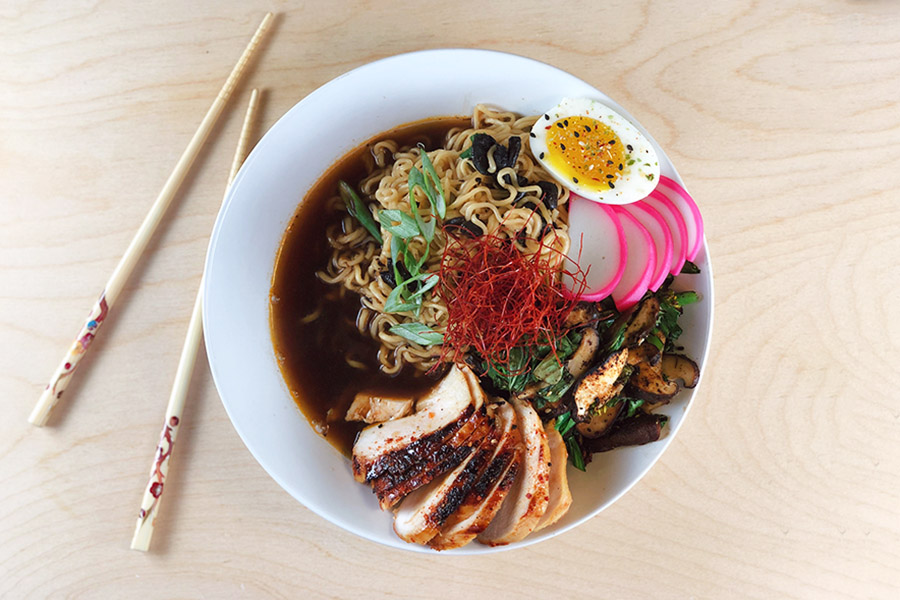 We've come a long way from the dorm room hot plate and elevated a pack of instant ramen to new heights with our Ramen Seasoning Kit. It includes something to satisfy every flavor craving, and you can mix and match the flavors to make your own bowl just the way you like it. We pulled out all the stops, and all the garnishes, to make this bowl, but you can also use the seasonings individually to season any protein or broth.
Ingredients
For the Chicken
1 tablespoon Rooster Spice
1 teaspoon sesame oil
1 tablespoon soy sauce
1 lb boneless skinless chicken breast
1 tablespoon vegetable oil
For the Ramen
4 cloves black garlic, chopped
1 package instant ramen
1 teaspoon vegetable oil
1 cup shitake mushrooms, sliced
1 cup choy sum or bok choy, rough chopped
1 teaspoon Bulgogi Spice
For the Garnishes
Instructions
For the Chicken
In a medium sized bowl, whisk together the Rooster Spice, sesame oil and soy sauce. Add the raw chicken breast and turn to coat both sides with the marinade. If time allows, let the chicken marinate a few hours or even overnight. Heat 1 tablespoon of vegetable oil in a large skillet over medium-high heat. Once the skillet is hot, place marinated chicken breasts in the skillet and cook for 4 to 5 minutes on each side, until golden brown and cooked through. Remove from heat and allow the meat to rest a few minutes. Slice across the grain and set aside to top the ramen bowl.
For the Ramen
Follow your ramen packet cooking instructions and add chopped black garlic to the broth. Simmer broth until infused with black garlic and it changes color.
Meanwhile, in a sauté pan add a teaspoon of vegetable oil. When it's hot, quickly sauté the mushrooms and bok choy until wilted. Toss the veggies in Bulgogi Spice and set aside.
Assembly
Using tongs make a nice mound of noodles in a large soup bowl. Place your sliced chicken in a neat pile, then your veggies. Place the thinly sliced fish cake shingled on on the side.
Cut your soft boiled egg and season it with Osaka Seasoned Salt. Finally, add a pinch of chile threads and scallions or chives to finish. Enjoy!
Notes
The sky is the limit with your protein, vegetable and garnish combinations. Ramen is awesome because each person can top their soup to their liking. If you want to keep it simple and just add our ramen kit garnishes to your favorite packet it will still be bright in flavor and texture.

© 2023 World Spice Merchants https://www.worldspice.com