Warm Bulgogi Soba Noodle Salad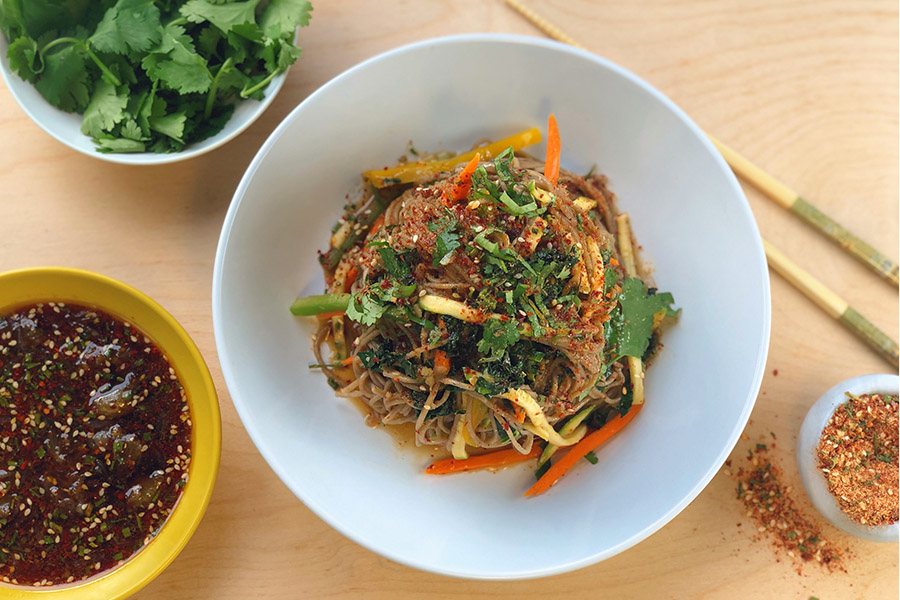 The first time I made this dish I slurped up most the noodles before I even sat down. I love a dish that's bold and can evolve with the seasons, adding in your whichever vegetables show up at the market. Here we kept the vegetables raw for crunch and seasoned them with our Bulgogi Spice. The bright flavor of the bulgogi spice cuts through the nutty flavor of the buckwheat noodles for the perfect bite. The Korean chile flakes brings enough heat to the dish without overpowering it. This salad is perfect for lunch, as a side or add some protein and make it an entree.
Ingredients
For the Sauce
1/3 cup agave
2 teaspoons ginger root, grated
3 tablespoons soy sauce
3 tablespoons rice wine vinegar
1 teaspoon minced garlic
2 tablespoons lime juice
1 tablespoon Bulgogi Spice
1 tablespoon vegetable oil
1/2 teaspoon salt
For the Noodles
2 bundles soba noodles, cooked according to package instructions
1/2 cup carrot, julienned
1/2 cup zucchini, julienned
1/4 cup sweet bell peppers, julienned
1/4 cup chopped kale
Cilantro, for garnish
Bulgogi Spice, for garnish
Instructions
For the Sauce
In a small bowl whisk together ingredients until combined. Set aside.
For the Noodles
Once you've cooked and drained noodles as instructed, add the hot noodles back to the pan.
Add half of the sauce and stir to combine. Reserve the rest of the sauce for dipping. Add the vegetables to the pan and toss to coat.
Serve the noodles in a deep bowl and garnish with cilantro and Bulgogi Spice to taste.
Dip noodles in extra sauce as preferred.
© 2023 World Spice Merchants https://www.worldspice.com