Bulgogi Caramel Corn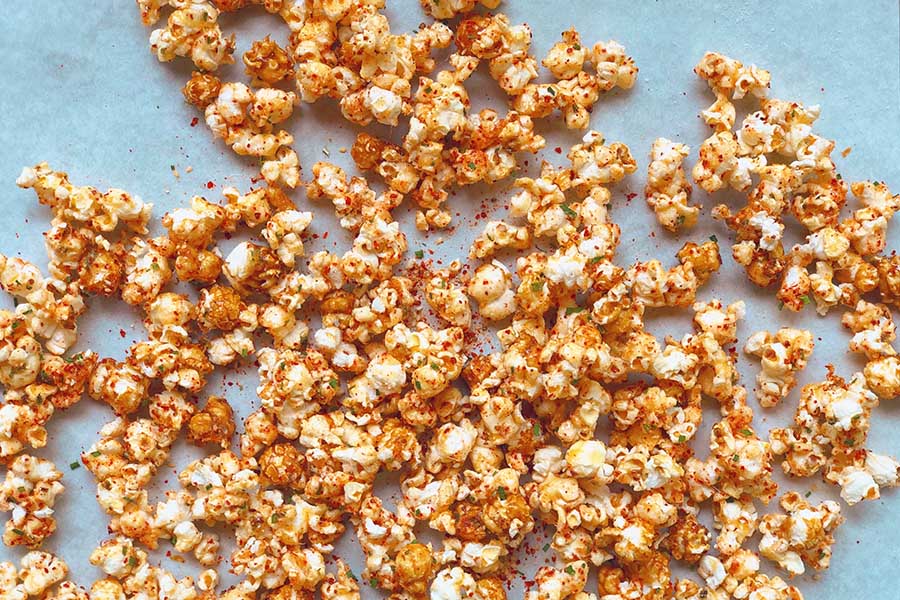 Celebrate in style! This treat is a great way to add festive flavor to the Lunar New Year party or your next movie night. Heat meets sweet in our Bulgogi Spice, and paired with the salty crunch of caramel corn, the result is sensational. Making caramel corn at home is a fun kitchen activity for young and old and once you see how easy it is you can make it any time and season it with all your favorite flavors. Make a little extra and bag some up for a friend.
Instructions
Put the popcorn in a large heat proof bowl and have a rubber spatula handy.
Prepare a sheet tray with a Silpat or parchment paper and set aside.
Add the sugar and water to a small sauce pan over medium high heat. Resist the urge to stir! In making this caramel, stirring may cause the sugar to crystalize and the goal is liquid caramel.
Watch and wait patiently. The mixture will start to boil and become a clear syrupy liquid. After 5-8 minutes the syrup will begin to change color. The goal is a light caramel color approximately, achieved at about 350 degrees. Once the golden color is achieved, work quickly and carefully to drizzle the caramel over the popcorn in the bowl. An extra pair of hands is useful here. As you are drizzling the caramel, gently stir with the rubber spatula to coat the popcorn evenly. Sprinkle on the Bulgogi Spice and salt before the caramel has a chance to harden.
Transfer the caramel corn to the prepared sheet tray and spread evenly. Allow to cool and enjoy. Store caramel corn in an air tight container at room temperature.
Notes
A candy thermometer is handy for this recipe but not necessary. While making the caramel the sugar will go from crystal clear to a light golden color. The key to this recipe is working quickly because sugar burns easily and hardens quickly. Having everything ready and handy makes for safe and successful handling. 
Avoid letting the finished caramel corn be in a humid environment or it will become tacky. 
© 2023 World Spice Merchants https://www.worldspice.com