Fig Ras el Hanout Clafoutis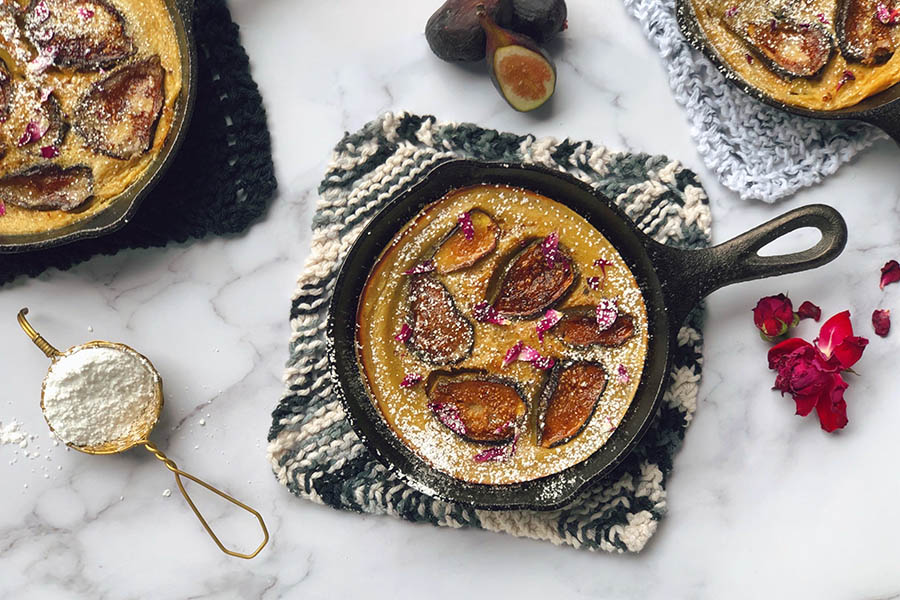 The spicy aromas wafting out of our storefront next to Pike Place Market bring in all sorts of curious noses off the street. There's no one spice that exactly mimics that unique scent, but Ras el Hanout is probably the next best thing! Our signature recipe for this classic Middle Eastern blend has twenty four ingredients, making it easily our most complex spice blend. Ras el Hanout is traditionally used more in savory dishes, but its medley of spices are sweet, aromatic and perfect for baking.
A beautiful in-season crop of figs, found in the market next door, were the inspiration for this delectable creation! Clafoutis are an overlooked brunch gem, easier to make than pancakes or waffles with a custardy texture similar to crepes. Here, we caramelized the figs in Ras el Hanout and baked them into the custard. The resulting Clafoutis were rich, indulgent, and perfect for a decadent weekend morning.
Ingredients
1-1/2 cups half and half
2 teaspoons ground Ras el Hanout
1/3 cup plus 2 tablespoons granulated sugar
1 vanilla bean, halved and scraped
2 eggs plus 2 egg yolks
1/2 cup of all purpose flour
1/2 teaspoon Kosher salt
2 tablespoons olive oil
8 figs, sliced
Non stick spray
Powdered sugar for sprinkling
Rose petals for sprinkling
Instructions
Preheat the oven to 450 degrees.
In a blender add the half and half, 1-1/2 half teaspoons of Ras el Hanout, 1/3 cup of sugar, vanilla and eggs.
Blend until smooth. Next add the flour and salt and blend until the batter is smooth. Set aside to rest.
In a small bowl add the olive oil, sliced figs, half teaspoon Ras El Hanout, two tablespoons of sugar and give them a toss. In a nonstick pan on medium-high heat, sear one side of the figs until caramelized and fragrant.
Coat a cast iron pan or baking dish with non stick spray and pour your batter in. Lay the caramelized figs on top of the batter, presentation side up.
Bake for 15 minutes or until edges are puffed and golden. The center should be set but soft. Let the clafouti cool and sprinkle powdered sugar and rose petals as a garnish. Cut into triangles and serve warm. Store in the fridge up to three days.
Notes
Feel free to garnish clafoutis with honey, yogurt or ice cream. 
© 2023 World Spice Merchants https://www.worldspice.com