Mediterranean Chicken Salad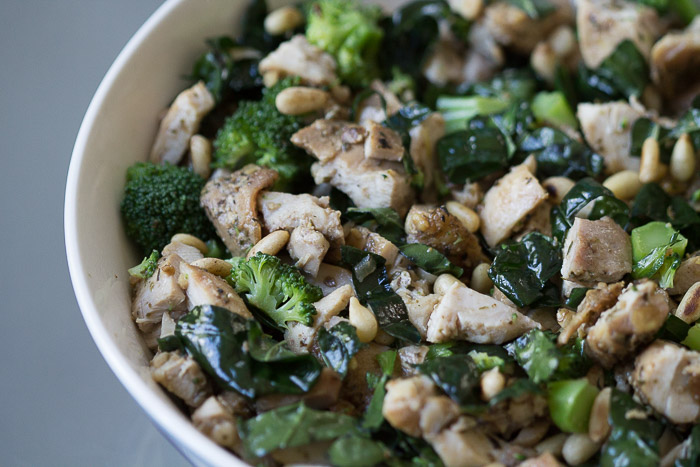 We're crazy in love with our Cascade Mushroom Mix, featured in this Mediterranean chicken salad with just the right embellishments. We put the mushroom mix in the marinade, where the umami flavor magic made the meat meatier. The depth of flavor was unbelievable, so we created two more versions to enjoy!

For the Mediterranean chicken salad, we paired the mushroom mix with Herbes de Provence, rounding out the salad with kale, broccoli and pine nuts. After you've tried this recipe, check out our Asian and Middle Eastern versions for more mushroom marinade goodness!
Ingredients
For the Marinated Chicken
For the Chicken Salad
2 cups Tuscan kale, chopped
1 cup broccoli florets, lightly steamed and chopped
Squeeze of lemon
1/4 cup pine nuts, toasted
Instructions
For the Marinaded Chicken
Combine the oil, vinegar and spices in a heavy duty 1 gallon ziplock bag. Reserve two tablespoons of the marinade for later use.
Add the chicken thighs and marinate 1 hour or longer.
Preheat the oven to 350 degrees.
Transfer the chicken and marinade to a glass baking dish and bake, uncovered for 30-40 minutes, until it is cooked through.
For the Chicken Salad
When the chicken is cool enough to handle, cut the chicken into bite sized pieces and transfer to a large bowl.
Add the kale and broccoli and squeeze of lemon on the vegetables, then the reserved marinade. Stir to combine.
Garnish with toasted pine nuts
© 2023 World Spice Merchants https://www.worldspice.com