Pear Arugula Salad With Juniper Vinaigrette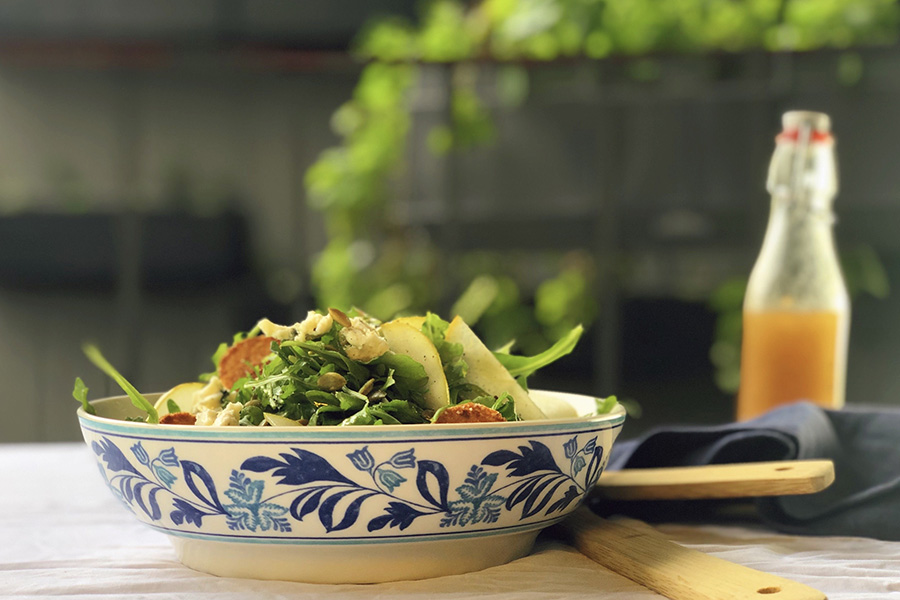 It pays to eat healthy, but it can be easy to fall into a rut. When we fall back on our tried and true recipes, the familiar can begin to feel a bit boring. Changing one ingredient while making a classic combination is an easy way to try something new and not get bored. In this recipe, we added one new spice to one of our favorite go-to salads, and it totally transformed the dish.
In this pear and arugula salad, we used juniper in the vinaigrette to add new dimensions to the dish. Vinaigrettes are wonderful for showcasing both bold and subtle flavors, making them a simple and effective way to add spices to a dish. Here, the piney taste of the juniper combines perfectly with the floral sweetness of the honey for a delicious forest vinaigrette. We kept the bold flavors going with peppery arugula, sweet pears and buttery gorgonzola for a simple salad that's anything but basic.
Ingredients
Juniper Vinaigrette
4 juniper berries crushed
1 1/2 teaspoon kosher salt
1/2 teaspoon Vietnamese pepper ground
1/3 cup Champagne vinegar
1 tablespoon honey
3/4 cup vegetable oil
Salad
4 cups baby arugula
1 ounce crumbled Gorgonzola or blue cheese
1 small pear thinly sliced
1/4 cup croutons
2 tablespoons toasted pepitas
Instructions
Vinaigrette
Using a mortar and pestle or the bottom of a cast iron pan, crush your juniper berries until fine and crumbly. Combine the vinaigrette ingredients in a sealed container with tight lid. Shake the jar aggressively for a few seconds until the vinaigrette looks emulsified. Dress your salad to taste and store the rest in the fridge. Over the week the dressing will separate. Shake well before each use.
Salad
In a large bowl add the arugula, cheese, sliced pears. Dress the salad right before serving and give the salad a quick toss. Sprinkle in the croutons and pepitas last to maintain their crunch.
© 2023 World Spice Merchants https://www.worldspice.com