Juniper Duck Breast Pastrami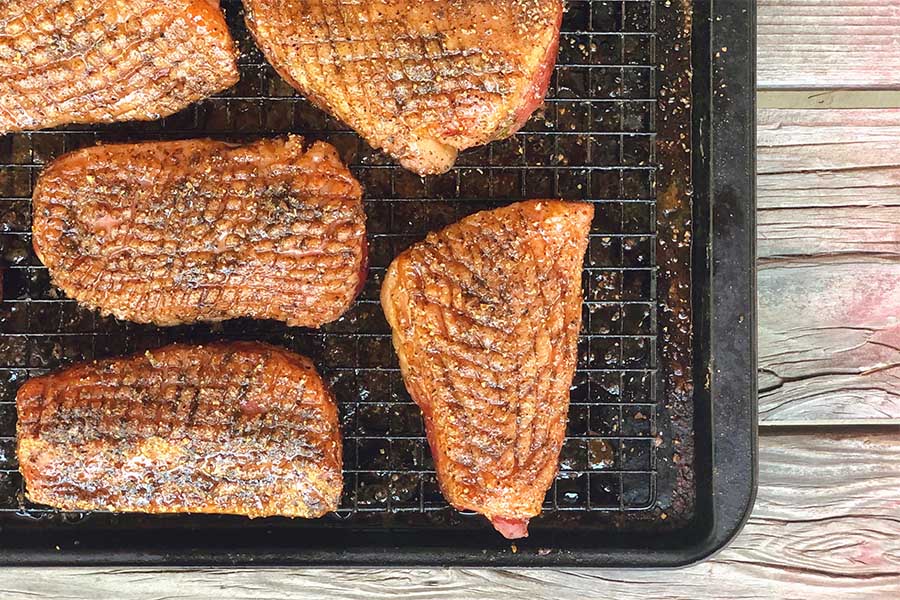 Make your own pastrami! Easy? Yes. Impressive? Yes. Delicious? YES!!!! This pastrami will bring Pacific Northwest flavors to your charcuterie board and guests clamoring for more. Juniper Berries impart sweet, piney flavors with citrus top notes that play perfectly with coriander. The smoky layers on the crust hint at a campfire flavored with honey and Alderwood Smoked Salt. This pastrami has turned many into duck lovers and will be the first to go on your smorgasbord.
Ingredients
For the Cure
For the Rub
Instructions
For easy scoring of the skin, put duck breasts in the freezer for an hour before you begin. Then, with a sharp knife, cut parallel lines 1/4 inch apart, across the surface of the skin. Be careful not to cut into the meat. Once lines are scored in one direction, turn duck breasts to score lines in the other direction. Your goal is to have a crosshatch pattern of tiny squares cut across the skin.
Rub duck breast on both sides with cure, and allow to cure in refrigerator for 3 days on a rack placed over a sheet pan. Leave uncovered to allow air to circulate around the duck breast. As it cures, the liquid from the duck breast will drain into the pan.
After 3 days, rinse the duck breast and pat dry. Rub in the dry rub mix, then brush the skin with smoked honey. Place the duck breast skin side up on a sheet pan with a baking rack.
Preheat the oven to 300 degrees and cook for 25 minutes, until the internal temperature reaches 138 degrees. The center should still be pink. Allow the breast to cool completely and thinly slice on a bias.
© 2023 World Spice Merchants https://www.worldspice.com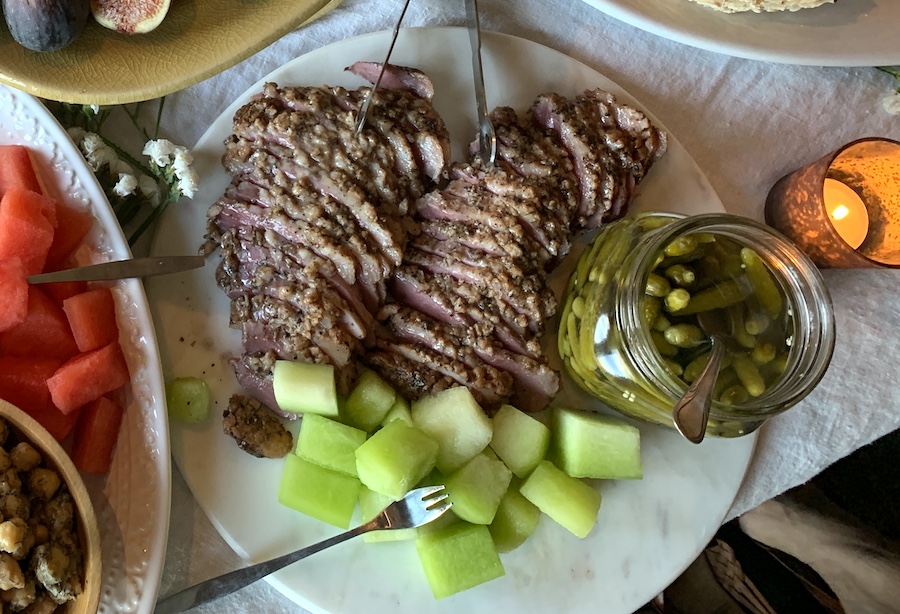 For easy basting of the smoked honey, warm it up slightly before brushing on.
Use for charcuterie plates, sandwiches and pasta dishes. Tasty cold.