Holiday Pepper Biscotti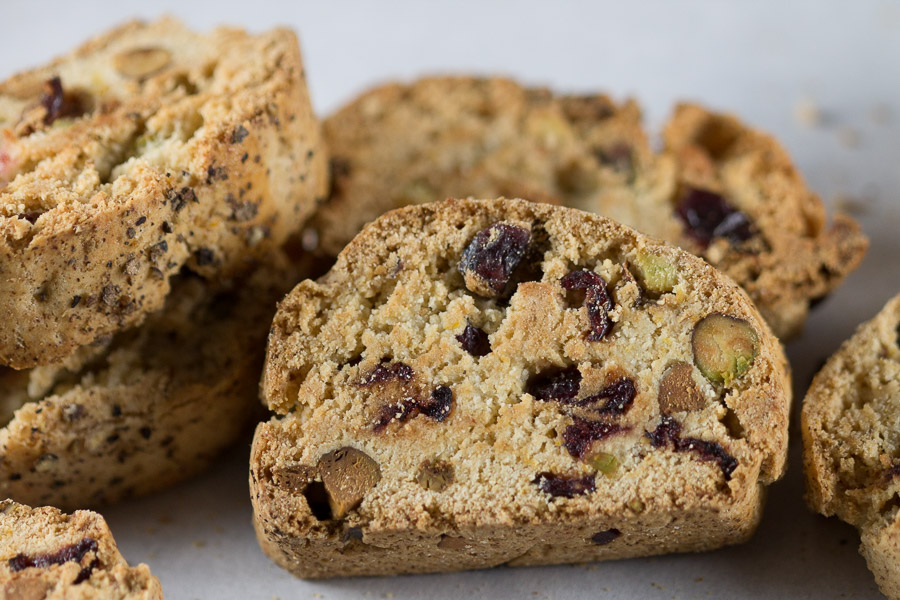 These crunchy treats were a clear favorite from our holiday baking sessions this year. Boasting festive pops of cranberry and pistachio, these little gems get an extra dose of pizzazz from our Holiday Pepper Blend in the crust. Not too peppery or too sweet, the flavors are delightfully complex. They are easy to make, keep well and make a wonderful complement to coffee, tea, toddies or egg nog. Enjoy!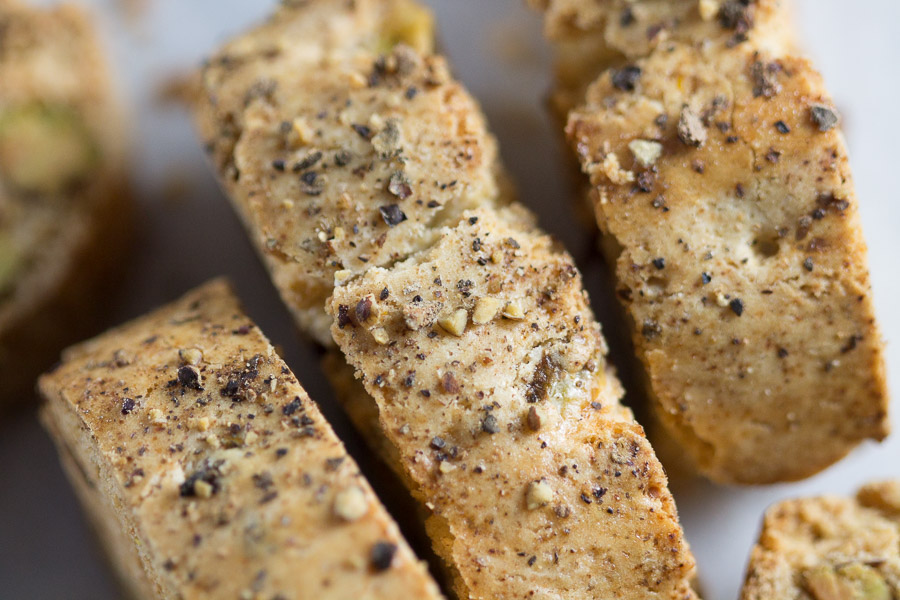 Ingredients
3 cups all-purpose flour
2 1/2 teaspoons baking powder
1/2 teaspoon kosher salt
1/2 cup unsalted butter, at room temperature
1 cup sugar
3 large eggs
zest of one medium orange
1/2 cup dried cranberries
3/4 cup shelled roasted pistachios, coarsely chopped
1 egg white, lightly beaten
2 teaspoons coarsely ground Holiday Pepper Blend
Instructions
Preheat oven to 350° F.
Combine the flour, baking powder, and salt in a medium bowl and set aside. To make the Holiday Pepper Blend, combine the black peppercorns, white peppercorns and allspice in a small bowl. After removing the amount needed for the biscotti, the rest can be stored in a jar. This blend will keep for at least 6 months.
In the bowl of an electric mixer, beat the butter and sugar together until smooth. Continue beating and add the eggs, one at a time, until incorporated. Mix in the orange zest.
Add the flour mixture one cup at a time, beating on low until it is just incorporated. Fold in the cranberries and pistachios.
Remove the dough from the mixer bowl and divide in half. Form each half into a log approximately 2" across. Lay the logs on a parchment lined baking sheet and flatten slightly so that they are domed on top and flat on the bottom- like a biscotti!
Brush each log with egg white and sprinkle liberally with the coarse ground Holiday Pepper Blend.
Bake 15-20 minutes until the logs are just golden and firm to the touch. Remove the pan from the oven and allow to cool 20-30 minutes.
Reduce oven temperature to 300° F.
Using a thin-bladed and/or serrated knife, cut the logs into ½-inch-thick slices. They tend to be crumbly so let the weight of the knife do some of the work. Draw the blade slowly and evenly, holding the log together as you cut.
Arrange the biscotti in a single layer on the baking sheet and return them to the oven. Bake an additional 10-12 minutes per side until they are crisp and dry.
Get them while they're hot or store in an airtight container.
© 2023 World Spice Merchants https://www.worldspice.com
This recipe from RealSimple was the inspiration for these goodies. For more holiday treats, check out all our desert and pastry recipes.