Kala Masala Skillet Cornbread
This savory cornbread knocked our collective socks off at first bite. Our Kala Masala spice blend is a complex one, and that complexity of flavor transfers easily to the skillet cornbread.  There's a tiny bit of heat from some guajillo chiles in the blend that is balanced perfectly by a healthy dose of toasted coconut for sweetness. Try it with a fish, lentil or vegetable soup for maximum enjoyment!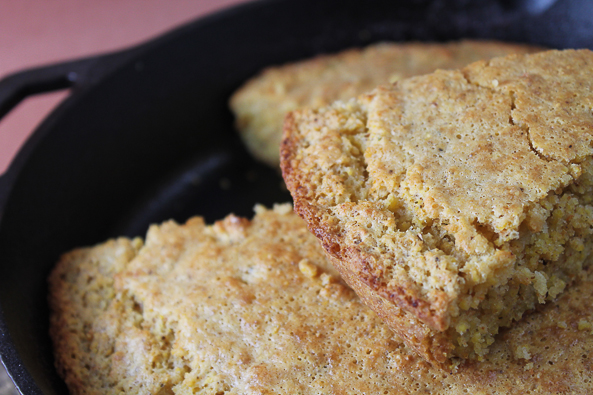 Ingredients
1 cup unbleached all-purpose flour
1 cup stone-ground yellow cornmeal
1 tablespoon baking powder
¼ teaspoon Murray River flake salt
2 tablespoons ground Kala Masala
¼ teaspoon baking soda
1¼ cups buttermilk
1 egg
¼ cup butter, melted
2 tablespoons butter, bacon fat or vegetable oil
Instructions
Preheat the oven to 375 degrees. Place a 10-inch cast iron skillet in the oven to get hot while you make the batter.
In a medium bowl, whisk together the flour, cornmeal, salt, baking powder, baking soda and Kala Masala. In a small bowl, whisk the buttermilk, egg and the ¼ cup melted butter together.
Take the hot cast iron skillet out of the oven, and add in the butter. Swirl it around until the butter starts to melt, being sure to tilt the pan to coat the sides and bottom evenly.
Pour the wet ingredients in the dry ingredients and mix quickly, just until moistened. Do not overmix. Scrape the batter into the prepared pan and bake the cornbread until it's golden brown, about 20 minutes. Take the pan out of the oven, and try to let it cool for a few minutes before you dive in.
© 2022 World Spice Merchants https://www.worldspice.com