We've all had Chicken Tikka Masala but why not do grilled lamb skewers instead? We used our Tikka Masala blend in the marinade and in making the sauce. This dish is full of flavor…and disappears quickly.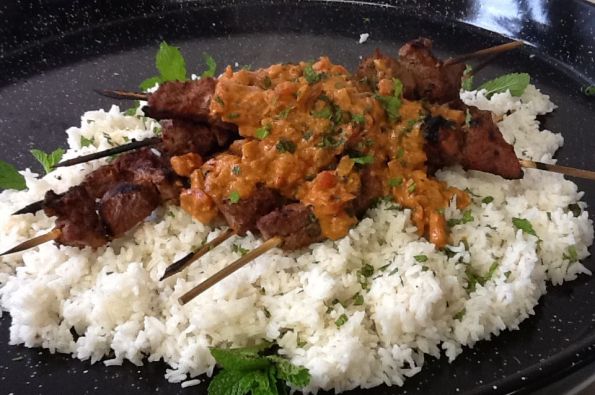 Tikka Masala Lamb Skewers
Ingredients
For Marinade:

3 tablespoons ground Tikka Masala
1 teaspoon Murray River flake salt
1-1/2 lbs. lamb leg sirloin, trimmed and cut into 1-inch cubes
1 cup Greek yogurt (not non-fat)

For Sauce

3 tablespoons olive oil
1 large onion, chopped
5 cloves garlic, minced
1 tablespoon freshly grated ginger
1 tablespoon ground Tikka Masala
2 teaspoons Murray River flake salt
2 teaspoons Aleppo pepper
1 (28 oz.) can diced tomatoes
1 cup coconut milk
Fresh mint or cilantro leaves for garnish
Instructions
In a large bowl, combine lamb pieces, Tikka Masala, salt and yogurt together, mixing well. Transfer to a large resealable bag, squeezing out the excess air and seal.
Put the bag in a container (in case it leaks) in your refrigerator for at least an hour. Give it a 'squish' every once in a while to make sure that every piece of the lamb is coated.
If you're going to grill the lamb, get your barbecue grill set up and ready to go. You can also pan-sear these, or use a grill pan to cook the lamb.
Heat the olive oil in a large saute pan over medium heat. When the oil is hot, add the chopped onion and saute until slightly brown. Then add the garlic, ginger, and salt. Stir occasionally, cooking until the onions are cooked through. Now add the Aleppo Pepper and Tikka Masala, stirring several times to thoroughly mix in. Mix in the canned tomatoes and cook, stirring occasionally, until the mixture has reduced slightly and the color has deepened. (This should take about 15 minutes.) Add the coconut milk, thoroughly mixing it in, and reduce heat to low. This will let the sauce thicken while you're cooking the lamb skewers.
While the sauce is reducing, take the bag of marinated lamb out of the refrigerator and put the lamb onto a plate. Thread the lamb onto your skewers (leave as much of the yogurt mixture on the lamb as possible - that's "flavor"). Grill (or saute) the lamb until the meat is browned and cooked to your desired doneness.
Garnish with mint or cilantro leaves before serving.
https://www.silkroaddiary.com/tikka-masala-lamb-skewers/
World Spice Merchants https://www.worldspice.com
Chef's Note: You can either spoon the finished sauce over your skewers (as seen in the picture). Or, you can remove the cooked lamb from the skewers and add to the sauce, cooking for an additional 2 or 3 minutes, to let all of the lamb goodness permeate the sauce. Then serve over steamed rice. Use the garnish either way, as it will enhance the flavor of the dish. And it looks pretty, too.