French Macarons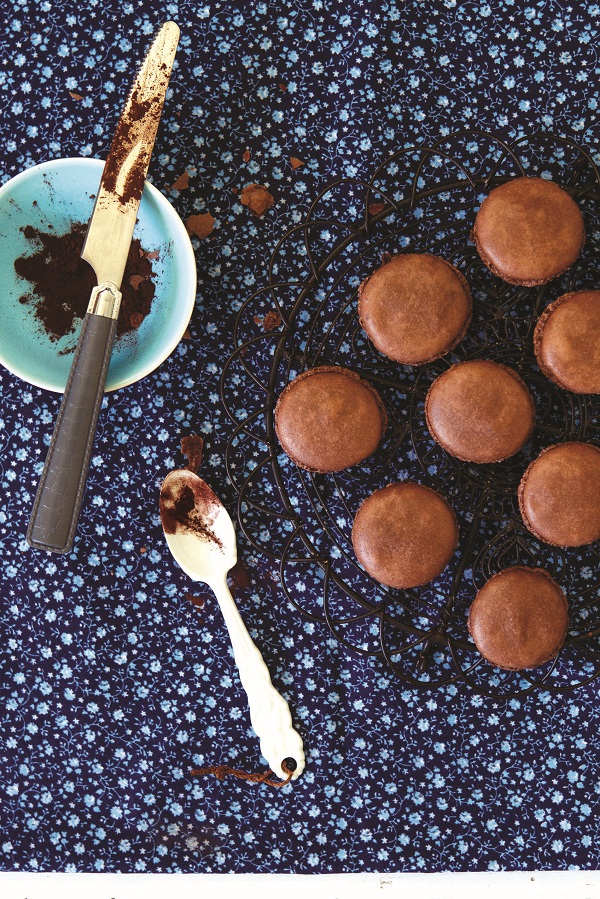 Food is considered by the French to be one of life's greatest pleasures. Béatrice Peltre celebrates that with her beautiful blog and cookbooks. Her latest cookbook, My French Family Table, focuses on everyday foods that you can share with family and friends. She features healthy and creative meals that use whole grains, spices and vibrantly colorful fruits and vegetables.  Bonus? They all happen to be gluten-free, too. These French macarons are no exception. Perfect for a gathering or special occasion…or just because you're craving something chocolate, you'll want to make these again and again.
From the Author: "While these macarons are not complicated, they do take some time to prepare. You will feel a deep sense of accomplishment when you master them."
Ingredients
For the chocolate macarons:
1/2 cup (2 oz; 60 g) almond meal
1 cup (3-3/4 oz; 110 g) confectioner's sugar
1-1/2 tablespoons unsweetened cocoa powder
2 large egg whites (2 oz; 60 g), at room temperature (see Note)
Pinch of sea salt
1/8 teaspoon cream of tartar
2 tablespoons (1 oz; 30 g) blond cane sugar
For the chocolate ganache:
1/4 cup (1-3/4 oz; 50 g) heavy cream
1-3/4 oz (50 g) dark chocolate (70% cocoa), finely chopped
1/2 tablespoon unsalted butter, diced
Instructions
To prepare the chocolate macarons:
Preheat the oven to 320 degrees F (160 degrees C). Line a baking sheet with parchment paper; set aside.
In the bowl of a food processor, pulse the almond meal, confectioner's sugar, and cocoa powder into a fine powder; set aside.
In the bowl of a stand mixer fitted with the whisk, beat the egg whites with a pinch of sea salt on medium speed for 30 seconds. Add the cream of tartar and continue to beat for 10 seconds. Increase the speed. When the egg whites start to form stiff peaks, add 1 tablespoon sugar and beat until all the sugar is dissolved. The meringue should be stiff and glossy, which takes about 3 minutes total. Remove the bowl from the stand mixer, and gently fold in the cocoa mixture.
Spoon the dough into the pastry bag. Pipe 1-1/4 inch (3 cm) rounds onto the baking sheet, spacing them 1 inch apart. Tap the sheet on the countertop a few times to smooth the surface. Let rest at room temperature for 15 - 30 minutes. Bake the macarons for 7 minutes (this is when they form their "feet" - which means a ruffle around the edges forms and the macarons won't rise). Reduce the oven temperature to 300 degrees F (150 degrees C) and use a wooden spoon to keep the oven door cracked open. Bake for 6 to 7 more minutes. Remove from the oven and slide the parchment paper directly onto the countertop. Let cool for 5 minutes. Carefully remove the shells from the paper and place them on a cooling rack. (If all goes well, you should not need a spatula to get them off the paper.) Let cool completely. Clean the pastry bag.
To prepare the chocolate ganache:
In a pot, bring the heavy cream and cardamom pods to a simmer over medium heat. Remove from the heat and set aside to infuse for 30 minutes. Strain and reheat until warm to the touch. Place the chocolate in a mixing bowl and pour in the hot cream. Let sit for 10 seconds, then stir vigorously to dissolve the chocolate. Stir in the butter until the ganache is a uniform consistency. Spoon into the pastry bag, and pipe some ganache to cover the surface on the flat side of half the macarons. Top each with another macaron, flat side down. Refrigerate. The macarons are actually better the next day, once the flavors have had time to set. They will keep for a week in the fridge.
Notes
Note: The egg whites make a better meringue when they have been separated for a few days or up to a week and kept in a container in the fridge. Bring them to room temperature when ready to use.You will also need a pastry bag fitted with a 1/2-inch (1.25 cm) (809 Ateco) tip.

© 2023 World Spice Merchants https://www.worldspice.com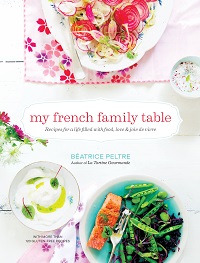 From My French Family Table by Beatrice Peltre © 2016 by Beatrice Peltre.  Reprinted by arrangement with Roost Books, an imprint of Shambhala Publications, Inc. Boulder, CO. www.roostbooks.com
My French Family Table is the May 2017 selection for the World Spice Cookbook Club. My French Family Table is currently available for purchase at our retail store and online.