Thackeray Ethiopian-Spiced Fried Chicken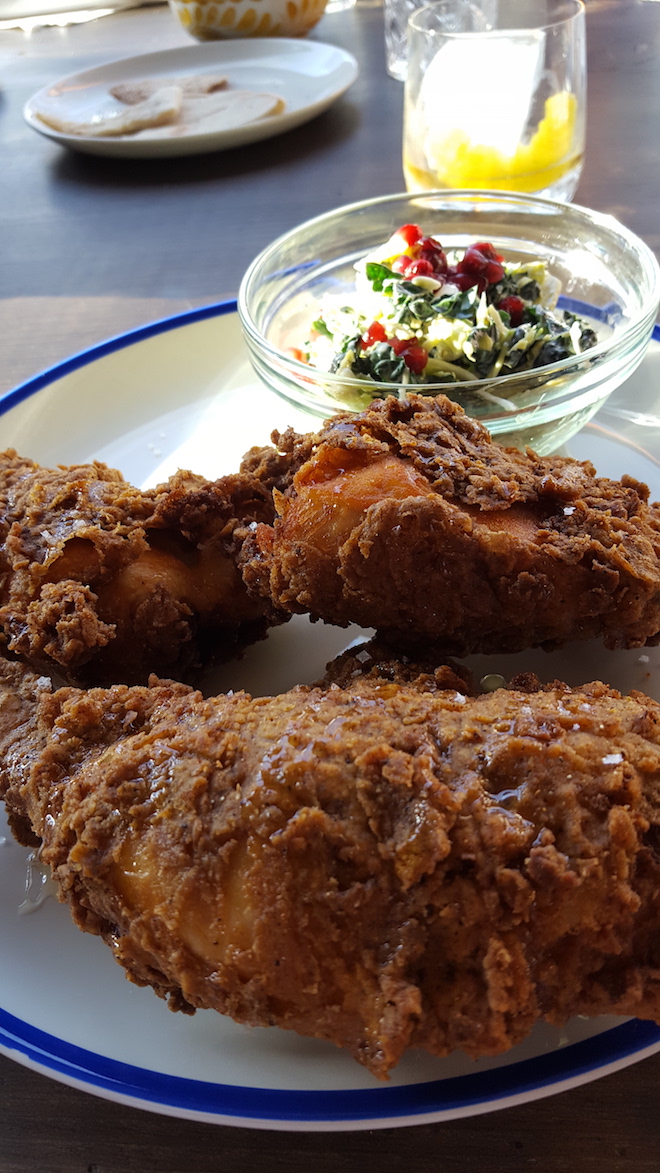 A while back, we stopped for lunch at Thackeray and had a meal that totally blew us away. The lamb shawarma and Spanish prawn bowl were both fantastic, but the highlight for us was the Ethiopian-spiced fried chicken, served with a side of some simply amazing slaw.
After our food coma faded, we reached out to Jon and Micah, to see if they'd share some of their secrets. They happily obliged, and we are happy to present the recipes for their fried chicken and side slaw, featuring Berbere and Israeli Za'atar to great success. Check out the recipe to try it at home, or stop by Thackeray and see for yourself what we're raving about.

Ingredients
Power Brine
1 qt/4 cups water
1/2 cup salt
1/4 cup sugar
Confit Chicken
2-1/2 - 3 lbs bone-in chicken pieces - breasts, legs, thighs
1 lb/1 cup duck fat
1 qt/4 cups Power Brine
Berbere Fry Flour
For Frying Chicken
1 cup buttermilk
vegetable oil
1/3 cup honey
Fleur de Sel to garnish
Instructions
For Power Brine - Mix all ingredients together in a container with a lid.
For Confit Chicken - Place chicken pieces in container with Power Brine. Cover and refrigerate for 2 hours. Melt duck fat and allow to cool, but still keep its liquid state. Remove chicken pieces from brine and separate legs and thighs from breast, putting breasts in one oven-proof container and the legs and thighs in another.
Pour duck fat over chicken pieces and cover with foil. Place in a 300 degree oven. Using a meat thermometer, check the chicken periodically - you'll want to cook the breasts to 145 degrees and the legs and thighs to 150 degrees. When they've reached those temperatures, remove from oven and allow to cool in refrigerator.
When ready to fry, remove the chicken pieces from the duck fat, and reserve the fat for another use. (Roasting potatoes is a good option!)
For Berbere Fry Flour - Mix together flour, Berbere and salt in a bowl. Set aside.
For Frying Chicken - Pour buttermilk into a bowl. Set aside. Pour oil into a cast-iron skillet or large saute pan that will hold 8 pieces of chicken to a depth of about 3/4".Put a deep-fry thermometer in oil so bulb is submerged. Heat over medium-high heat until thermometer registers 350°. Line a large plate or sheet pan with paper towels.
Working with 1 piece at a time, dip chicken in buttermilk, allowing excess to drip back into bowl. Dredge in the Berbere Fry Flour mixture; tap against bowl to shake off any excess. Place 5 pieces of chicken in skillet. Fry chicken, turning with tongs every 1–2 minutes and adjusting heat to maintain a steady temperature of 300°–325°, until skin is deep golden brown and a meat thermometer inserted into thickest part of chicken registers 165 degrees.
Using tongs, remove chicken from skillet, allowing excess oil to drip back into skillet; transfer chicken to plate/sheet pan lined with paper towels to absorb oil.
Place on plate, drizzle with honey and sprinkle with Fleur de Sel. Eat.
Notes
Chicken can be brined ahead of time. When adding the batter to the chicken, we recommend using one hand for wet ingredients, and one hand for dry.
You may need more duck fat if your oven-proof containers are large. Roasted potatoes are an excellent use for the leftover duck fat!

© 2023 World Spice Merchants https://www.worldspice.com
Ingredients
Za'atar Ranch Dressing
1/2 cup Greek yogurt
1/3 cup mayo
1-2 garlic cloves, grated
1 teaspoon Israeli Za'atar
1/2 teaspoon sugar
salt, to taste
Slaw
1-1/2 cup kale, chopped
1/2 cup Brussel sprouts, shaved or thinly sliced
1/2 cup green cabbage, shaved or thinly sliced
1/2 green apple, chopped into matchstick-sized pieces
1-1/2 tablespoons pomegranate seeds
Instructions
For Dressing - In a bowl, whisk together the yogurt, mayo, garlic, Za'atar and sugar. Give it a taste and, if needed, add salt, to taste. This will make enough to have a "wet" slaw, or extra to use on something else.
For Slaw - In a large bowl, thoroughly mix together kale, Brussel sprouts, cabbage, apple and Za'atar Ranch in a bowl. Taste and add salt, if needed.
Right before serving, sprinkle the pomegranate seeds on top of the slaw.
© 2023 World Spice Merchants https://www.worldspice.com
Recipe copyright © 2016 by Thackeray Restaurant. Reprinted with permission. All rights reserved.