Curry Leaf Ghee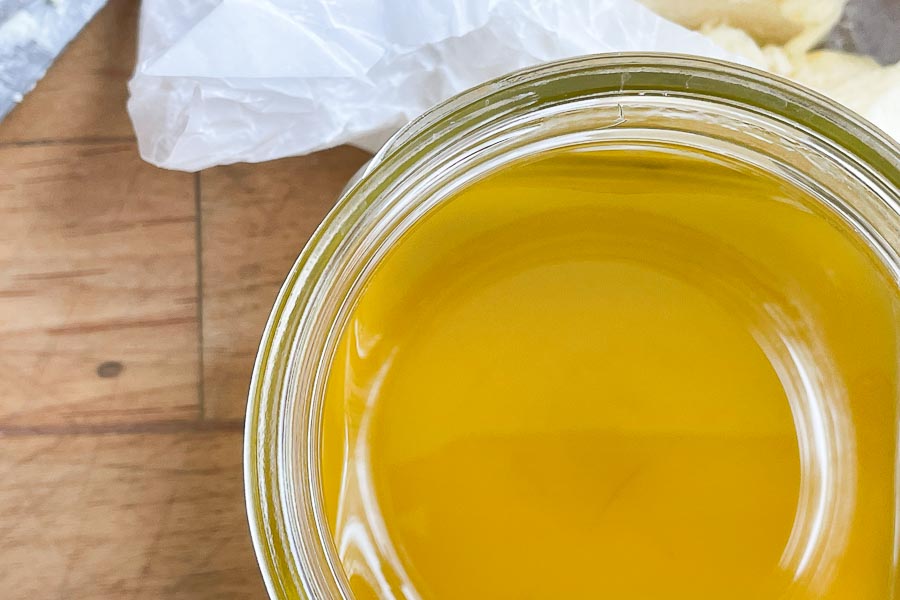 Ghee is a versatile staple to have around the kitchen. It gets accolades as one of the healthy fats, and it has a very high smoke point. To make ghee you are removing all the water and milk solids from butter, making it is shelf stable so refrigeration isn't necessary. Beyond the practical- it's incredibly delicious! The delightful buttery crisp it adds to cooked foods feels like a guilty pleasure. Roasted potatoes with ghee are crispier, popcorn with ghee doesn't get soggy and wait- it gets even better- ghee is an awesome vehicle for spices!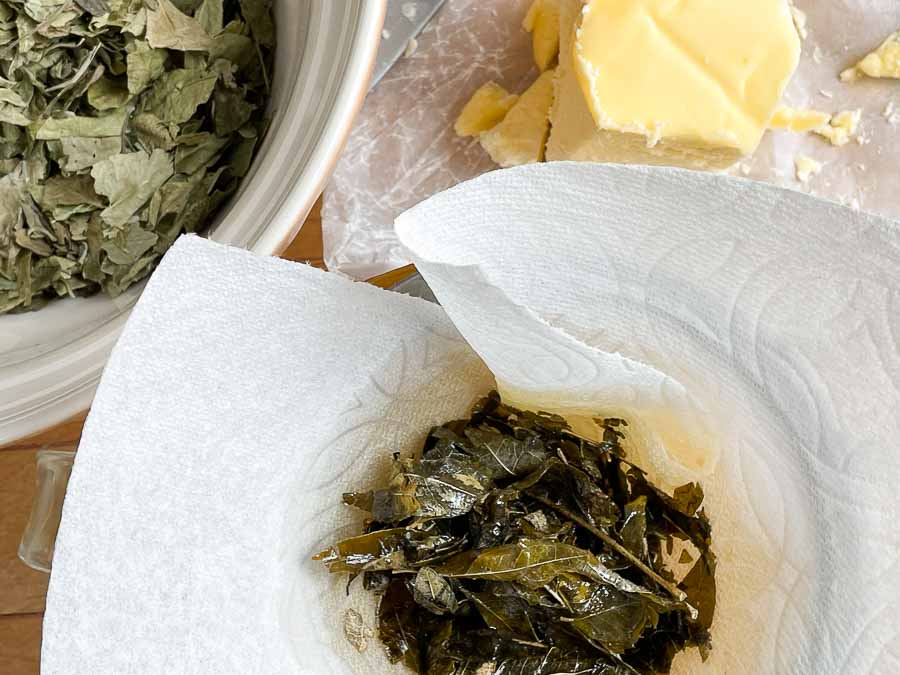 My first batch of ghee was inspired by dried curry leaves. Looking for a way to capture and highlight this mellow flavor, it seemed an ideal choice. Curry leaves are traditionally used fresh in Indian cuisine, but are hard to find here in the U.S. Once dried their flavor is elusive but very unique. It is both nutty and vegetal, and the flavors infused easily. The completed jars of curry leaf ghee didn't last long!
Ingredients
250 grams unsalted butter
1/2 cup loosely packed curry leaves
Instructions
Melt the butter in a saucepan over medium heat and bring to a low, even simmer. Crumble in the curry leaves. Note: I used a simmer plate for even heat distribution and a stainless saucepan with convenient side spouts. Because life should be easier, right?
The total cooking time to make ghee is about 10 minutes. As the butter simmers it will become foamy after about five minutes, and a few minutes later the foam will subside. This is the water simmering off. Continue simmering until the solids falling to the bottom turn a light golden brown. Remove from heat.
Place a paper towel in a mesh strainer over a heat proof jar or measuring cup. Pour the ghee through the paper towel to strain.
Your finished ghee will be like liquid gold!
© 2023 World Spice Merchants https://www.worldspice.com

Curry leaf infused ghee is a tasty "secret ingredient" for recipes. But why not have multiple ghee flavors with spices on hand as an instant flavor booster for any meal? Niter kibbeh is a spice infused clarified butter that is used in Ethiopian cuisine. That's why we used fragrant and slightly spicy North African Berbere, which also gave the ghee a gorgeous reddish color and would be great for roasted potatoes or sautéed greens. For an exotic Southeast Asian flavor profile, definitely use Indonesian Ayam. This savory golden blend infused in ghee would work well with seafood, chicken, or rice. If you're adventurous, we suggest using a staff favorite from Turkey, Urfa Biber. The deep, rich, chocolatey, smoky notes of this mild chile will make a gorgeous and flavorful addition to any meat, seafood or vegetable dish.