Take Out-Fake Out: Lemon Chicken
Many foods convey a sense of place, and Chinese take-out is no exception. There's no better place than home on a stormy night to receive warm cartons of delicious lemon chicken dripping with sauce. Sadly, some of us live outside the delivery area and that's where take out-fake out saves the day.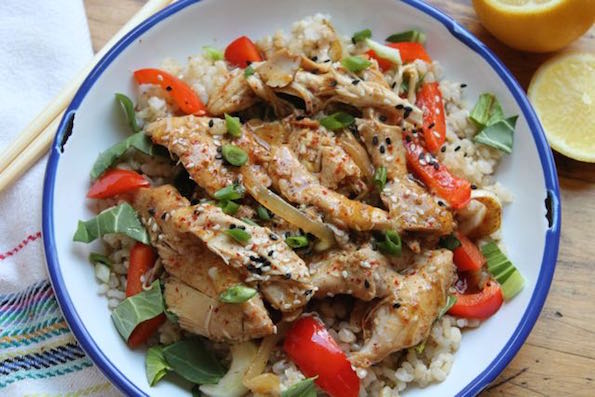 While it may not be as easy as dialing up the Chelsea Big Wok, this juicy crockpot lemon chicken is the next best thing. Set it and forget it, and at the end of the day just stir fry your favorite vegetables to serve alongside and enjoy. We have tried many spice blends in this dish and they are ALL fantastic, so whether you are in the mood for a little Thai Seasoning or Indonesian Ayam, take your pick, it is hard to go wrong with lemon chicken.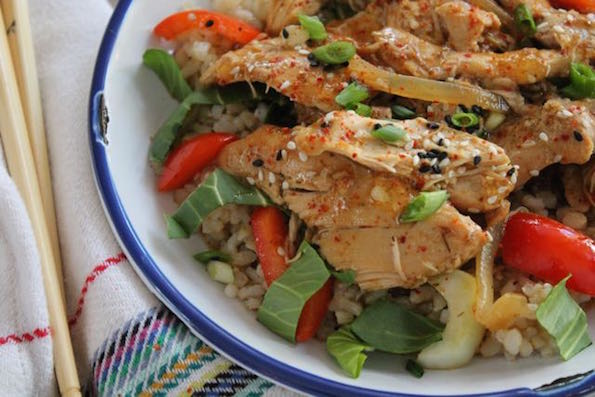 Ingredients
2-3 pounds boneless, skinless chicken thighs
1/2 cup chicken broth
1 small yellow onion, thinly sliced
2 tablespoons soy sauce
2 tablespoons honey
1/4 cup, plus 2 tablespoons lemon juice
1 teaspoon rice wine vinegar
2 teaspoons Thai Seasoning, divided
1 teaspoon Rooster Spice (optional)
2 tablespoons arrowroot powder
2 tablespoons cold water
2 tablespoons toasted sesame oil
Lemon wedges, Gomasio and sliced scallions for garnish (optional)
Instructions
Rinse the chicken thighs well, and pat dry.
In a medium bowl, mix together the chicken broth, sliced onion, soy sauce, honey, 1/4 cup lemon juice, rice wine vinegar, 1 teaspoon Thai Seasoning and 1 teaspoon Rooster Spice. Stir the sauce well to combine, and pour it into a 5-6 quart crock pot.
Nestle the chicken pieces in the sauce and cook on low for 4-5 hours, until the chicken easily pulls apart with a fork.
Using a slotted spoon, remove the chicken from the crock pot and set aside. Adjust the crockpot to high heat.
In a small measuring cup, mix together the arrowroot and cold water to make a slurry. Add the slurry to the sauce in the crockpot, then add the sesame oil, 1 additional teaspoon Thai Seasoning and remaining 2 tablespoons of lemon juice. Allow the sauce to simmer for about 15 minutes, stirring occasionally, until thickened.
Adjust the heat setting to warm or low, and return the chicken to the crockpot and gently shred the pieces before serving.
Serve with rice and vegetables, and garnish with a lemon wedge, Gomasio and sliced scallions. Some folks like an extra sprinkle of Rooster Spice as well.
© 2023 World Spice Merchants https://www.worldspice.com