Bulgogi Orange Chicken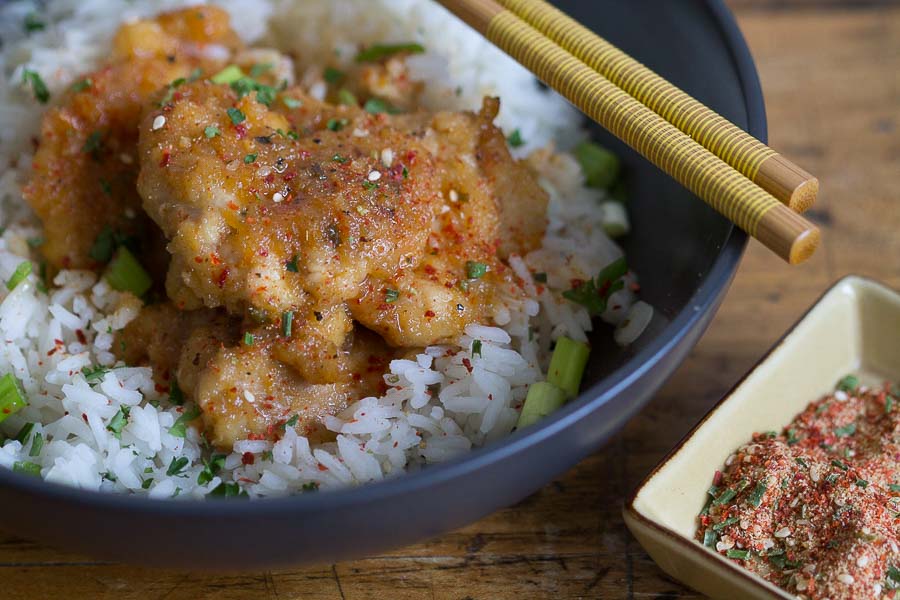 Bulgogi Orange Chicken is a sweet taste of Asian fusion combining classic Chinese orange chicken with our Korean inspired Bulgogi Spice. It's a sweet dish that heat lovers can always fire up at the table with a sprinkle of Rooster Spice, Korean Chile or the hot sauce of their choosing. The satisfying shell of sticky sauce that surrounds each moist nugget of chicken is so delicious you'll think the pros made it. Great for entertaining, the process is hands on at the start but then the chicken spends most of the time in the slow cooker with a quick finish on the sauce. That leaves plenty of time available for socializing before dinner. We added apple juice to the sauce for a traditional nod to the bulgogi.
Ingredients
For the Chicken
1/4 cup cornstarch
1 teaspoon kosher salt
1 tablespoon Bulgogi Spice
1 1/2 pounds chicken thighs, cut into 1 1/2 inch pieces
2 tablespoons vegetable oil
For the Sauce
Zest and juice from 2 oranges
1/2 cup apple juice
3 tablespoons honey
1 tablespoon cornstarch
1 tablespoon soy sauce
1 tablespoon rice vingear
1 teaspoon toasted sesame oil
1 teaspoon fresh grated ginger
2 teaspoons Bulgogi Spice
1 teaspoon Korean Chile
For Serving
Cooked White Rice
Sliced Scallions
Instructions
Combine the cornstarch, salt and Bulgogi Spice in a one gallon zip lock bag. Add the chicken and shake to coat.
In a large cast iron pan, heat the oil over medium high heat until shimmering. Add the chicken in batches and cook until the coating is crisp and lightly browned, about 2 minutes per side. Be sure not to crowd the pan to ensure nice even cooking on each piece. Transfer the pieces to the slow cooker as they come out of the skillet.
Whisk together the sauce ingredients in a medium bowl. Pour over the chicken in the slow cooker and cook on LOW for 1 1/2 to 2 hours or HIGH for about 45 minutes until the internal temperature of the chicken reaches 165 degrees
Transfer the chicken pieces to a warm serving platter using a slotted spoon. Pour the sauce from the slow cooker into a skillet and reduce over medium heat until the sauce is thick enough to coat the back of a spoon. Adjust seasonings to taste adding additional orange zest or Korean chile to enhance the flavor.
Pour the finished sauce over the chicken and serve over rice.
© 2023 World Spice Merchants https://www.worldspice.com
Play with your food!
Our recipe was adapted from Slow Cooker Orange Chicken by Patty Catalano.
Mix it up with any of your favorite flavors in the sauce and in the seasoning! We plan to try it again with Thai Seasoning.