Bulgogi Beef Stir Fry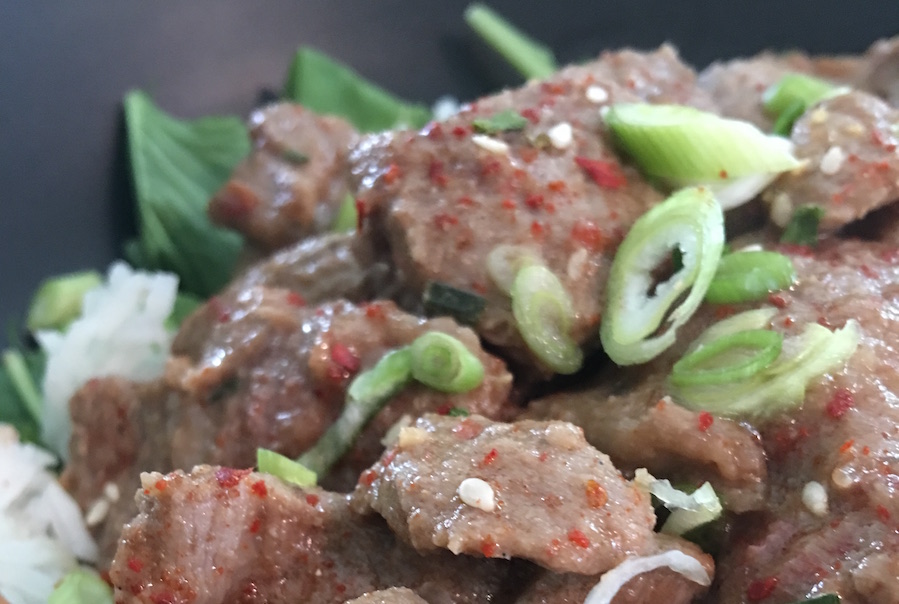 This Bulgogi Beef Stir Fry draws inspiration from the classic Korean dish. Bulgogi, meaning "fire meat," is a grilled dish that mellows heat with sweet to please just about any palate. Traditionally served alongside a range of pickled condiments for Korean BBQ, it translates well to the wok and is delicious on a bed of rice and stir fried vegetables.
Ingredients
For the Bulgogi Beef
2 pounds beef brisket or tri-tip steak, chilled 1 hour in the freezer, then thinly sliced
1 Asian pear, diced
1 cup apple juice
2 cloves garlic
1 cup soy sauce
1 tablespoon sesame oil
3 tablespoons sake
2 tablespoons mirin
1 medium onion, sliced into julienne
3 tablespoons Bulgogi Spice, divided
3-4 green onions, diced
Instructions
Combine the diced Asian pear, apple juice and garlic in a blender and purée on high speed until smooth.
Transfer the purée to a heavy duty 1 gallon ziplock bag and add the soy sauce, sesame oil, sake, mirin, julienned onion and 2 tablespoons Bulgogi Spice. Mix well.
Add the thinly sliced meat to the marinade, making sure the pieces are well coated on all sides. Refrigerate and allow the meat to marinate several hours or overnight.
About an hour before cooking, remove the bag from the refrigerator.
When you are ready to cook, preheat a wok over high heat and oil lightly. Working in batches, add a single layer of meat to the hot wok and stir fry until just cooked through, 3-4 minutes per batch.
Serve over rice and stir fried vegetables, garnished with green onions.
For added flavor, sprinkle on extra Bulgogi Spice at the table or add Rooster Spice if you want to bump up the heat.
© 2023 World Spice Merchants https://www.worldspice.com
Bulgogi Spice contains Korean chile, also known as gochugaru, along with a healthy dose of onion and sesame. If you're looking for more Korean inspiration, check out our guest recipe for Chow Fun.