Chow Fun – lemongrass sausage, pea vines, mint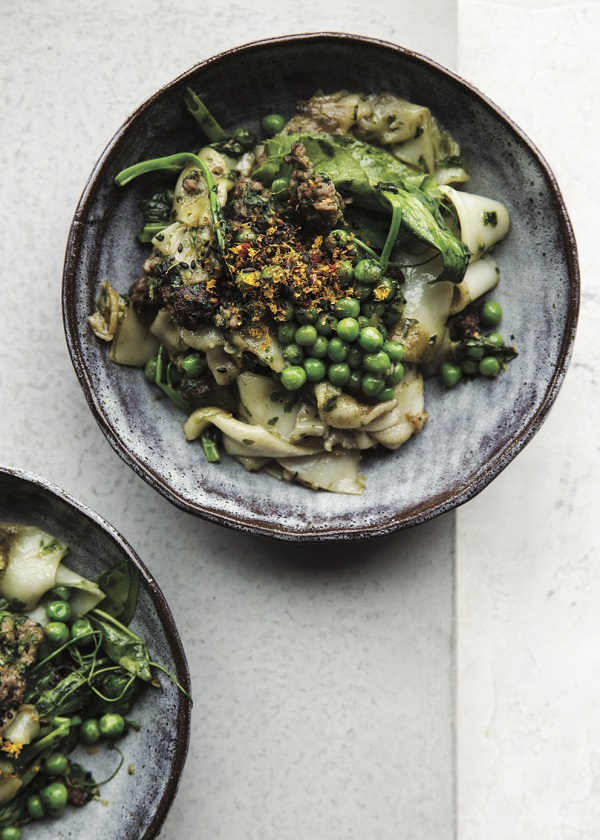 Our September Cookbook Club selection is from James Beard Best Chef-nominee Rachel Yang, who with her husband, Seif Chirchi, owns three restaurants in Seattle (Joule, Trove, and Revel) and one in Portland (Revelry). My Rice Bowl – korean cooking outside the lines is a cookbook with recipes taken from her Korean upbringing, but then influenced by various cultures and cuisines that she's been exposed to from around the world. She has taken the food memories from her childhood in Korea and added the global flavors she loves, as well as the culinary influence from her previous restaurant work (Per Se, Alain Ducasse). This has resulted in a unique and authentic fusion of food.
In My Rice Bowl, she thoughtfully combines different flavors together and results in making Korean flavors more accessible to everyone:  "It's all about how I kind of take my traditional Korean palate and knowledge and then how I make it my own here in America…We like to think of it as unexpected and delicious first, and Korean second (or maybe even further down the line)." In the cookbook you'll find favorites like the restaurants' kimchi recipe but, also dishes such as seaweed noodles with crab and crème fraîche, tahini-garlic grilled pork belly, fried cauliflower with miso bagna cauda, chipotle-spiked pad thai, Korean-taco pickles, and the ultimate Korean fried chicken (served with peanut brittle shards for extra crunch). This book exemplifies cross-cultural cooking at its most gratifying, such as this take on Chow Fun. From the lemongrass sausage to the pea vines to the fresh mint. It's sure to satisfy your stomach and dazzle your taste buds.
From the author: "With their light texture, rice-based chow fun noodles (sometimes spelled shao fen) are a natural match for the springy, green flavor of home made lemongrass sausage. Tossed with a loose mint and cilantro pesto, baby peas, and pea vines, this Trove favorite is the antithesis of a heavy noodle dish. We top it with our version of togarashi, the traditionally Japanese spice mixture that we blend with dried orange zest, to add just a hint of heat.
Look for the wide, flat chow fun noodles in the produce section or the refrigerated section of a large Asian grocery store. Although they're sometimes sold already cut into half-inch strips, look for the kind that are packaged uncut, so you can cut them yourself into slightly wider strips, if possible. (They're impossible to tear apart when cold. If you purchase them refrigerated, reheat them in the microwave for about ten seconds at a time, until the noodles are soft and pliable.)
If you'd like to break up the work for this recipe, make the sausage, pesto, and togarashi up to a day before serving, and refrigerate the first two, covered, until ready to use. We always assemble each serving individually at the restaurant, but at home, it's easier to do in two big batches in a large wok, using half the serving ingredients for each batch."
Ingredients
FOR THE SAUSAGE:
1 pound ground pork
2 tablespoons finely chopped fresh lemongrass (from the tender insides of 2 medium stalks)
1 tablespoon chopped garlic (from 3 to 4 cloves)
1 tablespoon grated peeled fresh ginger
2 teaspoons salted shrimp
2 teaspoons ground toasted coriander
1 teaspoon fish sauce
1 teaspoon finely chopped shallot
FOR THE PESTO:
1 cup roughly chopped mustard greens (including stems)
1/2 cup packed fresh mint leaves
1/4 cup packed cilantro (including stems)
1/2 cup mirin
1/2 cup sake
1/4 cup fish sauce
2 teaspoons canola oil
1 teaspoon sherry vinegar
1/8 teaspoon ground toasted caraway seeds
1/8 teaspoon crushed red pepper flakes
FOR THE NOODLES:
1 (32-ounce) package chow fun noodles (uncut if available)
1/2 cup canola oil
4 cups packed young pea vines, cut into 3-inch pieces, if long
1 cup baby peas (fresh or frozen)
Orange Togarashi (see below), for garnish
FOR THE ORANGE TOGARASHI
Instructions
MAKE THE SAUSAGE - In a large bowl, mix together the pork, lemongrass, garlic, ginger, salted shrimp, coriander, fish sauce, and shallot. Using gloved hands—really, hands work best—blend the mixture until very well incorporated. Set aside.
MAKE THE PESTO - In a blender or the bowl of a food processor, whirl together the mustard greens, mint, and cilantro until chopped. Add the mirin, sake, fish sauce, oil, vinegar, caraway, and red pepper flakes, and blend until evenly green, with no large pieces remaining, pausing to scrape down the sides of the bowl if necessary. Transfer the sauce to a small bowl (or 2-cup glass measuring cup with a spout, for easy measuring later).
PREPARE THE NOODLES AND GET READY TO COOK - When you're ready to cook, trim the rounded ends off the patty of chow fun, then cut into 3/4-inch strips and transfer the noodles to a large bowl, breaking them into long individual strips if you can. (They'll continue to break apart in the pan. If they seem particularly stuck together, put them in the microwave for about 10 seconds at a time, until they're soft enough to peel apart, or give them 30 seconds or so in a steamer.) Gather the sausage, togarashi, pesto, oil, pea vines, peas, and noodles in a spot near the stove. (You'll be making the noodles in four quick batches, so it's nice to have everything nearby.)
FRY THE SAUSAGE AND NOODLES - Heat a large skillet or wok over medium-high heat. When hot, working quickly, add about 2 tablespoons of the canola oil to the pan, then scatter a quarter of the sausage over the pan in big bite-size chunks. Let the sausage cook for about 3 minutes, turning once or twice, then add a quarter of the noodles and cook, stirring, for another 2 minutes, until the noodles are soft and the pork is cooked through. Stir the pesto, then add about a 1/2 cup of the pesto, and a quarter of the pea vines and peas, and toss just until combined. Transfer the noodles to Asian-style noodle bowls, sprinkle with togarashi, and serve immediately. Repeat with the remaining ingredients, wiping out the pan (or using a different pan) when necessary between batches.
To make Orange Togarashi - DRY THE ORANGE ZEST - Preheat the oven to 300 degrees F. Place the orange zest in a small ovenproof dish and bake for about 15 minutes, or until shriveled and totally dry, stirring once or twice. Set aside to cool completely.
MAKE THE TOGARASHI - Transfer the cooled zest to a small bowl and stir in the sesame seeds, chili flakes, ginger, and garlic powder.
© 2023 World Spice Merchants https://www.worldspice.com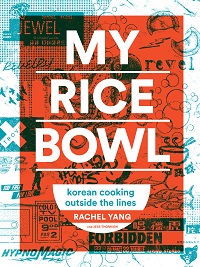 *(c)2017 by Rachel Yang and Jess Thomson. All rights reserved. Excerpted from My Rice Bowl by permission of Sasquatch Books. My Rice Bowl is the September 2018 selection for the World Spice Cookbook Club. My Rice Bowl is currently available for purchase at our retail store and online.