Goulash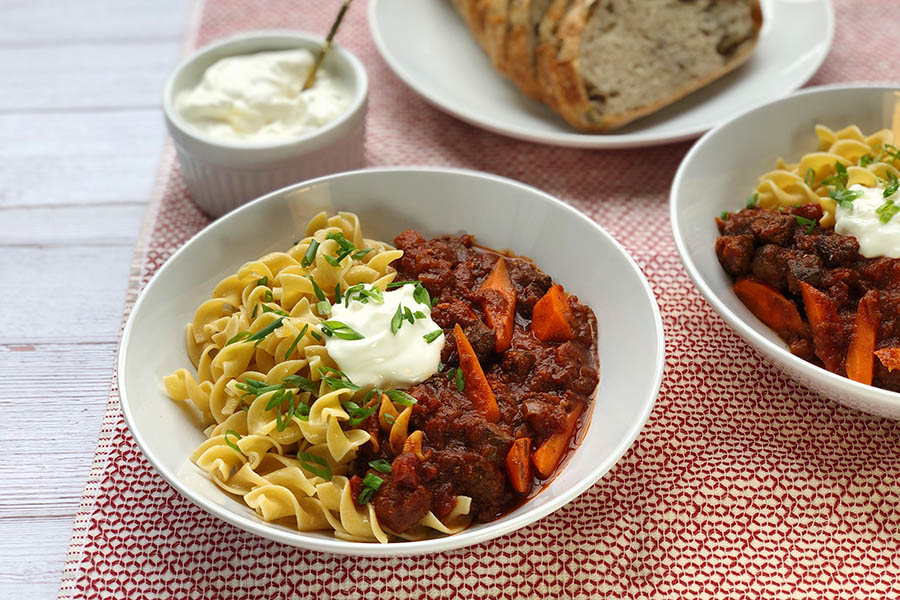 Goulash is a big bowl of comfort! We used Hungarian paprika and caraway to make this rich tomato beef stew. Hungarian paprika is bright and mildly sweet, while the caraway is nutty and earthy. Both of these serve as an excellent base to bring out the hearty flavors of the beef and the tomato's umami character. When you're looking for something rich and flavorful, goulash is a perfect answer.
This meal is made of kitchen staples, which is perfect for when you have no idea what to cook. Chances are, you've got most of the ingredients already on hand! Goulash is delicious with your carb of choice. Potatoes, pasta, rice or root vegetables all work equally well. For our photo-shoot, we used egg noodles as a family favorite.
Ingredients
1 tablespoon olive oil
1lb beef chuck, diced
1 medium onion, small diced
2 teaspoons Kosher salt
1 teaspoon Turkish oregano
1 teaspoon caraway, ground
1-1/2 tablespoons Hungarian Paprika
1 cup carrots, sliced at a bias
1/4 cup tomato sauce
1 14.5 ounce can petite diced tomatoes
4 cups beef stock
Garnish
Cooked egg noodles, macaroni or rice
Sour cream
Sliced green onions
Instructions
In a heavy bottom pot over medium heat, add the oil and wait until hot, then add the beef.
Sear the beef until brown, then add the onions. Stir frequently to avoid burning.
Let the onions caramelize, then add the salt, oregano, caraway, bay leaves, and paprika.
Stir until aromatics are fragrant, then add the carrots, tomato sauce, diced tomatoes and stock.
Bring the mixture to a boil and then reduce to a simmer. Cover and simmer for 45-50 minutes, or until the beef is tender.
Taste the broth and add more salt, if needed. Serve on top of pasta or rice. Garnish with sour cream and green onion, have some warm bread on the side to soak up any broth.
© 2023 World Spice Merchants https://www.worldspice.com