Cauliflower Tortillas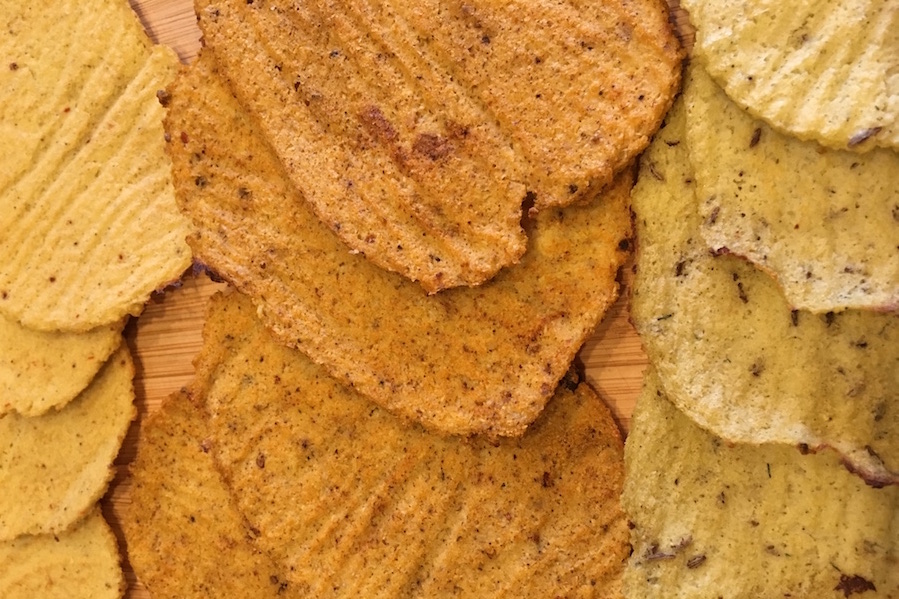 Sorry corn, I love you, but I don't need you anymore. I have a new BFF – and it's name is cauliflower. Please don't be jealous – you'll always have a place in my kitchen, just not when it comes to making tortillas. Cauliflower, the new low-carb darling, does an amazing job at creating flavorful, flexible tortillas good enough for sandwich wraps, tacos, enchiladas – even lasagne, if seasoned properly. And that's the beauty of this recipe – you can flavor these tortillas any way you like, whether it's for Mexican food, Greek gyros, or, and here's the most amazing thing of all: as a stand-in for Caraway Rye Bread. Oh, how I've missed the unmistakable flavor of a fresh slice of rye bread! Well, I'm here to tell you that it's back on the menu, cauliflower style. All it takes is a spoonful of our Ranch seasoning and a some whole caraway seeds, and the transformation is complete. Welcome back, turkey, corned beef, and pastrami sandwiches!
Ingredients
1 large cauliflower (about 2-1/2 lb. whole)
3 eggs
2 tablespoons nutritional yeast, small flake
1 teaspoon Ranch seasoning
1/2 teaspoon salt
2 teaspoons caraway seed
dash black pepper
Instructions
Preheat oven to 375 F. Have 2-3 baking sheets lined with parchment paper on standby.
Divide the cauliflower into florets. Working in batches, transfer cauliflower to the bowl of a food processor, filling no more than halfway full. Pulse until it resembles cornmeal, about 20 seconds, scraping bowl as often as necessary to get everything evenly chopped.
Scrape chopped cauliflower onto the center of a thin kitchen towel. Gather the cloth together and, working over the sink, twist it tightly to create a ball, then press the ball to squeeze out as much liquid as you can, creating a "mash". Altogether, you should get about 4-5 cups (1 lb. 4 oz.) of mashed cauliflower.
Return ½ of the mashed cauliflower to the food processor, along with the eggs, nutitional yeast and seasonings. Process until evenly mixed, about 10 seconds. Add rest of the mash and pulse to combine.
Scoop 1/4 to 1/3 cup mash for each tortilla, depending on how big you want them. You can get 4-5 on each pan. Using a small offset spatula, spread the mash out into thin circles or ovals, 1/8" - 1/4" thick. They won't spread, so you can place them fairly close together - just leave enough room to flip them over.
Bake 12 minutes, or until bottoms release easily from the paper. If they stick, give them more time. When ready, flip them over and bake another 6-8 minutes, until they're fairly dried out but still flexible, and starting to brown on the edges. Let cool on pan for 5 minutes, then remove to a rack to cool completely.
Tortillas can be refrigerated or frozen, stacked in an airtight container or resealable plastic bag.
Notes
These tortillas are somewhat small, about 4" - 5". Feel free to make them larger if you like.

© 2023 World Spice Merchants https://www.worldspice.com
Change it up!
This recipe can easily be flavored in so many different ways. One of our favorites is to replace the Ranch and caraway seed with 1/2 teaspoon ground cumin, 1/4 teaspoon Marash chili flakes and a dash of salt and pepper. You might also enjoy trying ground Yucatan Rojo BBQ  Rub or a combination of nigella seed, granulated garlic, poppy seed and sesame seed for an Everything Bagel kind of splash! The nutritional yeast is there in the base recipe to help round out the flavors, but you can leave it out if you like.