Corned Beef and Caraway Cabbage
Spring is in the air! This is my favorite time of year: spring training baseball is on the radio, Mother Nature is providing us with some gorgeous sunny days between all the rain, and one of the most fun celebrations on the calendar is right around the corner.
That's right, St. Patrick's Day is almost here, and whether your entire family is from the Emerald Isle or you're just Irish at heart, St. Patrick's Day is a great excuse to have some friends over to enjoy a pint or two of Irish stout and some corned beef and cabbage. For our recipe, be sure to brine it for as long as recommended. The salt in the brine carries the flavor of our Pickling Spice through the whole piece of meat and the extra spices reserved for the cooking liquid lend it a great burst of flavor on the surface. This St. Patrick's Day be safe, enjoy some delicious corned beef and remember:
"May the lilt of Irish laughter
lighten every load.
May the mist of Irish magic
shorten every road…
And may all your friends remember
all the favors you are owed!"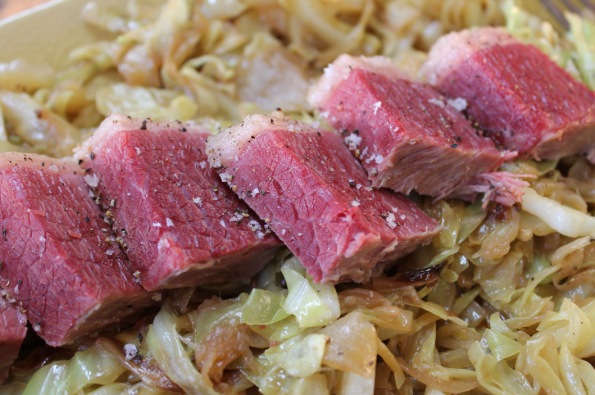 Instructions
In a medium saucepan, boil the water with the spices, salt and sugar, reserving 1 tablespoon of Pickling Spice
Once the water boils, remove from heat and cool to room temperature
Meanwhile, place the brisket in a large container and pour the cooled brine over it, being sure it is fully submerged.
Refrigerate, covered, for 6-7 days.
Remove the brisket and rinse in cool water.
Place brined brisket in a large pot with reserved Pickling Spice and cover with 1 inch of water
Simmer for 4-5 hours, covered, until fork tender.
© 2023 World Spice Merchants https://www.worldspice.com
Ingredients
1 tablespoon vegetable oil
1 tablespoon butter
1 head of cabbage, sliced
1 medium sweet onion, thinly sliced
1 teaspoon caraway
1/2 cup Guinness or other stout porter
Salt and pepper to taste
Instructions
In a medium saute pan, heat butter and oil over medium heat
Add onion and saute until translucent, about 3-4 minutes
Add the caraway to the pan and cook for another 2 minutes
Add 1/2 of sliced cabbage and mix well
Allow the mixture to sit a few minutes without stirring so the bottom lightly browns
Add remaining cabbage and mix well.
Allow bottom to brown once again
Deglaze the pan with Guiness and cook until beer is reduced
Season with salt and pepper to taste
© 2023 World Spice Merchants https://www.worldspice.com