Cheddar Cheese Coins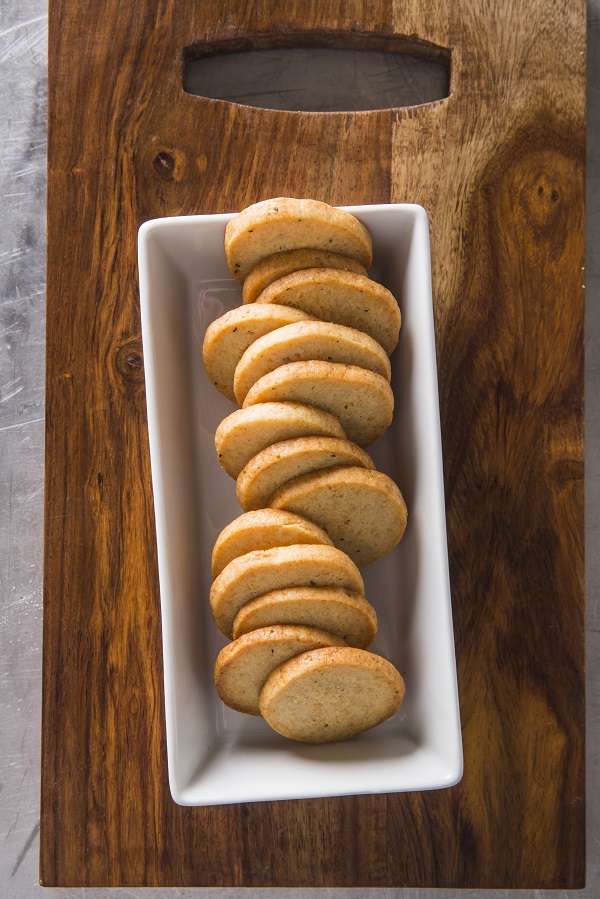 Appetizers aren't just for parties and gatherings. Whether you just want some snacks for watching tv or something to nibble on while catching up on that novel, this is the cookbook for you. The experts at Cook's Illustrated have put together 75 "only the best" appetizer recipes to help you find something for any time of the year. All-Time Best Appetizers Cookbook makes it easy to create a spread with everything from things that can be dipped, spread, eaten by the handful or two-bite treats. These Cheddar Cheese Coins, as well as their different variations, would be perfect for a wine and cheese plate or…just to snack on. To find out more about other appetizers and treats for any occasion, go to Cook's Illustrated's website.
From the authors: "why this recipe works – When it comes to homemade crackers, you need a recipe that's easy, versatile, and packs a huge flavor punch. We wanted to come up with a simple, foolproof version that would be cheesy, buttery, and just a little spicy. We started with a full 8 ounces of cheese and a touch of salt, cayenne, and paprika. We used the food processor to combine the dry ingredients and the shredded cheese, which helped to keep the coins tender by limiting the handling of the dough. Adding a little cornstarch with the flour further ensured that the coins baked up flaky and buttery. We processed the dry ingredients with chilled butter until the mixture resembled wet sand, added water, and processed until the dough came together. Next, we rolled the dough into logs, refrigerated them until firm, and then sliced them into thin coins before baking until lightly golden and perfectly crisp. With this simple technique, it's easy to vary the cheese and flavorings used to suit any taste."
Ingredients
8 ounces extra-sharp cheddar cheese, shredded (2 cups)
1-1/2 cups (7-1/2 ounces) all-purpose flour
1 tablespoon cornstarch
1/2 teaspoon salt
1/4 teaspoon cayenne pepper
1/4 teaspoon paprika
8 tablespoons unsalted butter, cut into 8 pieces and chilled
3 tablespoons water
Variations
Parmesan and Rosemary Cheese Coins - Substitute 8 ounces finely grated Parmesan for cheddar, black pepper for cayenne, and 1 teaspoon minced fresh rosemary for paprika.
Gruyère, Mustard, and Caraway Cheese Coins - Substitute Gruyère for cheddar. Add 1 teaspoon caraway seeds to food processor with spices. Substitute 4 tablespoons whole-grain mustard for water.
Blue Cheese and Celery Seed Cheese Coins - Substitute 1 cup crumbled blue cheese for 1 cup cheddar. Increase paprika to 2 teaspoons and cayenne pepper to 1/2 teaspoon. Add 1 teaspoon celery seeds to food processor with spices. Omit water.
Instructions
Process cheddar, flour, cornstarch, salt, cayenne, and paprika in food processor until combined, about 30 seconds. Scatter butter pieces over top and process until mixture resembles wet sand, about 20 seconds. Add water and process until dough forms ball, about 10 seconds. Transfer dough to counter and divide in half. Roll each half into 10-inch log, wrap in plastic wrap, and refrigerate until firm, at least 1 hour.
Adjust oven racks to upper-middle and lower-middle positions and heat oven to 350 degrees. Line 2 rimmed baking sheets with parchment paper. Unwrap logs and slice into 1/4-inch-thick coins, giving dough quarter turn after each slice to keep log round. Place coins on prepared sheets, spaced 1/2 inch apart.
Bake until light golden around edges, 22 to 28 minutes, switching and rotating sheets halfway through baking. Let coins cool completely on sheets before serving.
Notes
to make ahead - Unbaked dough can be refrigerated for up to 3 days or frozen for up to 1 month; thaw completely before slicing and baking. Baked coins can be stored at room temperature for up to 3 days.

© 2023 World Spice Merchants https://www.worldspice.com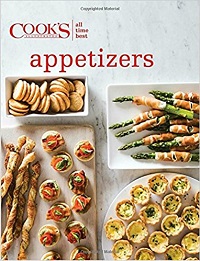 Recipes courtesy of America's Test Kitchen from the All-Time Best Appetizers Cookbook. Photo Credit: Joe Keller.
All-Time Best Appetizers Cookbook is the November 2017 selection for the World Spice Cookbook Club. All-Time Best Appetizers Cookbook is currently available for purchase at America's Test Kitchen.