Across America, from Boston and the Carolinas, summer means barbeques, and barbeques mean potato salad! Mom's potato salad was full of mayo, hard-boiled eggs and bacon. It was delicious, yes, but we decided to give it an update.
This recipe to combines mom's cooking with our love of tangy, delicious ranch dressing into a healthy potato salad that even my doctor would eat. Greek yogurt gives traditional creaminess without the fat, and it gives a little extra tang to the Ranch Seasoning, too. We still used bacon because, after all, potato salad wouldn't be the same without bacon!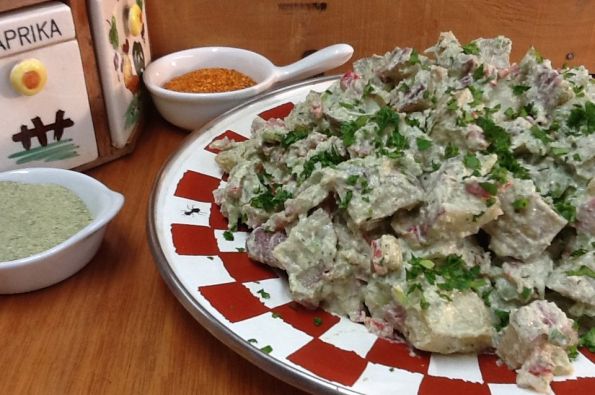 Ingredients
3 lbs. potatoes, unpeeled
16 oz. Greek yogurt
4 tablespoons Ranch Seasoning
1 tablespoons Murray River flake salt
1 red bell pepper, chopped (or any color will do)
2 celery stalks, chopped
4 green onions, chopped
8 strips bacon, cooked crisp, chopped
Piment d'Espelette, for garnish
Instructions
Cut the potatoes in bite-sized pieces, and boil until just fork tender. (They will have some carry-over cooking - you just don't want them to be "mushy". Drain, and spread out on a cookie sheet to cool. (You can also roast the potatoes, too. Just toss them with a little olive oil, salt and pepper and roast them until done. Also allow them to cool before making the salad.)
While the potatoes are cooling, you can make the dressing. In a large bowl, combine the Greek yogurt, salt and Ranch Seasoning. Mix well - it will be a little thick. (You can always use a little water or milk to thin it out, if you like, but the natural liquid from the chopped veggies will also thin it out a little.)
Add the cooled potatoes and chopped veggies and bacon to the bowl, and toss well to make sure everything is coated with the dressing. Taste for seasoning - you might want to add a little more salt or Ranch Seasoning.
Transfer the finished potato salad into a serving bowl and garnish with Piment d'Espelette for an extra-special treat.
Notes
For the garnish, you can try aleppo pepper or urfa biber in place of the Piment d'Esplette.
Also, try using red, white and blue potatoes for a colorful and patriotic twist!
https://www.silkroaddiary.com/ranch-potato-salad/
World Spice Merchants https://www.worldspice.com