Tagged With:
Piment d'Espelette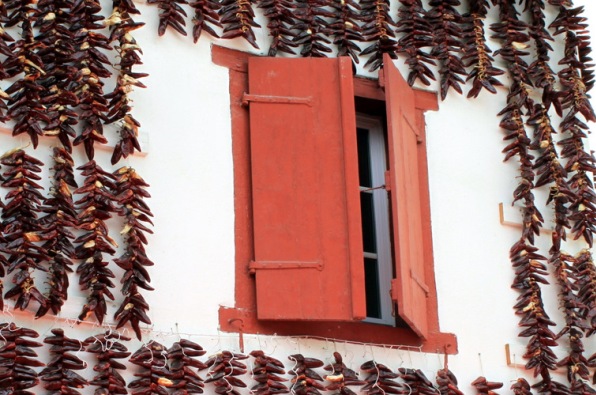 It's here! This season's crop of Piment d'Espelette arrived at our doorstep this week, ready to transform our dishes with its mild heat and fruity, almost tomatoey flavor. Piment d'Espelette's mild flavor is the cornerstone of the traditional Basque stews, and in keeping with Basque tradition we consume our Piment d'Espelette seasonally, making way for each new crop when it comes in.
The seasonal rotation isn't the only thing traditional about the pepper of Espelette. Piment d'Espelette bears the distinction of being the only spice with an official AOC designation. Being recognized by the AOC, or Appellation d'Origine Contrôlée, guarantees that the product which bears its seal will be produced in traditional manners, and originate only from their traditional region. In such illustrious company as true french Champagne, only the superior pepper grown in the ten, tiny approved Basque villages may be labeled as Piment d'Espelette.
Piment d'Espelette originates in the area that joins the southwestern-most corner of France with northeastern Spain, historically known as Basque country. In the region, late summer and early fall are marked by festoons of peppers drying against white stucco houses, just as they have for centuries. Each October, the end of the harvest is marked by a vibrant festival, complete with parade, where peppers are sold fresh, pickled, or dried and ground, as we carry it.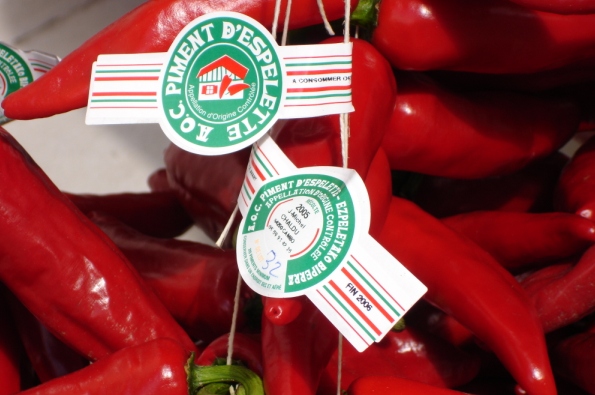 The Basque have another tradition worth imitating- that of the txoko, or gastronomical society. Generations of Basques have gotten together to cook, sing, and experiment with food in thousands of private clubs. While it might not have centuries of tradition, we've got a kind-of txoko of our own, the World Spice Cookbook Club, that meets up to try out recipes from a new cookbook each month. Singing is purely optional.
So come pick up some of the freshest and most flavorful flakes of Piment d'Espelette available in the United States by the ounce or by the jar, and if you're feeling adventurous drop us a line and come out to the next meeting of our Cookbook Club for a little gastronomical bonding. On egin!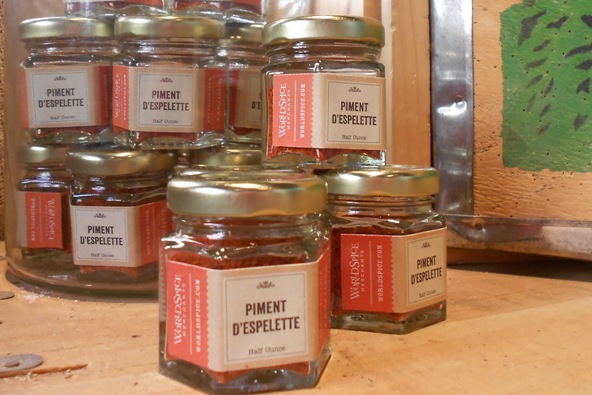 This hearty stew hits it on all notes — the high acid of the tomatoes and wine play against the sweetness of the deeply caramelized onion and fennel, the brine-y olives render the seafood right at home, and the Piment d' Espelette… oh, the Espelette! The perfect balance of heat and complexity that clarifies this bounty of flavor, and unites it all in delicious harmony. If my fish-monger has them, I'll often throw in a few oily little fish,too, like fresh anchovies or sardines… Just sear them whole, skins and all, in a bit of olive oil and add to the serving dishes.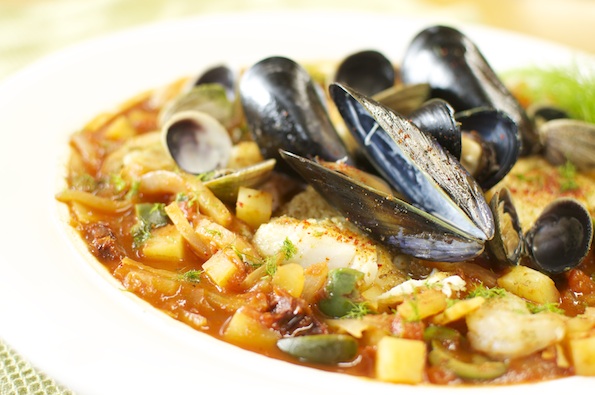 Piment d'Espelette Fish Stew
Ingredients
4 ounces raw, shell-on shrimp (About 8 large shrimp)
8 ounces skinless, firm white fish fillets, such as swordfish, cod, halibut, or sea bass
8 ounces clams or mussels or a combination of the two
2 cups homemade or no-salt-added chicken stock (or fish stock)
1 1/2 cups water
½ cup clam juice
1 cup dry white wine
1 strip of lemon rind
1 large sweet onion, cut into thin slices
1 can fire roasted tomatoes
3 cloves garlic, minced
½ cup large green olives, pitted and halved
¼ cup sun dried tomatoes, chopped
8 ounces waxy yellow potatoes, such as Yukon gold, ½ inch dice.
2 medium fennel bulbs, cored and cut into thin slices, reserving fronds for garnish
1 teaspoon unsalted butter
1 tablespoon plus 2 teaspoons oil
1 teaspoon ground fennel seed
½ teaspoon whole allspice berries
Freshly ground Lampong black pepper
1 tablespoon plus one teaspoon Piment d'Espelette
Instructions
Peel and de-vein the shrimp; place the shells in a medium pot and reserve the de-veined shrimp in a bowl, tossing with half the ground fennel to coat. Use the remaining ground fennel to season the fish fillets, and set aside.
Add the stock, water, clam juice, wine, bay leaf, lemon rind and allspice berries to the pot with the shrimp shells; bring to a boil, then reduce to medium-low heat and simmer for 20 minutes. Strain the broth through a wire strainer, discarding the shrimp shells and whole spices. Add potatoes to the broth, and simmer until fork-tender.
Heat 1 tablespoon of the oil in a 4-quart soup pot over medium heat. Add the fennel, onion, a pinch of salt and 1 tablespoon of the Piment d' Espelette. Cook for 12 to 14 minutes, stirring a few times, until the vegetables are tender and golden. Deglaze with the tomatoes, add the garlic, and simmer until reduced by half.
Add broth to tomato and vegetable mixture, adding in the olives and sun dried tomatoes, and season to taste with salt and fresh pepper. Keep hot over medium low heat.
Heat the remaining 2 teaspoons of the oil and the butter in a saute pan over medium-high heat. Sear the fish until lightly browned, turning and cooking until just firm- do not overcook, as they will continue to cook in the hot broth when served. Transfer to a plate.
Add the shrimp to the hot pan along with clams and/or mussels, along with a few generous ladles of broth, and cover tightly with a lid to steam open the bivalves.
Place an equal portion of fish into serving bowls. Ladle the hot broth over the fish, garnishing each serving with shrimp, clams and mussels, chopped fennel fronds and a generous pinch of Piment d' Espelette.
https://www.silkroaddiary.com/piment-despelette-fish-stew/
World Spice Merchants https://www.worldspice.com
Categories:

Course, French, Fruits of the Sea, Global Cuisines, Main Meals, Mediterranean, Recipes, Soups and Stews
Tags:

Bouillabaisse, Piment d'Espelette, Seafood, Stew
Leave a comment
Across America, from Boston and the Carolinas, summer means barbeques, and barbeques mean potato salad! Mom's potato salad was full of mayo, hard-boiled eggs and bacon. It was delicious, yes, but we decided to give it an update.
This recipe to combines mom's cooking with our love of tangy, delicious ranch dressing into a healthy potato salad that even my doctor would eat. Greek yogurt gives traditional creaminess without the fat, and it gives a little extra tang to the Ranch Seasoning, too. We still used bacon because, after all, potato salad wouldn't be the same without bacon!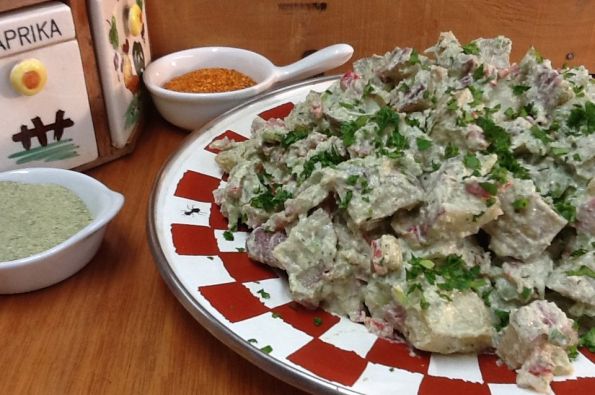 Ingredients
3 lbs. potatoes, unpeeled
16 oz. Greek yogurt
4 tablespoons Ranch Seasoning
1 tablespoons Murray River flake salt
1 red bell pepper, chopped (or any color will do)
2 celery stalks, chopped
4 green onions, chopped
8 strips bacon, cooked crisp, chopped
Piment d'Espelette, for garnish
Instructions
Cut the potatoes in bite-sized pieces, and boil until just fork tender. (They will have some carry-over cooking - you just don't want them to be "mushy". Drain, and spread out on a cookie sheet to cool. (You can also roast the potatoes, too. Just toss them with a little olive oil, salt and pepper and roast them until done. Also allow them to cool before making the salad.)
While the potatoes are cooling, you can make the dressing. In a large bowl, combine the Greek yogurt, salt and Ranch Seasoning. Mix well - it will be a little thick. (You can always use a little water or milk to thin it out, if you like, but the natural liquid from the chopped veggies will also thin it out a little.)
Add the cooled potatoes and chopped veggies and bacon to the bowl, and toss well to make sure everything is coated with the dressing. Taste for seasoning - you might want to add a little more salt or Ranch Seasoning.
Transfer the finished potato salad into a serving bowl and garnish with Piment d'Espelette for an extra-special treat.
Notes
For the garnish, you can try aleppo pepper or urfa biber in place of the Piment d'Esplette.
Also, try using red, white and blue potatoes for a colorful and patriotic twist!
https://www.silkroaddiary.com/ranch-potato-salad/
World Spice Merchants https://www.worldspice.com
Categories:

BBQ, Global Cuisines, Grilling Season, North America, Recipes, Salads, Sides
Tags:

BBQ, Easy, Healthy, Picnic, Piment d'Espelette, Ranch Seasoning, Salads, Side-dish
Leave a comment