Piment d'Espelette Fish Stew
This hearty stew hits it on all notes, the high acid of the tomatoes and wine play against the sweetness of the deeply caramelized onion and fennel, the brine-y olives render the seafood right at home, and the Piment d' Espelette… oh, the Espelette! The perfect balance of heat and complexity that clarifies this bounty of flavor, and unites it all in delicious harmony. If my fish-monger has them, I'll often throw in a few oily little fish,too, like fresh anchovies or sardines… Just sear them whole, skins and all, in a bit of olive oil and add to the serving dishes.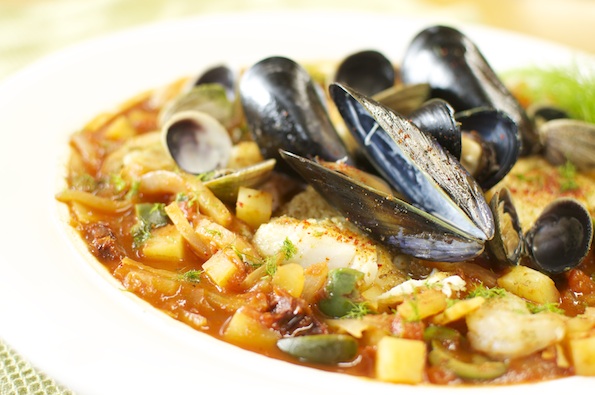 Ingredients
4 ounces raw, shell-on shrimp (About 8 large shrimp)
8 ounces skinless, firm white fish fillets, such as swordfish, cod, halibut, or sea bass
8 ounces clams or mussels or a combination of the two
2 cups homemade or no-salt-added chicken stock (or fish stock)
1 1/2 cups water
½ cup clam juice
1 cup dry white wine
1 strip of lemon rind
1 large sweet onion, cut into thin slices
1 can fire roasted tomatoes
3 cloves garlic, minced
½ cup large green olives, pitted and halved
¼ cup sun dried tomatoes, chopped
8 ounces waxy yellow potatoes, such as Yukon gold, ½ inch dice.
2 medium fennel bulbs, cored and cut into thin slices, reserving fronds for garnish
1 teaspoon unsalted butter
1 tablespoon plus 2 teaspoons oil
1 teaspoon ground fennel seed
½ teaspoon whole allspice berries
Freshly ground black pepper
1 tablespoon plus one teaspoon Piment d'Espelette
Instructions
Peel and de-vein the shrimp; place the shells in a medium pot and reserve the de-veined shrimp in a bowl, tossing with half the ground fennel to coat. Use the remaining ground fennel to season the fish fillets, and set aside.
Add the stock, water, clam juice, wine, bay leaf, lemon rind and allspice berries to the pot with the shrimp shells; bring to a boil, then reduce to medium-low heat and simmer for 20 minutes. Strain the broth through a wire strainer, discarding the shrimp shells and whole spices. Add potatoes to the broth, and simmer until fork-tender.
Heat 1 tablespoon of the oil in a 4-quart soup pot over medium heat. Add the fennel, onion, a pinch of salt and 1 tablespoon of the Piment d' Espelette. Cook for 12 to 14 minutes, stirring a few times, until the vegetables are tender and golden. Deglaze with the tomatoes, add the garlic, and simmer until reduced by half.
Add broth to tomato and vegetable mixture, adding in the olives and sun dried tomatoes, and season to taste with salt and fresh pepper. Keep hot over medium low heat.
Heat the remaining 2 teaspoons of the oil and the butter in a saute pan over medium-high heat. Sear the fish until lightly browned, turning and cooking until just firm- do not overcook, as they will continue to cook in the hot broth when served. Transfer to a plate.
Add the shrimp to the hot pan along with clams and/or mussels, along with a few generous ladles of broth, and cover tightly with a lid to steam open the bivalves.
Place an equal portion of fish into serving bowls. Ladle the hot broth over the fish, garnishing each serving with shrimp, clams and mussels, chopped fennel fronds and a generous pinch of Piment d' Espelette.
© 2023 World Spice Merchants https://www.worldspice.com