Heavenly Béchamel and More Fun with Mace Blades
Of the five classic French "mother sauces," béchamel gives us some of the most rich small sauces. Although béchamel may be the most simple to prepare, that doesn't mean it can't also show off some pretty complex flavors. Taking the time to create layers of flavor in the building blocks of a recipe ensures that the sauces and dishes created from those blocks will build palaces of flavor. As the recipe below demonstrates, there are not many ingredients in the basic béchamel sauce; just milk, roux, and the onion cloute. An onion cloute is an onion studded with cloves and a bay leaf, and although I've seen some recipes call the cloute optional- it is not. The onion cloute is essential as it is the only flavor added to the milk besides butter.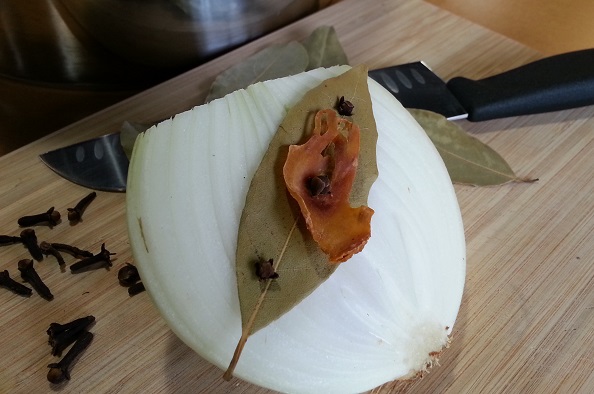 An Italian chef I once worked for insisted that a béchamel was never complete without a bit of nutmeg, an ingredient that was conspicuously absent from béchamel recipes in my traditional French culinary education. Once I tasted his version, I never again made my béchamel without a dusting of freshly ground nutmeg to finish it. Never, that is, until a few weeks ago when we were lucky enough to get the first shipment of mace blades we've been able to secure in years. I had always used a mixture of mace powder as well as a little extra freshly grated nutmeg when making creamed spinach from a béchamel base, but I had been reluctant to to try including mace powder in every batch of my béchamel for fear of the flavor being overpowering. This is a perfect application for mace blades! By adding a nice mace blade or two to my onion cloute, I could get the subtle mace flavor I was looking for without overshadowing other flavors.
Ingredients
4 tablespoons unsalted butter
4 tablespoons all purpose flour
2 cups whole milk
Freshly grated nutmeg(optional)
For the onion cloute:
Instructions
Push the cloves through the bay leaf and mace blade and into the onion as shown in the picture above.
Add the onion cloute to the milk and scald the milk by bringing it to just below a boil.
In a separate heavy bottom sauce pan over medium heat melt the butter and add the flour to make a roux.
Cook the roux until very lightly colored.
Whisk the hot milk into the roux one cup at a time, carefully transfer the onion cloute.
Turn the heat down to low and simmer for 15-20 minutes, stirring constantly.
Grate nutmeg into the sauce, if using.
Strain sauce through a fine mesh strainer, discarding the onion.
© 2023 World Spice Merchants https://www.worldspice.com
Béchamel itself is used in many recipes for lasagna, croque madames, or soups, but there are quite a few other sauces that can be derived from a basic béchamel, often by adding just a few ingredients. The French call these "small sauces" and some of my favorites are:
Cheddar cheese – add some shredded cheddar cheese, dry mustard, and worcestershire sauce or powder.
Mustard sauce – add some prepared mustard.
Crème Sauce – just whisk in some heavy cream (I also like to add a heavy pinch of Piment d'Espelette.)

Pickling Spice with Mace Blades
As our long-time customers may remember, we used to include mace blades in our pickling spice. Now that they're back, we really wish that we could go back to using them in our pickling spice recipe, but unfortunately the market shortage has driven the price up considerably and would make our pickling spice much more expensive. That doesn't mean that the dedicated home pickler can't buy an ounce or two and add it to their pickling spice themselves! We'd recommend a ratio of about an once and a half of mace blades to each pound of pickling spice. Having been born and raised in Pennsylvania Dutch country, beet pickled eggs are one of my favorite snacks (great for a quick breakfast too,) and one of the first things I tried making with the mace blades when I finally got my hands on them. I've even heard that some people use a beet pickled egg as an outrageous garnish for a bloody mary.
Ingredients
12 chicken eggs, hard boiled and peeled -or- 12 duck eggs if you're feeling fancy.
2 medium size beets, roasted or boiled and sliced -or- 1 can of sliced beets if you're feeling lazy.
1 red onion, thinly sliced
3/4 cup apple cider vinegar
1/3 cup white sugar
3 tablespoons pickling spice
1 large or 2 small mace blades
1 tablespoon dried orange peel
Instructions
Combine the beets, vinegar, sugar, orange peel, pickling spice and mace blades in a medium size sauce pan and bring to a boil. Reduce heat and simmer for 8-10 minutes.
Allow mixture to cool.
Arrange eggs and sliced red onion in layers in a large canning jar or other glass vessel.
Pour cooled pickling mixture over the eggs and onions and refrigerate.
Allow the eggs to sit in the fridge for at least a day or two, but they will just get better over the next couple weeks (if you can wait that long!)
© 2023 World Spice Merchants https://www.worldspice.com