Gingerbread Caramels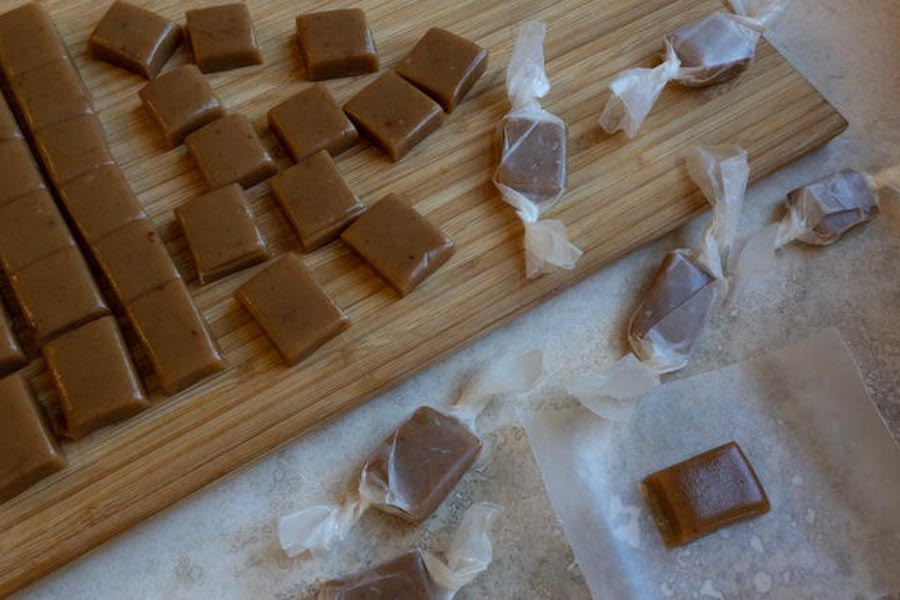 Some spices are just born leaders, with big loud voices and an overwhelming presence. Mace can be one of those show-offs, unless properly tamed. Mace is actually the lacy outer covering of the nutmeg, but its flavor is a bit earthier than nutmeg – think bass vs. soprano. Here we're getting the most out of it's character by combining it with other spices to recreate the scintillating flavor of freshly baked gingerbread, but in a soft, chewy caramel candy, perfect for gift-giving this holiday season.
Now there's nothing to fear in caramel making, as long as you follow a few simple rules. Rule #1 is know your altitude. Sugar cooks quicker (which means that water evaporates faster, and that's what control's your ultimate texture) at higher altitudes, so the general rule is to subtract 2 degrees for every 1000 feet above sea level from your final temperature. For example, our basic, sea level recipe calls for a final cooking temperature of 240 F. for a soft caramel. My kitchen is around 3000 ft., so, after a bit of experimenting, I finally altered the target temperature to 238 F. It may take a few tries to find the softness that you prefer – I like my caramels a bit on the softer side. The second rule to follow is to STIR CONTINUOUSLY while cooking the caramel. Dairy products burn really easily at high temperatures, and you don't want that. Thirdly, know your thermometer. Test it by filling a large glass with ice and enough water to separate the cubes. Let it sit for a minute, then insert your thermometer – it should read 32 degrees. If not, make a note of how far off it is, and adjust your cooking  accordingly. And remember, the caramel mixture will be extremely hot, so resist the temptation to taste it until it's cooled off. I like to keep a dab on my spatula for tasting purposes, since it will cool off quickly. Follow these few rules, and you'll find yourself on the road to candy making success.
Ingredients
¾ cup dark brown sugar
¼ cup sugar
2/3 cup corn syrup
¾ cup sweetened condensed milk
1 tablespoon unsulphured molasses
4 tablespoons unsalted butter, softened
1/2 teaspoon ground mace
1/2 teaspoon ground ginger
1/2 teaspoon cinnamon
1/8 teaspoon ground cloves
1/8 teaspoon nutmeg
Pinch salt
1-1/2 teaspoons vanilla
Vegetable oil
wax paper
Instructions
Line an 8" square pan with heavy aluminum foil and grease with vegetable oil.
Put sugars, corn syrup, condensed milk, molasses and butter in a 2 quart saucepan. Using a long handled heat proof spatula or wooden spoon, stir constantly over medium heat till butter melts, then increase heat to medium high till mixture begins to bubble (5-8 minutes). During this time wash sides down with a wet pastry brush once or twice, to keep sides clear of unmelted sugar.
When mixture begins to boil, place thermometer in pan and cook to 240 F. (or lower, for high altitude), stirring constantly, 6 -8 minutes. When caramel is just a few degrees shy of your target temperature stir in the spices. When final temperature is reached, quickly remove pot from heat, pull out the thermometer, stir in vanilla, and pour into prepared pan. Do not scrape the last bits of caramel off the bottom of the pot, as it will likely be somewhat overcooked. It's ok to scrape the sides, if you're careful not to include any burned bits.
Set pan on a rack to cool completely for several hours, covering loosely when cold. If the weather is particularly warm or humid you can put it in the fridge to firm up.
Lift foil and caramel from pan, turn out onto a cutting board and peel off foil. If caramel is too soft or sticky to work with, place in freezer for 15 minutes, then try again. Blot off any excess oil from the caramel, then flip right-side up and cut with a large oiled knife into 3/4" x 1-1/4" pieces, separating them as you go so they don't stick together.
Cut 6" wide strips of was paper into 3 pieces. Wrap individual caramels in wax paper, twisting the ends closed. Caramels may be stored in a cool place, but should be room at room temperature for eating.
© 2023 World Spice Merchants https://www.worldspice.com
Note: To make clean up a breeze, after you pour out the caramel refill the pot with water. Cover and bring to a boil, then set aside for a few minutes. The hot water and steam will help dissolve the cooked sugars.