Eggnog Chiffon Pie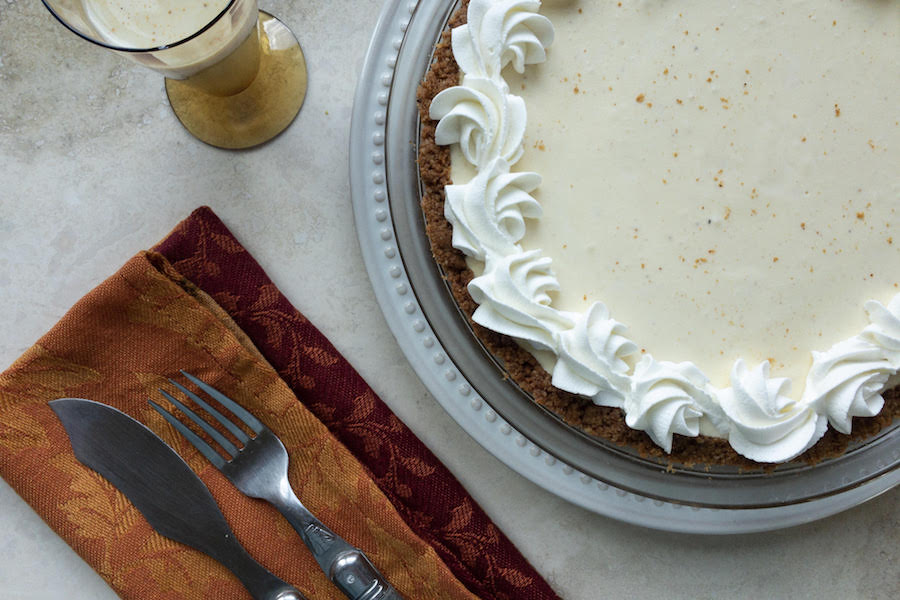 One sure sign that winter has arrived is the appearance of eggnog in the grocery stores. We're going to use that distinctive flavor here in this light and airy Eggnog Chiffon Pie, but we'll also be giving it a subtle new make-over by substituting mace for the traditional nutmeg. This allows the mellow, earthier tones of the mace to shine through, tempered by a judicious touch of spirits. Typically, a chiffon pie gets it's soft, pillowy texture from a combination of whipped cream, whipped raw egg whites and a cooked creme anglaise, or custard sauce, stabilized with a little gelatin. In the interest of food safety we're opting to make a Swiss Meringue with the whites, which quickly cooks the eggs to a safe temperature before whipping them up. The crust includes more spices and ground pecans, providing a satisfying crumbly contrast to the smooth, creamy filling.
Ingredients
Crust:
1 cup pecans
1 sleeve graham crackers, lightly crushed
¼ teaspoon mace
1/8 teaspoon cinnamon
1/8 teaspoon ground cloves
Pinch salt
6 tablespoons unsalted butter, melted
3/4 cup heavy cream
Swiss meringue:
2 egg whites
1/4 cup sugar
1/2 teaspoon mace, rounded
1/8 teaspoon nutmeg
Custard:
2 tablespoons dry sherry
1 tablespoon light or gold rum
1 tablespoon water
1 envelope gelatin
1/3 cup sugar
4 egg yolks
1-1/2 cups milk
1/2 t. salt
2 tablespoons light or gold rum
2 teaspoons vanilla
Instructions
Make the pie shell. Preheat oven to 350 F. Using a food processor, roughly grind the pecans, graham crackers and spices. Add the melted butter and pulse to mix completely. Press into either a 9" or 10" pie pan, pressing crumbs down firmly using the bottom of a 1 cup measure. Bake for about 14 minutes, or until lightly browned. Set aside to cool completely.
Whip the cream to medium firm peaks, set aside in refrigerator.
To make the swiss meringue, gently hand whisk the egg whites and ¼ cup sugar in a small metal bowl set snugly over a pot of simmering water. When sugar is completely dissolved and mixture tops 140 F., about 3 minutes, remove from heat. Using a hand mixer, beat 2 minutes, till mixture starts to thicken. Add mace and nutmeg and continue beating till thickened and cooled. Set aside.
Whisk gelatin with sherry, rum and water in a small bowl.
To make the custard, whisk together sugar and egg yolks in a small wide metal bowl. Bring milk and salt to a boil in a 2 quart saucepan, then slowly whisk into yolks. Pour mixture back into pan and cook on medium-low heat, stirring constantly with a heat proof spatula or wooden spoon, till it has thickened somewhat and you can run your finger and make a track through the mixture across your spatula. Do not let custard boil or start to curdle. This should only take 3-4 minutes.
Remove from heat and stir in gelatin till completely melted. Pour through a sieve into a clean bowl and cool over an ice bath, whisking occasionally, till mixture starts to cool and set up. You can place the whole setup in the refrigerator to speed things up.
When ready, fold whites, rum and vanilla into custard. Fold in whipped cream. Pour into shell and sprinkle with a bit of mace. Chill until set, at least 3 hours. Serve topped with additional sweetened whipped cream if desired.
© 2023 World Spice Merchants https://www.worldspice.com
Note: The amount of filling here will fill 1- deep 9″ or shallow 10" pie. You can also use a regular shallow 9" pan, but you will have extra filling (yum!).