Chole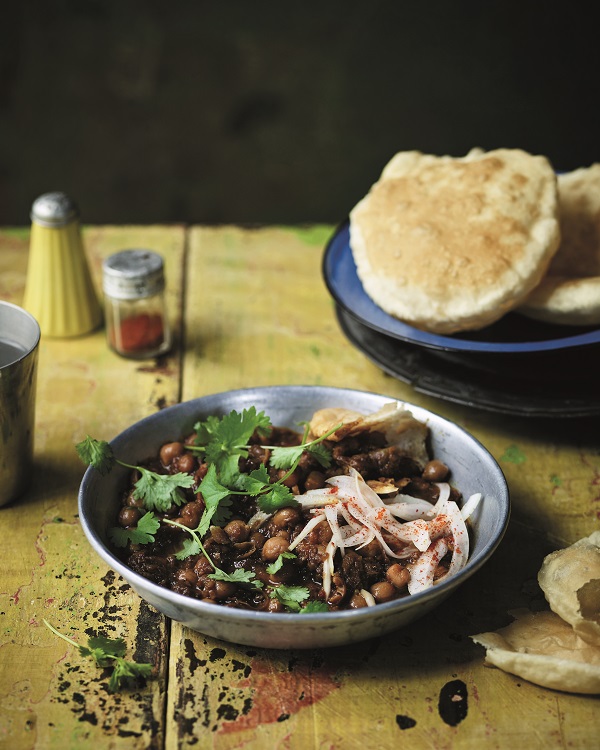 Our July Cookbook Club selection is Chai, Chaat & Chutney: a street food tour through India, and we've been looking forward to it ever since we heard that author Chetna Makan was coming out with a new cookbook! We loved her on "Great British Bake Off" and her first cookbook, The Cardamom Trail was full of many flavorful and stunningly photographed dishes. For this book, she returned home to India and the street food that she grew up on. The book has four chapters that are organized by cities that make up the four corners of India – Chennai, Kolkata (formerly known as Calcutta), Mumbai and Delhi. The fifth chapter? All masala and chutney recipes. Some recipes will look or sound familiar, others will not…but the photos and descriptions of the food will make you want to eat (or drink!) all of them. If you love Indian food or any form of street food, this is the cookbook for you! This recipe is a wonderful example how curries in the North of India use lots of fragrant and aromatic spices to make this mouth-watering vegetarian curry made with chickpeas.
From the author: "One of the ultimate curries of the North, this chickpea curry is often paired with Bhatura, a deep-fried flatbread sold piping hot originally on the streets of Delhi but, now, all over the country. This combination should be on everyone's must-try list when visiting India. You can keep it light by eating this curry with rice or chapatti, if preferred."
Ingredients
3 tablespoons sunflower oil
4 cloves
1 teaspoon cumin seeds
2 large onions, grated or blitzed to a paste in a food processor
3 garlic cloves, finely chopped
2.5cm (1 inch) piece of fresh root ginger, peeled and finely chopped
2 tomatoes, grated
200ml (1/3 pint) water
1-1/2 teaspoons salt
1 teaspoon ground turmeric
1 teaspoon chilli powder, plus extra to garnish
1 teaspoon mango powder (amcur)
1 tablespoon ground coriander
1 tablespoon garam masala (ground)
2 x 400g (14oz) cans chickpeas
handful of fresh coriander (cilantro) leaves, finely chopped
sliced onion, to garnish
Instructions
Heat the oil in a wide saucepan and add the black and green cardamom pods, cloves, cinnamon and bay leaves and cook for 1 minute, until they begin to change colour. Add the cumin and, once it starts to sizzle, add the onion. Cook over low to medium heat, stirring often, for about 10 - 15 minutes, until the onion is dark golden brown.
Stir the garlic and ginger into the saucepan and cook for 1 minute. Then stir in the tomatoes and 100ml (3-1/2 fl oz) of the measured water, cover the pan with a lid and cook over low heat for 20 minutes, until the tomatoes are soft and the mixture comes together as a sauce. Add the salt and spices and mix well.
Now add the chickpeas with their canning liquid and the remaining 100ml (3-1/2 fl oz) water Bring the mixture to a boil, then cover the pan with a lid and simmer for 20 minutes, until the chickpeas are soft. Use a masher to crush just a few of the chickpeas so that they break down and thicken the sauce. Sprinkle over the coriander (cilantro) leaves, garnish with the onion slices sprinkled with chilli powder, and serve with the Bhatura.
Notes
Chilli powder - You can use any ground chile or chile flake for chilli powder. It all depends on how hot you want the dish.

© 2023 World Spice Merchants https://www.worldspice.com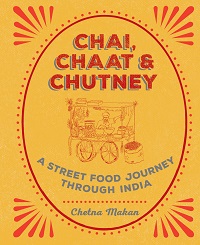 Book credit: Chai, Chaat & Chutney: a street food tour through India  by Chetna Makan, is published by Mitchell Beazley in the UK www.octopusbooks.co.uk. Image credit: Nassima Rothacker. Chai, Chaat & Chutney: a street food tour through India is the July 2018 selection for the World Spice Cookbook Club. Chai, Chaat & Chutney: a street food tour through India is currently available for purchase online.