Qalat Daqqa Papaya Smoothie
On the way to our storefront behind the Pike Place Market, we're fortunate to be greeted each day by a rainbow of fruits and vegetables. Papaya is a fruit normally enjoyed on a tropical vacation, but the ones at Frank's Quality Produce looked absolutely perfect. Since nothing says summer like a tropical smoothie, we decided to give pick some up and try it out.
Papaya is buttery and sweet, with a flavor akin to cantaloupe. To add a spicy twist, we turned to Qalat Daqqa, a Tunisian spice blend containing nutmeg, black pepper, cloves, grains of paradise, and cinnamon. A touch of turmeric balances the sweetness, while frozen banana and chia seeds round the flavor. Bursting with tropical sweetness, this smoothie will have have you feeling just a little bit closer to paradise.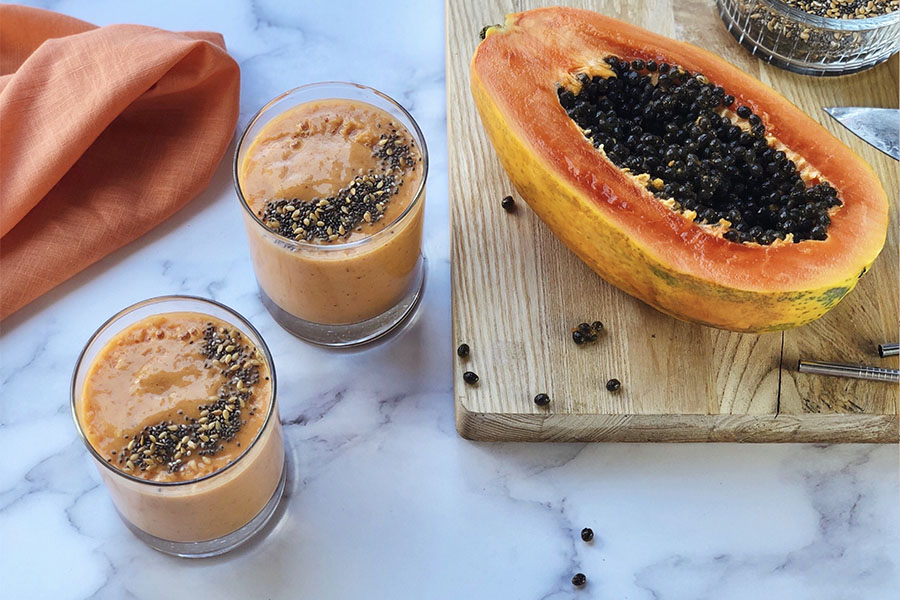 Ingredients
1/2 of a large papaya
1/2 of a frozen banana
2 cups oat milk or milk of choice
1/2 teaspoon turmeric
1/2 teaspoon Qalat Daqqa
Garnish
Instructions
Add all of the ingredients to a high power blender for smoothest result.
Garnish with chia seeds, flax seed and cinnamon to taste.
Serve and drink immediately.
© 2023 World Spice Merchants https://www.worldspice.com