Asian Tea Rubbed Brisket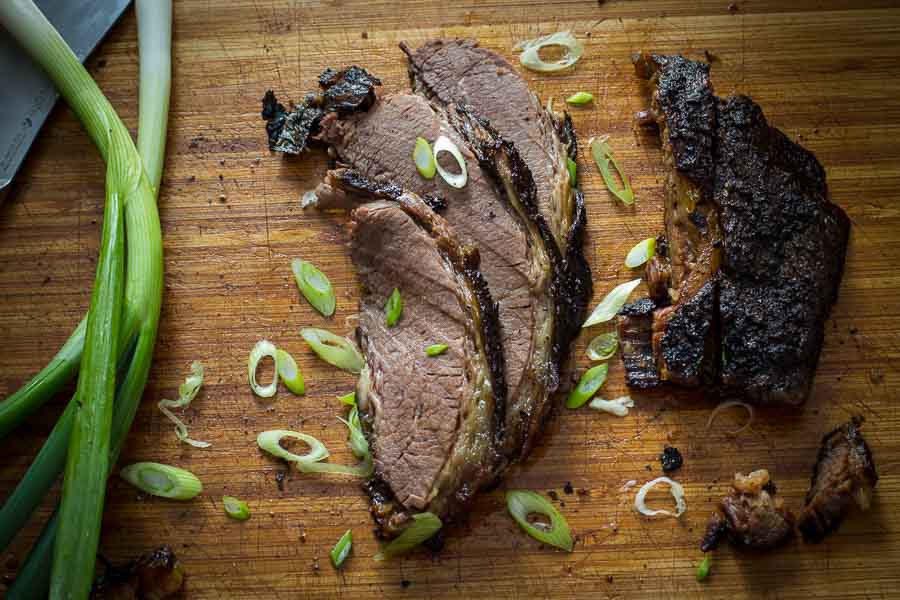 This slow cooked brisket takes all day, but requires little more than patience to turn out a delicious meal with plenty left-over. Instead of traditional Texas style seasonings, we prepped the brisket with a coating of mustard and our Asian Tea Rub, which is smoky and sweet with hints of orange and ginger. The smells coming from the oven will tempt you to peek and rush to the finish, but don't! The results will be worth the wait.
Ingredients
For the Brisket
1 beef brisket, about 6-7 lb
1/2 cup yellow mustard
2 tablespoons Asian Tea Rub
For the Sauce
1/2 cup orange juice
1/2 cup ginger and orange marmalade
1 tablespoon Asian Tea Rub
2 teaspoons tamarind paste
2 teaspoons apple cider vinegar
1 teaspoon Rooster Spice
Instructions
For the Brisket
Prepare a large rimmed sheet pan by lining it with foil and a low wire rack.
Coat both sides of the brisket with mustard and Asian Tea Rub.
Place the brisket on the prepared sheet pan and cover with foil. Refrigerate overnight.
When you are ready to cook the brisket, remove it from the fridge and preheat the oven to 300 degrees. Slide the sheet pan with the brisket, still covered with foil, right into the oven. Cook until the internal temperature reaches 180 degrees, then uncover the brisket. Continue cooking until the internal temperature is close to 200 degrees and allow one hour cooking time as the internal temperature remains right around 200 degrees. Test for doneness by lifting the brisket from the center with a sturdy set of tongs. It should bend readily, kind of like a fish.
The cook time will vary, but allow 4-6 hours covered and another hour or two uncovered. Don't be concerned if the temperature goes quickly to 180 degrees and then takes much longer to reach 200. A leave-in meat thermometer is really helpful and is a great tool to have!
Allow the brisket to rest at least 20 minutes, then slice across the grain and serve with sauce.
For the Sauce
Combine the sauce ingredients in a small saucepan and bring to a low boil. Reduce the heat to simmer and cook for 10-15 minutes until the sauce thickens.
Notes
The great technique for cooking this brisket came from our friends at The Kitchn and this post for How to Cook Texas-Style Brisket in the Oven. We adapted the seasonings and voila! Look forward to trying many more flavors with this simple, spot-on method.
© 2023 World Spice Merchants https://www.worldspice.com