Asian Tea Glazed Duck Breast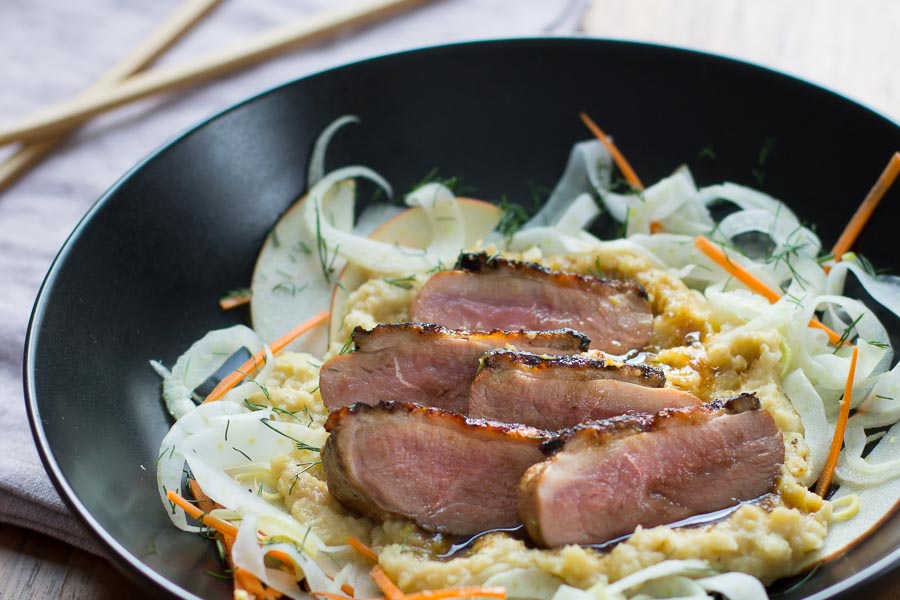 This Asian Tea Glazed Duck Breast is the perfect dish to celebrate the Lunar New Year. The glaze is seasoned with our Asian Tea Rub, combining bold, pine-smoked lapsang souchong, tea with hints of cinnamon, pepper, ginger, orange and brown sugar. The glaze is easy to put together and the sweet and smoky flavors are balanced with a bit of sour from tamarind paste. We served the duck on a bed of leek and celery root puree alongside crunchy fennel slaw.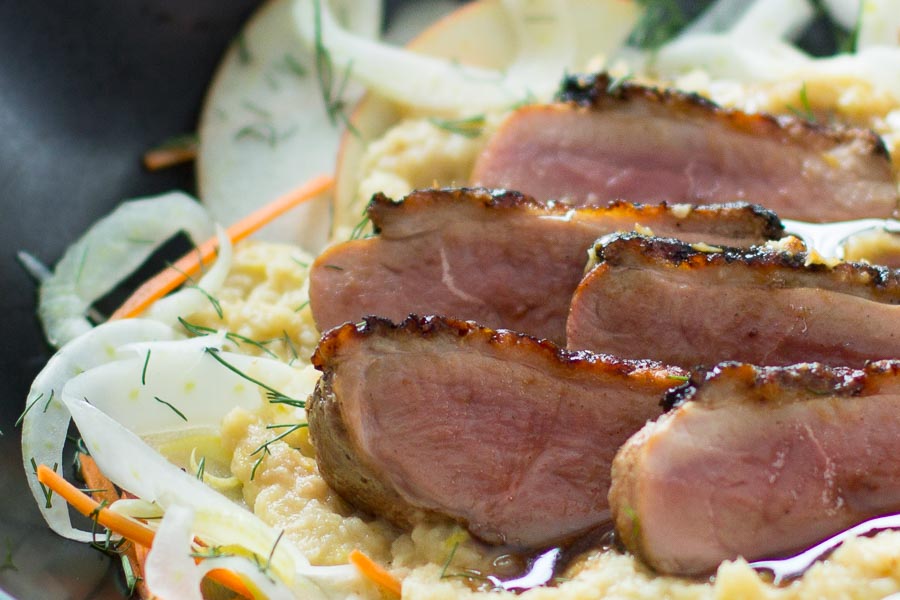 We were lucky enough to have a duck cooking coach on hand, thanks Scott! The result was a perfectly cooked breast with a thin and even layer of crispy fat on the outside. Follow the cooking instructions closely and you will enjoy the results. This meal will set the tone for a spectacular 2020. Happy New Year!
Ingredients
1/3 cup honey
2 tablespoons ground Asian Tea Rub
1 teaspoon tamarind paste
Juice and zest from 1 medium orange
4 duck breasts
Instructions
For the Glaze
In a heatproof glass measuring cup, liquefy the honey in a water bath. While the honey is warm, stir in the Asian Tea Rub, tamarind paste, orange juice and zest. Continue warming gently in the water bath for 10-15 minutes. The glaze will contain bits of spice, tea and zest. You can use as-is or strain the glaze through cheesecloth.
Remove the duck breasts from the packaging and pat dry. Using a sharp knife, score the fat side liberally in 2 directions, creating a crosshatch pattern. Work carefully scoring the fat but not the meat.
Drizzle about half the glaze onto the scored breasts, enough to coat both sides. Set aside for about 15-20 minutes, just long enough to take the chill off the breasts.
To cook, use a heavy skillet or grill pan large enough to hold all four breasts without crowding. Place all four breasts in the cold pan, fat side down and turn the heat to medium-low. When the fat begins to gently sizzle and pop, begin timing and watch the heat carefully, maintaining a gentle low heat. If the fat begins to spatter too vigorously, reduce the heat. Cook the fat side down 7-10 minutes until the fat is rendered and the breast is evenly browned and crispy. It's okay to peek at the underside! Adjust the position of the breasts around the pan to ensure even cooking.
When the meat is plump and the fat side evenly cooked, flip the breasts and weight them with something heat-proof and heavy like a grill press or another pan. (We used a granite mortar 😉 Continue cooking over consistent medium-low heat until the internal temperature reaches 135 degrees for rare meat, about 3-5 minutes more.
Remove the breasts from the pan and allow the meat to rest 10 minutes.
Slice across the grain into 1/4" slices and serve immediately, drizzled with additional glaze.
© 2023 World Spice Merchants https://www.worldspice.com