Marble Tea Egg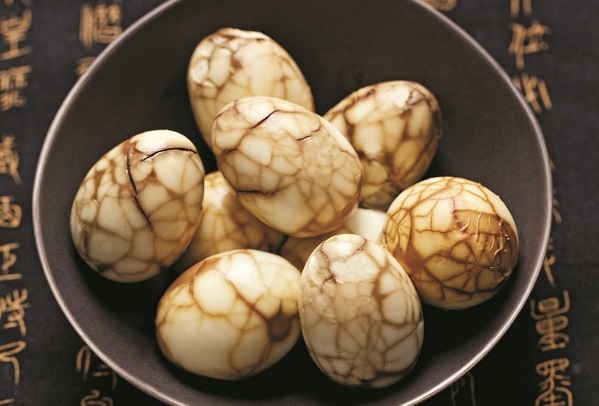 The March 2017 Cookbook Club Meet & Eat selection Phoenix Claws and Jade Trees by Kian Lam Kho takes the mystery out of Chinese home cooking. Full of step-by-step basic cooking methods and techniques, this book also provides an excellent overview to ingredients that you might not be familiar with. Kian Lam Kho's recipes range from simple to more complicated, but all are well worth trying. This Marble Tea Eggs recipe is an example of one that is easy to make, and results in a spectacular dish when served.
From the Author: "Found in just about every corner convenience store all over China, this tea egg is a popular snack food that is also commonly served as an appetizer at formal banquets. Any Chinese red or green tea works well with this recipe, but do not use black tea, as it can make the eggs too bitter."
Ingredients
1/4 cu Shaoxing cooking wine
1 tablespoon dark soy sauce
2 tablespoons soy sauce
3 tablespoons Chinese green or red tea leaves
1 (2-inch) square of dried tangerine peel
1 (2-inch) square of cassia bark
2 whole star anise
1 teaspoon sugar
6 large eggs
Instructions
Put all the braising broth ingredients in a pot with 4 cups water and bring to a boil. Turn the heat to low and simmer the broth for about 30 minutes. Filter the braising broth through a fine-mesh sieve into another pot and discard all the aromatics and spices.
Put the eggs in a separate pot and add enough water to cover them completely. Slowly bring the water to a simmer and then cook for about 10 minutes. Drain the eggs and crack the shells but do not peel them.
Put the eggs in the strained braising broth and simmer for 40 minutes. Remove the pot from the heat and let them cool completely. Transfer the cooled eggs along with the broth to a covered container and store the eggs, submerged in the broth, in the refrigerator.
Peel each egg and cut t hem into 6 wedges each. Pour a little bit of the braising broth over the eggs, and serve cold.
© 2023 World Spice Merchants https://www.worldspice.com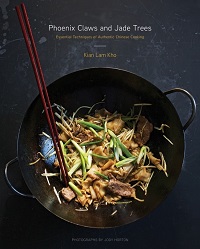 Recipes and images reprinted from Phoenix Claws and Jade Trees: Essential Techniques of Authentic Chinese Cooking. Copyright © 2015 by Kian Lam Kho. Photographs copyright © 2015 by Jody Horton. Published by Clarkson Potter/Publishers, an imprint of Penguin Random House LLC.
Phoenix Claws and Jade Trees is the March 2017 selection for the World Spice Cookbook Club. Phoenix Claws and Jade Trees is currently available for purchase at our retail store and online.