Hawk Wings
Attention Seahawks Fans!
These sweet and spicy wings are just the ticket to victory on the table, and we plan to enjoy them by the heaping helping as we cheer on our team. They are easy to make, too, so you don't have to spend much time in the kitchen. Seattle Salmon Rub is good on all kinds of things- not just salmon- and we've taken advantage of that to create this special hawks-fan fare. Combine the pan-Asian flair of the spice rub with sweet orange and maple and a kick of heat from Aleppo and you've got a winner. If you like them really hot, increase the Aleppo or add a sprinkle of our Rooster Spice to the sauce. The sky's the limit.
GO HAWKS!!!!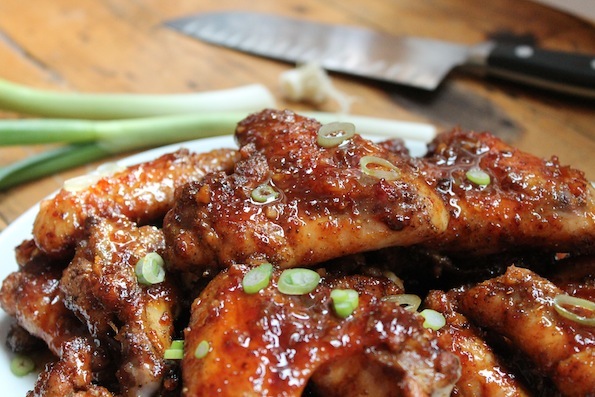 Ingredients
For the wings
For the sauce
1 cup orange juice
zest of 1 orange
½ cup maple syrup
¼ cup soy sauce
¼ cup mirin
1 tablespoon finely minced garlic
1 tablespoon finely minced green onion
1 tablespoon toasted sesame oil
1 teaspoon Seattle Salmon Rub
2 teaspoons Aleppo pepper
sliced green onions for garnish
Instructions
Preheat the oven to 450 degrees and line a large sheet pan with foil and apply non-stick cooking spray.
Using heavy kitchen shears or a sharp knife, remove the wing tips from the chicken wings. You can also separate the wings at the joint, if desired. We typically leave them whole.
Place the wings in a large bowl and sprinkle with the Seattle Salmon Rub and Aleppo. Toss to coat the wings and arrange them on the foil lined sheet pan with the meaty side facing up. Bake for 30 minutes.
While the wings are in the oven, combine the sauce ingredients in a heavy bottomed pan and bring to a low boil. Continue cooking until the sauce is reduced to a syrupy consistency, about 15 minutes. Keep the sauce warm until the wings come out of the oven.
Remove the wings from the oven and reduce the oven temperature to 350 degrees. Transfer the wings to a large, heat-proof bowl and pour the warm sauce over the wings. Stir gently with a wooden spoon to coat the wings with sauce. Return the wings to the sheet pan and set aside the remaining sauce left in the bottom of the bowl. Cook 20 minutes.
When the wings are done, arrange on a platter and pour the reserved sauce over the top. Garnish with sliced green onions. Serve with lots of napkins and ice cold beer.
© 2023 World Spice Merchants https://www.worldspice.com