Seattle Salmon Rub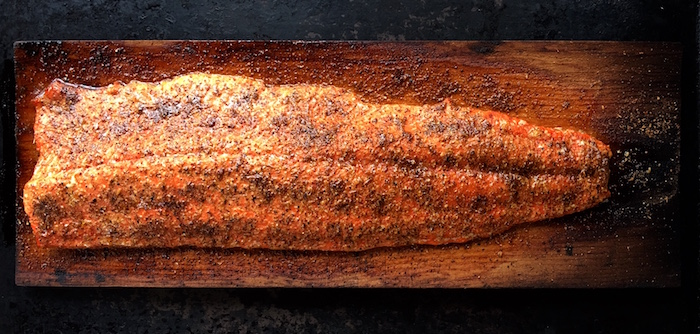 We eat lots of salmon here in the Northwest and never tire of finding fabulous new ways to enjoy it. Among them all, Seattle Salmon Rub remains at the top of the list. Our signature blend with pan-Asian sparkle combines bright notes of orange and star anise with a savory base of toasted cumin and coriander with just enough salt and sugar to make the perfect crust. For this recipe we've cooked the fish on alder and cedar planks for the ultimate NW flavor experience.
Ingredients
2 pounds salmon fillet, Sockeye or King, skin removed
2 tablespoons extra virgin olive oil
2 tablespoons freshly ground Seattle Salmon Rub
Instructions
In a large shallow pan, submerge 2 grilling planks in water and allow to soak at least 30 minutes.
Prepare a medium-high heat grill, about 400 degrees.
Brush the fillets on both sides with olive oil, and sprinkle evenly with Seattle Salmon Rub.
Remove the planks from the soaking pan and place a piece of salmon on each one.
Place the planks on the grill and close the lid. Cook for 10-12 minutes. The fish is done when it flakes easily and you can see white streams of fat coming out from between the flakes on the side of the fillet. Serve immediately.
© 2023 World Spice Merchants https://www.worldspice.com