Maple Spiced Carrots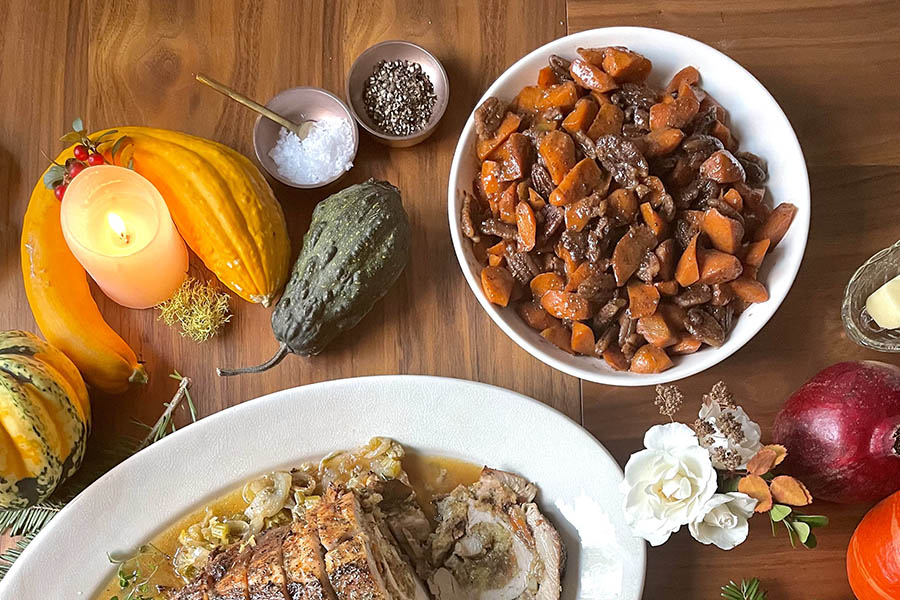 Here's a side dish that indulges your sweet tooth during dinner. With some inspiration from pecan pie and some from our pan-Asian super-spice Seattle Salmon Rub, the dish comes together beautifully. Can you put salmon rub on carrots, you ask???? Heck, yes! The toasted savory base of pepper, cumin and coriander is accented with sweet top-notes to make the perfect seasoning. Add a generous amount of maple syrup and butter and these carrots cook down candied and tender. They'll smell of star anise and orange from the Seattle Salmon Rub as the glaze thickens and coats the carrots to perfection. We did an oblique and festive cut on the carrots and, for a bit of crunch, we added toasted whole pecans. This is a delightful change from candied yams but the glaze will work equally well on both. As always, marshmallows optional.
Ingredients
4 tablespoons butter
2 pounds carrots, oblique cut
2 teaspoons kosher salt
1/2 cup maple syrup
1 cup chicken stock
1-1/2 tablespoons Seattle Salmon Rub
1 teaspoon fresh rosemary, minced
1 cup pecans, whole, toasted
Instructions
In a large pan over medium-high heat, melt the butter. Add in the cut carrots sprinkle on the salt. Cook, stirring occasionally, for 5 minutes.
Add maple syrup, chicken stock and Seattle Salmon Rub, and bring to a gentle boil. Reduce heat and simmer covered until the carrots are just tender, about 4 to 5 minutes more, shaking the pan occasionally.
Using a slotted spoon, transfer the carrots to a serving dish. Return the pan back to the heat and continue cooking uncovered until the sauce is a glaze-like consistency, about 1 to 2 minutes more. Add the rosemary and pour glaze over carrots. Top with toasted pecans and enjoy.
© 2023 World Spice Merchants https://www.worldspice.com