Cold Ayam Apple Soup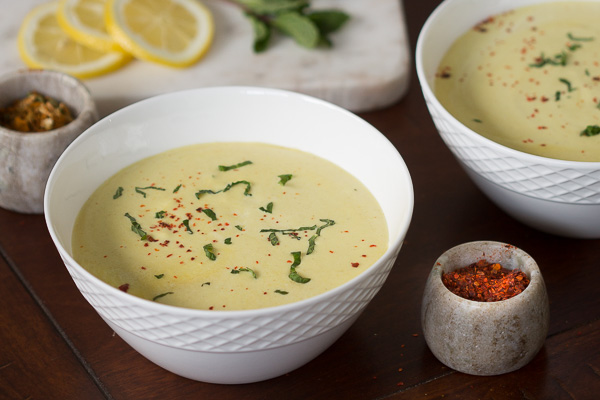 One of the advantages of this soup is the fact that you can make it ahead of time and it's ready to eat whenever you are. Or wherever you are, seeing as this is a quintessential British picnic dish meant to be served cold. The Indonesian Ayam gives it a gentle curry-like flavor, but without too much heat. As for the apples, I like to use both Granny Smith for their tartness and a second variety that brings more sweetness to the dish, but feel free to use all sweet apples or your favorite varieties. As always, feel free to play around with the ingredients! You can substitute vegetable broth for the chicken, or choose between the cream or the yogurt for the finish. If you use the yogurt, which will add more tang, then go lighter on the lemon juice.
Ingredients
2 tablespoons butter, unsalted
1 onion, peeled and chopped
1 tablespoon + 1 teaspoon Indonesian Ayam
4 cups chicken broth
2 medium Granny Smith apples (peeled, cored and chopped medium)
3 medium Gala, Honeycrisp or other sweet apples (peeled, cored and chopped medium)
1 teaspoon sea salt
1/2 lemon, juiced
2 cups heavy cream (or yogurt)
4 sprigs fresh mint
Pinch Marash Chile Flakes
Instructions
Melt the butter in a 6-8 quart stock pot over medium low heat. Add onion and fry till softened and lightly colored, about 8 minutes. Add Indonesian Ayam and salt and cook for another minute, stirring frequently.
Add chicken broth and bring to a boil. Add apples, then return to a simmer and cook, partially covered, for 45 minutes, stirring occasionally, or till apples are completely softened.
Working in batches, ladle mixture into a blender or food processor and blend till smooth. Chill thoroughly.
Before serving, whisk in lemon juice and cream or yogurt. Top with a pinch of Marash Chile Flakes and a little finely chopped mint.
Notes
Adapted from The Guardian and Saveur
© 2023 World Spice Merchants https://www.worldspice.com