Shrimp Fra Diavolo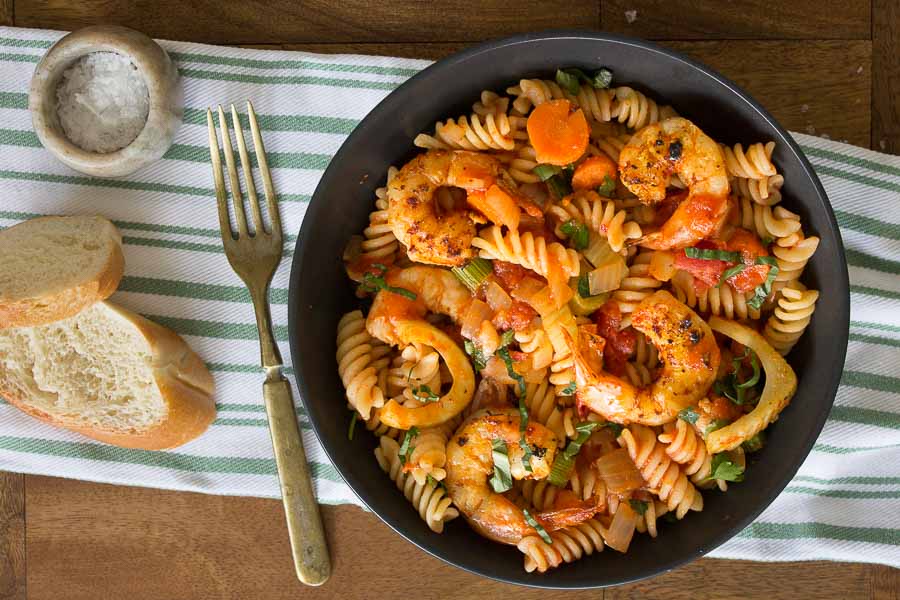 Fra Diavolo translates as "Brother Devil", and refers to this spicy, tomato and seafood- based pasta dish. The tomato sauce is light, perfect for spring and the Marash Chile flakes add a mellow heat with well rounded flavor that plays perfectly with the sweetness in the vegetables. The gentle, warming heat increases upon reheating, so keep that in mind if you're planning for leftovers.
I've been making this dish for many years, but only recently came across a technique that really helps bump up the flavor. More advanced cooks are well aware of how to coax the maximum amount of flavor from shrimp by utilizing the peeled shells, and now I do the same. It's really not that difficult, and it's amazing the difference it makes to the dish. Most Fra Diavolo recipes call for a long noodle such as linguine or spaghetti, but I prefer a corkscrew-shaped pasta, or any other shape with crevices that can capture and hold onto the sauce. Regular or gluten free pasta works equally well here.
Ingredients
1-1/2 lb. raw medium shrimp, peeled and deveined, shells reserved
1 can (28 oz.) peeled Italian tomatoes
2 tablespoons oil
1 small onion, chopped
1 fennel bulb, halved and sliced
1 medium carrot, sliced
3-6 cloves garlic, minced
2 teaspoons Marash Chile flakes
1/4 teaspoon Turkish Oregano
1 cup dry white wine, Sauvignon Blanc or Pinot Grigio
8 oz. fusilli or rotini pasta
1/4 cup chopped fresh parsley
1/4 cup chopped fresh basil
Instructions
Strain tomatoes in a sieve set over a small bowl, poking gently to help release the juices. Add 1 teaspoon marash chile flakes to the reserved strained liquid and set aside. Transfer pulp to a large bowl. Squeeze the tomatoes through your hand or mash them with a fork into bite sized pieces.
Add 1 tablespoon oil to a large skillet and saute the onion, fennel and carrots over medium heat until softened, about 7 minutes. Add garlic, 1 teaspoon marash chile flakes and oregano; cook for 30 seconds more. Transfer mixture to the large bowl with the tomato pulp in it.
Turn heat up to high; add another tablespoon of oil and the shrimp shells to the pan. Cook, stirring occasionally, till shells are spotted with brown, 2-4 minutes. Remove pan from heat and slowly add the wine, it will spatter at first. As the spatter subsides, return to heat and cook, stirring occasionally, until liquid is reduced to 1/4 cup. Lower heat to medium and add the reserved tomato juices. Cook 3-4 minutes, till starting to thicken. Pour over a sieve and press as much liquid as possible out of the shells. If sauce has reduced too much, add a splash of water to the shells to help rinse all the saucy goodness off.
Return the strained sauce to the pan, along with the bowl of cooked vegetables and tomato pulp. Bring to a simmer, add the shrimp, and cook till shrimp are curled and cooked through, 1-2 minutes. If you need to reduce the sauce further, just remove the shrimp so they don't get overcooked. When finished, remove the pan from the heat, season with salt and pepper, and toss in the fresh parsley and basil (and the shrimp, if you removed them).
While sauce is simmering, cook pasta according to the package instructions. Drain and toss pasta into the sauce.
Notes
adapted from Cook's Illustrated "Cook's Science", copyright 2016 by the Editors at America's Test Kitchen

© 2023 World Spice Merchants https://www.worldspice.com
If you want to pump up the volume on the heat in this dish and make it a screaming Devil, add more marash chile flakes to the sauce, or sprinkle some directly onto the shrimp before cooking. These chile flakes do need hydration to bring out the best of their flavor so add them during cooking rather than at the table.