Raw "Couscous" Cauliflower with Almonds, Dried Cherries, and Sumac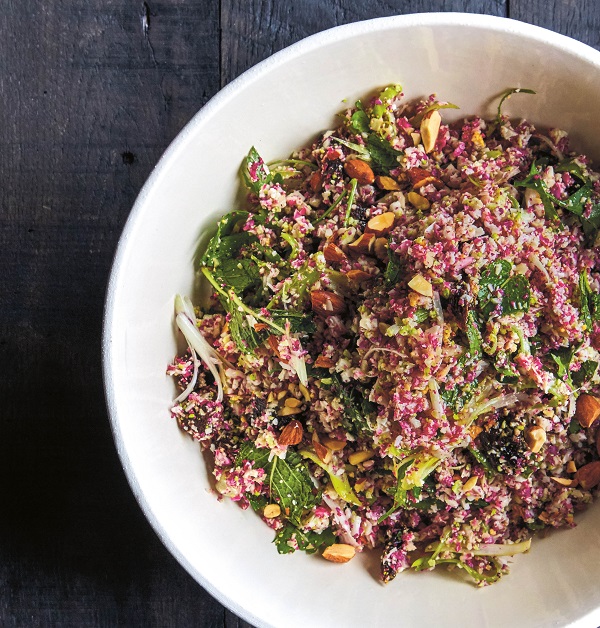 We're excited to do a Pacific Northwest cookbook for our August Cookbook Club Selection, Six Seasons: A New Way with Vegetables.  Winner of the 2018 James Beard Award Best Book in Vegetable-Focused Cooking and topping many "Best Cookbook of the Year" lists, Six Seasons highlights the evolving attributes of vegetables throughout their growing seasons – from spring to early summer to midsummer to the abundant harvest of late summer, then ebbing into autumn and, the the earthy mellow sweetness of winter.
Joshua McFadden, chef and owner of renowned trattoria Ava Gene's in Portland, Oregon, is considered to be a "vegetable whisperer", and has learned to appreciate every part of the plant and how to get the best from vegetables at every stage of their lives. Each chapter begins with recipes featuring raw vegetables at the start of their season, progressing to sautés, pan roasts, braises, and stews. You'll find such delectable recipes such as Swiss Chard, Leek, Herb, and Ricotta Crostata, Raw Corn with Walnuts, Mint and Chiles and Roasted Radishes with Brown Butter, Chile, and Honey. July in the Pacific Northwest has a gorgeous array of vegetables, and we cannot wait to "eat" this cookbook! We think you'll enjoy this Raw "Couscous" Cauliflower with Almonds, Dried Cherries and Sumac – it tastes as good as it looks!
From the author: "In this dish, I crumble the raw cauliflower so that it has the look and texture of couscous—it's easy and unexpected and makes you think of cauliflower in a whole new way. If you can't find dried tart cherries, use golden raisins or even chopped dried apricots; the idea is to have a sweet-tart and chewy element as contrast to the granular vegetable. And be sure to dress and season this salad generously. Underdressed, it risks being dry."
Ingredients
3 ounces dried tart cherries, roughly chopped (about 1/2 cup) 1/3 cup red wine vinegar 3/4 pound cauliflower or Romanesco 3 scallions, trimmed (including 1/2 inch off the green tops), sliced on a sharp angle, soaked in ice water for 20 minutes, and drained well
2 teaspoons ground sumac
1/2 teaspoon dried chile flakes
Kosher salt and freshly ground black pepper
Extra-virgin olive oil
1 cup almonds, toasted (see below), half very roughly chopped and half more finely chopped
1/2 cup roughly chopped flat-leaf parsley leaves
1/2 cup mint leaves
Instructions
Put the dried cherries and vinegar in a small bowl and leave to plump for at least 30 minutes.
If the cauliflower still has outer leaves and they look fresh, chop them. Cut the stem from the cauliflower and cut the head into small florets. Chop the stem into small chunks.
Add some of the stem chunks to a food processor; don't fill beyond halfway. Pulse to chop the stems finely, scraping down the sides a couple of times, and then dump into a large bowl. Finish processing the stems this way, and then do the same with the florets. The goal is to create dry, crumbly cauliflower bits that resemble couscous.
Add the scallions to the bowl with the cauliflower. Add the cherries and soaking vinegar and toss to mix well. Season with the sumac, chile flakes, 2 teaspoons salt, and generous twists of black pepper. Taste and adjust the salt, chile flakes, and vinegar until the cauliflower is highly seasoned and well balanced. Now add 1/4 cup olive oil, all the almonds, the parsley, and mint and toss well. Taste again and add more seasonings and oil if you like. Serve cool or at room temperature.
Toasted Almonds (Quantity is up to you.) - Heat the oven to 350°F. Spread the nuts on a pan in a single layer. For a small quantity, a pie plate is good; for more, use a rimmed baking sheet.
Bake until you smell the nuttiness and the color is deepening slightly, 6 to 8 minutes for most whole nuts.
When the nuts are done, transfer them to a plate so they don't keep cooking on the hot baking pan. Determining doneness can be tricky, because the final texture won't develop until they're cool, so at this stage, you're mostly concerned with color and flavor. To be safe, take them from the oven, let cool, taste one, and if not done enough, pop them back into the oven.
© 2023 World Spice Merchants https://www.worldspice.com
Excerpted from Six Seasons by Joshua McFadden (Artisan Books). Copyright  © 2017. Photographs by Laura Dart and A.J. Meeker. Six Seasons is the August 2018 selection for the World Spice Cookbook Club. Six Seasons is currently available for purchase at our retail store and online.