Peppercorn Shortbread
Shortbread takes a walk on the wild side with a globe trotting parade of pepper- Vietnamese peppercorns, green peppercorns, grains of paradise and pink peppercorns. all make an appearance and lend their unique flavors to the mix. These cookies are easy and everything BUT boring. This short bread is spicy, sweet and has a kick that makes them perfect for dunking in something warm and creamy like your favorite Chai or some warm milk with turmeric.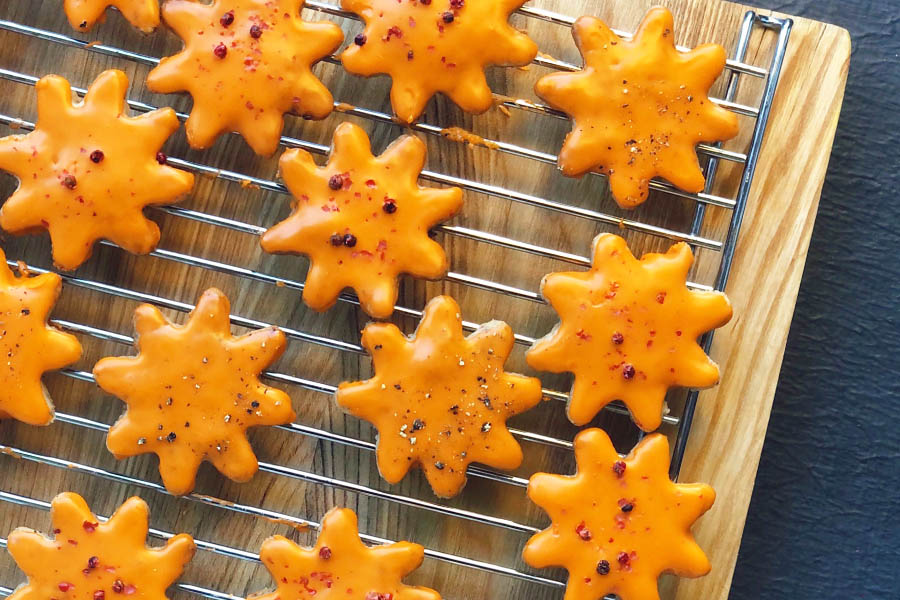 Ingredients
Icing
1 cup powdered sugar
1-1/2 tablespoons water
1 drop of food coloring
1 teaspoon corn syrup
pink peppercorn, crushed, for decorating the top
Instructions
Preheat oven to 325 degrees.
Cream butter, spices, salt and sugar together. Add flour, and mix well. Pat into a shortbread mold and bake for about 20 minutes, until the top begins to brown. Cut or break apart short bread once baked.
Rolled Method
If you want to use cookie cutters, wrap dough in plastic and refrigerate for 20 minutes. Roll out, cut into desired shapes and bake on a parchment lined cookie sheet for about 10 minutes - you want them to be golden brown on top.
When done, remove from pan and let them cool on a rack.
Icing
Mix all of the ingredients in a bowl with a whisk until smooth. Drizzle, dip or spread icing on cookies. Lay cookies on cooling rack until dry. Sprinkle with crushed pink peppercorns.
© 2023 World Spice Merchants https://www.worldspice.com