Sumac Cauliflower Steak with El Greco Spelt Salad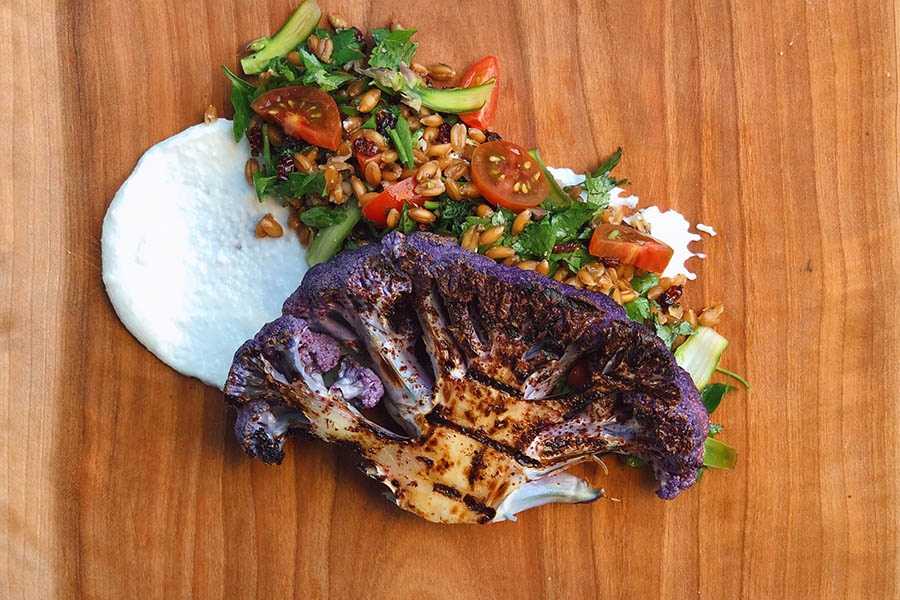 Crusted with sumac and Alderwood smoked salt, this cauliflower steak is a healthy vegetarian entree full of texture and color. The dish is inspired by Mediterranean flavors that compliment summer vegetables, and it's accompanied by a hearty spelt grain salad tossed in El Greco Citronette. The salad has orange and lemon juice for acidity and garden herbs like oregano and basil. To finish the dish, we sprinkled on some barberries for tart and chewy sweetness, although dried cranberries would be delicious, too. This dish makes you feel like you're eating the rainbow!
Ingredients
For the Cauliflower Steak
For the Salad
1 cup cooked spelt grain or farro
3 thick asparagus, sliced with a peeler
1 cup flat leaf parsley, chopped
2 cups cherry tomatoes, cut in half
1/4 cup barberries or dried cranberries
1/2 teaspoon Kosher Salt
2 tablespoons El Greco Citronette
3 tablespoons Greek yogurt
Instructions
Trim the leaves and stem off of the head of cauliflower, making sure to keep the core intact.
Cut 1-1/2-inch slices, right in the middle of the cauliflower head. Try to get the stem in each slice, as that will keep all the florets together while grilling. Save the rest of the cauliflower for another use.
In a small bowl add the sumac, black pepper, Alderwood smoked salt and vegetable oil. Give it a stir and brush all over each cauliflower steak.
Lay the steaks on the hottest part of your grill. Let cook for 3 minutes and then move a quarter of the way to create grill marks. Wait 2 more minutes and flip carefully using a spatula. Cauliflower steaks will become more fragile as they cook, so the less they're handled the better. Move the steak to a cooler part of your grill and cook for another 10-12 minutes or until tender.
In a medium sized bowl, combine cooked spelt, sliced asparagus, chopped parsley, halved cherry tomatoes, barberries or dried cranberries and citronette, tossing until well mixed.
For plating, spoon drag the Greek yogurt on the bottom of the plate and make a pile of the salad. Garnish with the cauliflower steak and enjoy.
© 2023 World Spice Merchants https://www.worldspice.com