Vegan Richa's Mushroom Bourguignon with Potato-Cauliflower Mash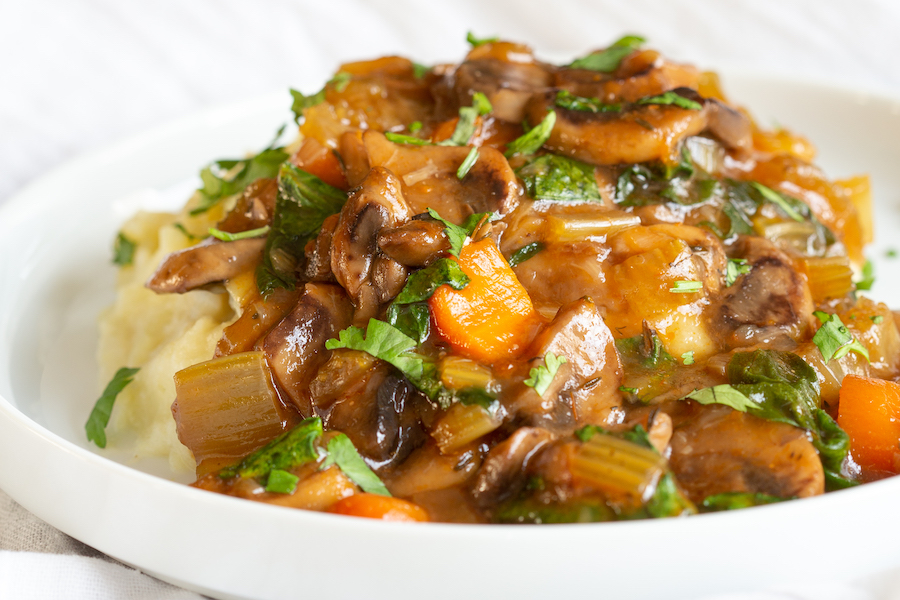 Our friend Richa Hingle is a genius. She came up with a popular vegan bourguignon that is savory, hearty, and EASY! Like throw it all together in the Instant Pot in 30 minutes-easy! Sometimes we can be intimidated by vegan cooking, especially for those of us who are used to the meat and potatoes we grew up on. This recipe proves that vegan adaptations can taste even better than their traditional counterparts.
Classic flavors like rosemary, red wine, onion, and thyme give the sauce an all familiar bourguignon treatment while hearty and tender mushrooms elude their earthy richness. Plate on a bed of mashed cauliflower-potato with just a touch of cracked black pepper and rosemary for your ultimate satisfaction. In the end, you've got the perfect dish to make you rethink what vegan tastes like.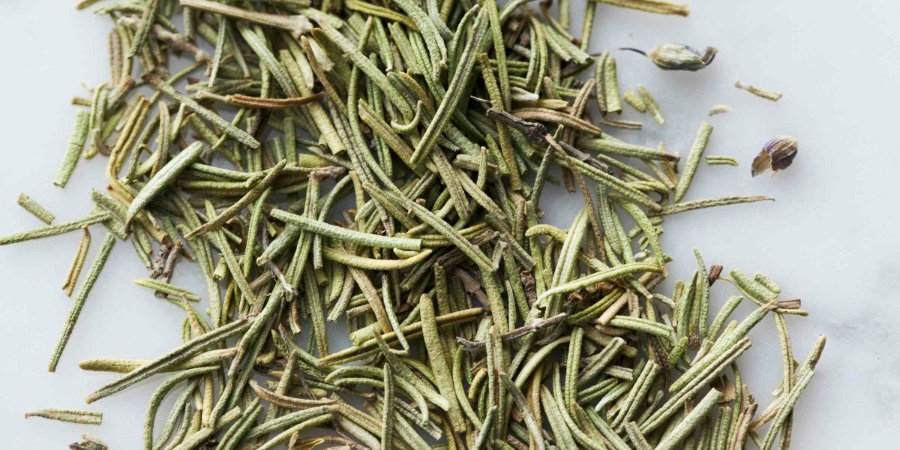 Ingredients
Mushroom Bourguignon
2 teaspoons safflower or sunflower oil
10 ounces (280 g) mushrooms (white or cremini, or a combination), sliced (about 4 cups)
1/2 medium-sized onion, chopped (about 3/4 cup [120 g])
4 garlic cloves, chopped (about 2 teaspoons)
1/2 teaspoon salt (less if using salted stock)
1 tablespoon water, if needed
1/4 cup (60 ml) red wine, brandy, whiskey, or vegetable stock
4 small celery stalks, chopped (about 1 cup [100 g])
1 large carrot, chopped (about 3/4 cup [75 g])
1 tablespoon chopped fresh thyme, or 3/4 teaspoon dried
1/4 teaspoon garlic powder
1/2 cup (120 ml) vegetable stock or water
1 tablespoon soy sauce, tamari (for gluten-free), or coconut aminos (for soy-free)
2 teaspoons tomato paste
1 bay leaf (optional)
1/2 teaspoon dried rosemary (optional)
1 tablespoon cornstarch or arrowroot starch mixed with 3 tablespoons water
1 cup (30 g) spinach or baby kale
Potato-Cauliflower Mash
2 cups (340 g) cubed potato (about 1 large potato)
1 heaping cup (100 g) cauliflower florets
2 to 4 tablespoons nondairy milk
1 tablespoon olive oil
1/4 teaspoon garlic powder
1/4 teaspoon salt
Freshly ground black pepper
Garnishes
Instructions
For the bourguignon, preheat the Instant Pot by selecting the Sauté setting. Heat the oil in the preheated pot for a few seconds, then add the mushrooms, onion, garlic, and 1/4 teaspoon of the salt and mix. Cook until the mushrooms turn golden on some edges, for 3 to 4 minutes. Add a tablespoon of water if browning too quickly. Add the wine and mix well for a few seconds to cook out the alcohol.
Add the celery, carrot, thyme, and garlic powder and mix well. Add the stock, soy sauce, tomato paste, and another 1/4 teaspoon of salt (unless using salted stock) and mix. Select the Cancel setting. Add the bay leaf and rosemary, if using.
For the mash, place a steamer basket over the mushroom mixture and put the potato and cauliflower in the basket. Lock the lid into place, set the Pressure Release Knob to Sealing, select the Pressure Cook/Manual setting at high pressure, and set the cook time to 10 minutes.
Once the cooking cycle is done, let the pressure release naturally. Open the lid and use silicone mini mitts to carefully remove the steamer basket, setting it aside.
Select the Sauté setting, add the cornstarch mixture to the Instant Pot, and mix. Then add the spinach and mix. Bring the mixture to a boil to thicken, stirring occasionally, about 2 minutes. Select the Cancel setting. Taste for seasoning, adjusting if needed.
Transfer the steamed potato and cauliflower to a bowl and coarsely mash them. Add 2 tablespoons of nondairy milk with the olive oil, the herbs if using, garlic powder, salt, and pepper. Mash well to your preferred consistency, adding more nondairy milk, if needed.
Serve the potato-cauliflower mash layered with the mushroom bourguignon. Garnish with some fresh thyme and black pepper.
Notes
- The trick to cooking great mushrooms in the Instant Pot is using less liquid, which allows the mushrooms to get roasted as well as cooked under pressure. Too much liquid hampers the roasting process -- and the overall flavor!
- You can add more vegetable stock later while simmering after pressure cooking It is okay if some of the liquid from the mushrooms travels into the steamer.
- If doubling, increase the pressure cook time by 2 minutes.
Variations 
-Change up the fresh herbs for variation; try parsley or oregano.
For additional protein, add 1/2 to 1 cup (90 to 180 g) of cooked white beans to the potato and mash. You can also add 1 cup (180 g) of cooked beans or 1 cup (198 g) of cooked lentils to the cooked mushrooms and simmer for 5 minutes.
- to thicken: Instead of cornstarch, you can add 2 to 3 tablespoons of the mashed potato mixture
© 2023 World Spice Merchants https://www.worldspice.com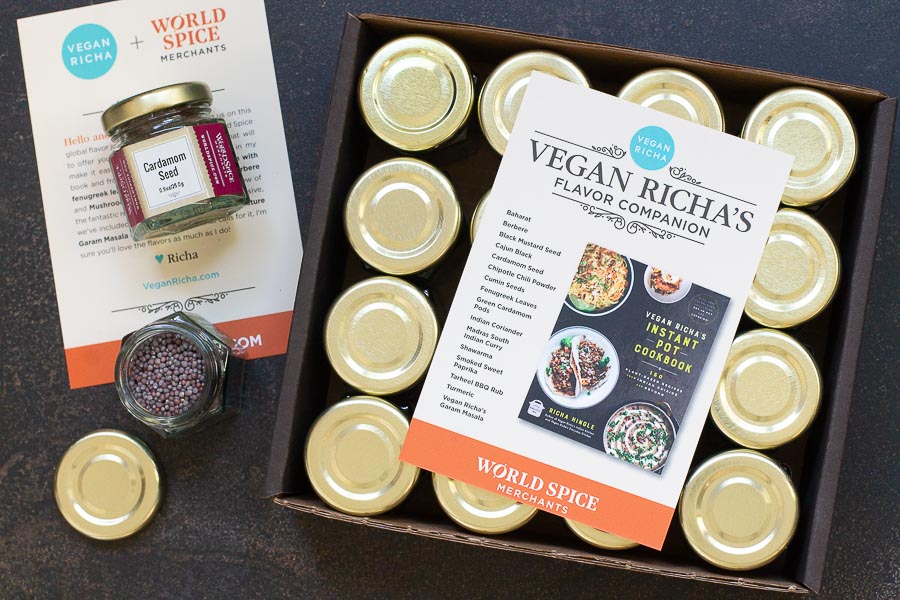 We've teamed up with Vegan Richa to create a custom Flavor Companion gift set! 16 of Richa's favorite spices and flavors are bundled up for the perfect spice ensemble. These flavors are found all throughout her brand new book, Vegan Richa's Instant Pot Cookbook. Check it out bundled with the new Flavor Companion.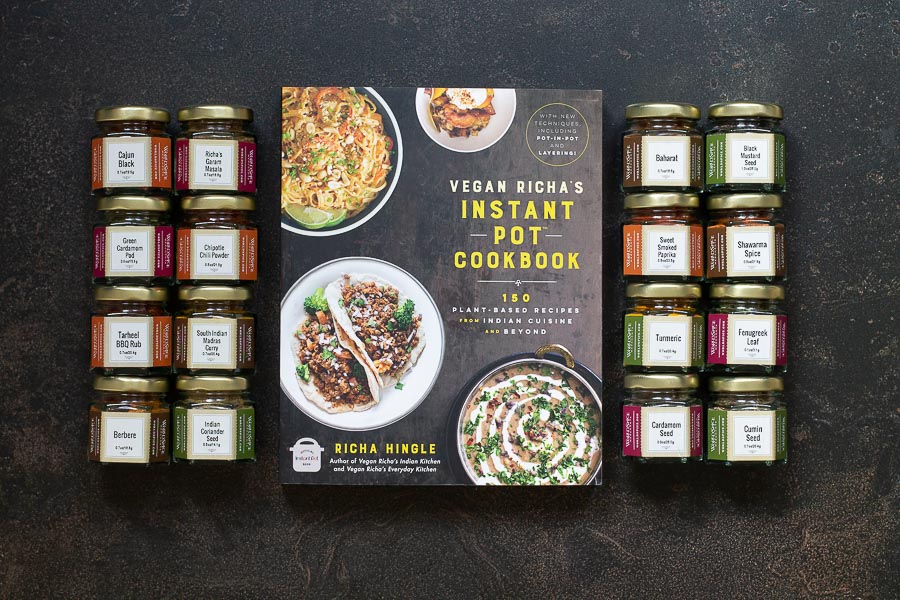 "Hi, I am Richa.  I am the award winning recipe developer, blogger, and photographer behind VeganRicha.com. My instructions are easy to follow and step-by-step photographs welcome the uninitiated into their kitchen as vouched by millions of readers. I love to show people how easy it is to cook vegan Indian and other cuisines. I have been featured on Oprah.com, Huffington Post, Glamour, Babble, VegNews.com, Rediff.com (top 50 Indian food blogs), TheKitchn, Cosmopolitan, BuzzFeed, and many more. My first book Vegan Richa's Indian Kitchen, about easy and delicious Indian Vegan recipes, is in stores and is a #1 Best Seller on Amazon. I live in Seattle. The cookbook was Top Cookbooks 2015 by Vegetarian times and in Peta's Must have 7 Cookbooks. My second cookbook Vegan Richa's Everyday Kitchen is available everywhere as well."