Voodoo Shrimp and Grits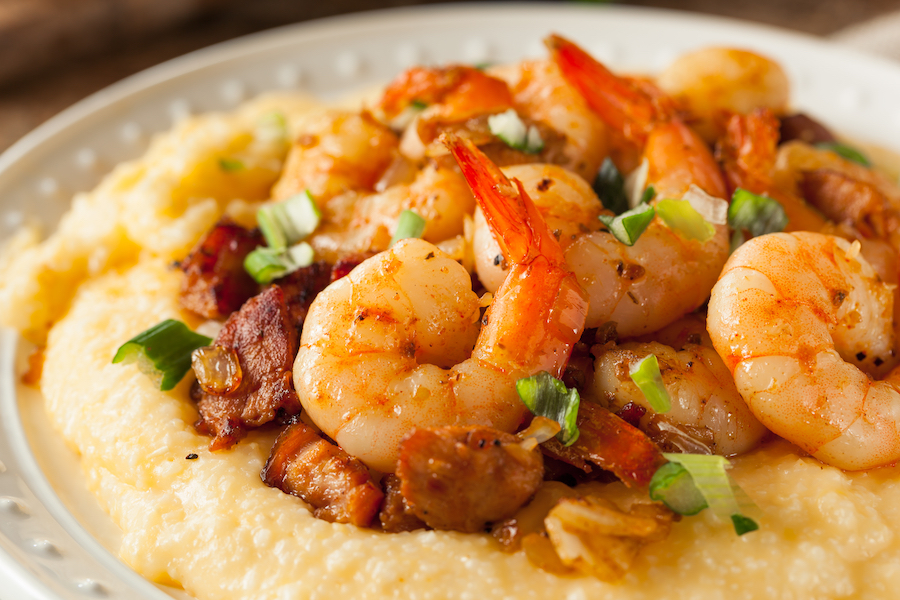 Have you ever eaten something so good that it induces a trance? Well, check out our Voodoo Shrimp and Grits. This classic dish features our all-star spice blend Voodoo, a robust seasoning which includes onion, garlic, whole mustard seeds, thyme and allspice on a base of peppercorns and sea salts. We are excited to share Voodoo Shrimp and Grits just in time for Mardis Gras. French for Fat Tuesday, Mardi Gras refers to the practice of the last night of eating richer, fatty foods before the ritual fasting of the Lenten season. With no shortage of richness, this recipe could be the inspiration for your own Mardi Gras ritual.
Ingredients
For the Grits
For the Sauce
2 tablespoons vegetable oil
2 andouille sausages
1 medium sweet onion, chopped
1 red pepper, chopped
1 clove garlic, minced
1 teaspoon dulce pimenton
1/4 teaspoon thyme
1/2 teaspoon Mexican oregano
1 1/2 cups fish stock or shrimp stock made from reserved shells
1/3 cup heavy cream
1 1/2 pounds fresh medium shrimp, peeled and deveined
Voodoo, to taste
Instructions
For the Grits:
Put water in a large pot and bring to a rolling boil. Add salt and slowly sprinkle in grits while stirring with a wooden spoon, then add the half-and-half and return to a simmer.
Cook the grits slowly, over low heat for 30-40 minutes until most of the liquid has been absorbed. Stir in butter, Tellicherry black pepper and Voodoo. Continue to cook grits until they are smooth and creamy.
Hold covered, in a warm spot, while you finish preparing the shrimp and sauce.
For the Sauce:
In a heavy saucepan, heat 1 tablespoon of the oil over medium heat and brown the andouille sausage. Once the sausage begins to brown, about 3-4 minutes, remove from pan and set aside.
Season both sides of the shrimp with a sprinkle of Voodoo and sear over medium high heat for about a minute on each side, working in batches to not crowd the pan. Remove from pan and set aside.
Add the remaining 1 tablespoon of oil to pan. Add cooked sausage onion, pepper, garlic and spices. Sauté for 3 minutes, until the onion is tender and translucent.
Add stock and bring to boil, gently scrape the bottom of the pan to remove any flavorful bits on the bottom of the pan. Reduce heat and slowly add the cream.
Bring up to a simmer and allow to reduce until sauce begins to thicken slightly, about 10 minutes.
Once thickened, add seared shrimp and simmer until the shrimp are just cooked, about 2-3 minutes.
When the sauce is finished, rewarm the grits and serve in a shallow bowl with the sauce spooned over the grits. Finish with Voodoo to taste.
© 2023 World Spice Merchants https://www.worldspice.com