Allspice Mushroom Medley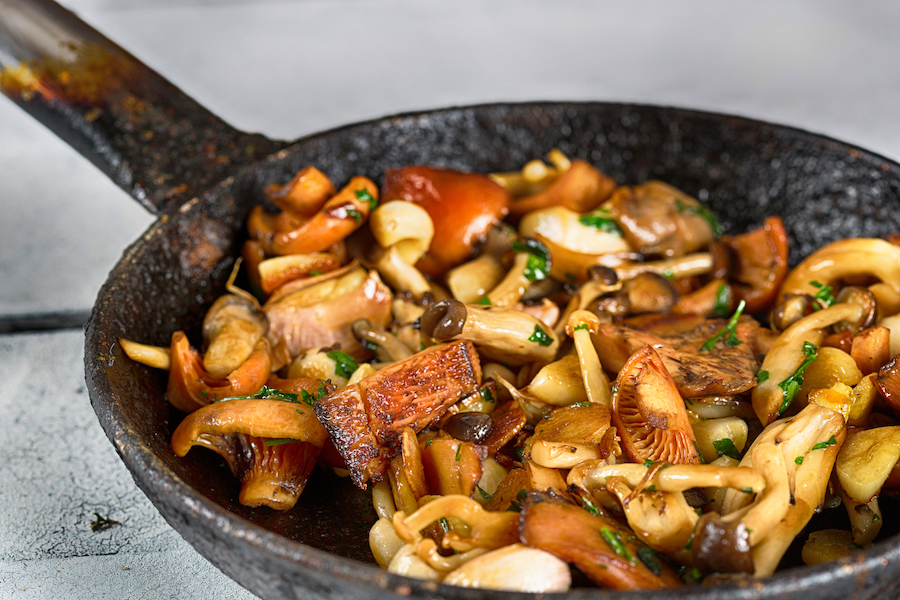 Use allspice in savory sides and discover a whole new world of flavor possibilities. A simple mushroom medley transforms into a spice bazaar with this one simple addition. Allspice is an all in one spice. It has warm, sweet notes of cinnamon and nutmeg and zingy notes of ginger and clove. These play wonderfully with the woodsy flavor of the mushrooms. Here we've used a few different mushrooms for contrast in texture and flavor including local chanterelles and lobster mushrooms but the flavors shine with any combination. Try crimini, shiitake, portobello or your local favorite. The amount of allspice used in this recipe is generous and flavorful, a traditional measure in Mediterranean and Middle Eastern cuisine.  This flavorful medley is wonderful on a steak, makes an exotic holiday side dish or appetizer on toast.
Ingredients
1 1/2 pounds mixed mushrooms, roughly chopped
1 tablespoon olive oil
1 1/2 tablespoons butter, divided
1 1/2 teaspoons ground Jamaican allspice
1/2 teaspoon black pepper
1 teaspoon Kosher salt
1 small shallot, minced
2 garlic cloves, minced
2 tablespoons dry white wine
1 tablespoon butter
Garnish
Instructions
Preheat a medium saute pan on medium-high heat. Add the olive oil and 1 tablespoon of butter. Heat until the butter is melted then add the mushrooms. Cook 2-4 minutes, stirring only occasionally, so they become lightly golden brown.
Next add the shallot, garlic and spices. Saute until the shallot is soft and fragrant, 2-4 minutes more.
When the mushrooms are tender and cooked through, deglaze the pan with the white wine and finish with chopped parsley and an additional dab of butter.
Serve hot as a side or on toast.
© 2023 World Spice Merchants https://www.worldspice.com