Sumac Strawberries with Jasmine Pearl Pound Cake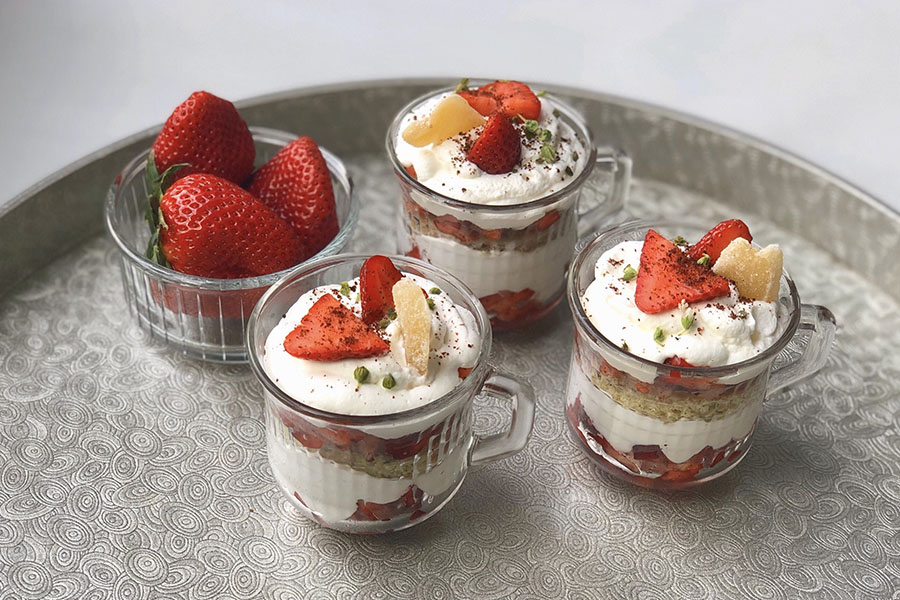 In college, a friend from Azerbaijan first introduced me to Sumac. The deep reddish-purple spice is sour and bright, and makes for a beautiful garnish. Ever since then, I've always thought of it as a curious and versatile alternative to lemon.
That substitution takes center stage in this luscious summer desert. Sumac and strawberries make an excellent flavor pairing, with the tartness of the spice balancing the berries. As a subtle twist, we added the delicate floral taste of Jasmine Pearl green tea to the syrup and cake batter. The tea adds some complexity to the dish, and scents your whole house with a flowery aroma as a bonus. For no mess plating we dished these up like a trifle, to display the beautiful layers.
Ingredients
Pound Cake
1 cup (2 sticks) unsalted butter, softened
1-3/4 cup sugar
3 whole eggs
3 egg yolks
2 tablespoons Jasmine Pearl Tea, ground
1 teaspoon salt
1-3/4 cups all-purpose flour
Macerated Strawberries
1/4 cup sugar
1/4 cup hot water
3 cups diced strawberries
1-1/2 tablespoons sumac
2 cups whipped cream
Candied ginger for garnish
Instructions
Pound Cake
Preheat the oven to 350 degrees. Pan spray a sheet pan and line with parchment paper, then set aside.
Put the softened butter in a mixer bowl and beat until creamy. Add the sugar and whip until light and fluffy.
On medium-high speed, add the eggs one at a time, mixing well after each addition. Next slowly add the egg yolks, tea and salt, scraping down the sides of the bowl, as needed. The mixture should a pale yellow color.
On low speed, slowly add in the flour, about a quarter cup at a time until incorporated, then beat for 1 minute.
Pour the batter into the prepared sheet pan and spread evenly. Bake for 20-25 minutes.
Test the cake with a toothpick in the center. If it comes out clean it's ready. Don't over bake the cake or it will be dry - you want it to be blonde in color. Allow to cool for an hour.
Using a ring mold, cut the cake to whatever size cup you have. Save the cake scrapes, as they can easily be crumbled into the layers of the trifle.
Macerated Strawberries
In a cup, add the sugar and hot water and stir until the sugar is dissolved, then add the tea and steep for 4 minutes. Strain the tea leaves and add the syrup to a medium-sized bowl.
Add the strawberries and sumac and toss. Refrigerate while cake bakes and cools.
Assembly
Line up the cups and fill each layer like an assembly line. One layer of strawberries, whipped cream, cake and repeat. Garnish with strawberries, sumac and candied ginger.
© 2023 World Spice Merchants https://www.worldspice.com