Advieh-Spiced Persian Meatballs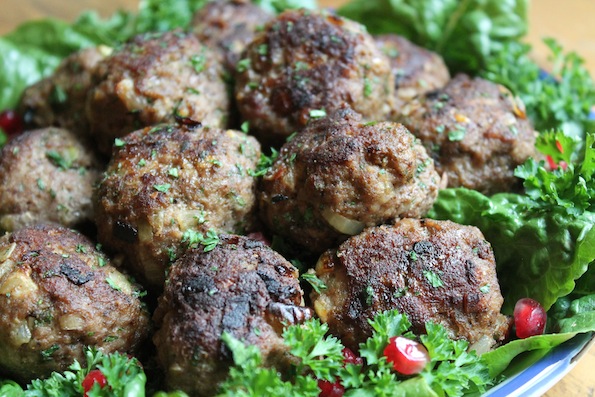 Lamb is the perfect pairing for our version of the signature Persian spice blend, Advieh, and this easy meatball recipe will have a flavor feast on your table in no time. You can serve them on a bed of greens, over grains, as a sandwich or a wrap. Garnish with feta, mint, parsley, and pomegranate seeds and complement with a tangy sumac salad dressing or a mellow creamy tzatziki.  Fabulous! Our version uses Panko bread crumbs as the binder, but for a gluten free option you could use lentils, quinoa, or gluten free bread crumbs.
Ingredients
1 pound lean ground lamb
2 tablespoons olive oil, divided
½ red onion, finely chopped
4 garlic cloves, minced
1 tablespoon chopped parsley
½ tablespoon chopped mint
1 egg
1 teaspoon black lava flake salt
½ teaspoon ground black pepper
1 teaspooon sumac
1 tablespoon ground Advieh
¼ cup Panko bread crumbs
Instructions
Preheat oven to 375 degrees.
In a small skillet, add one tablespoon olive oil and saute the onion and garlic over medium heat until softened, set aside.
In a large bowl, whisk the egg, and then add the remaining ingredients along with the sautéed onion and garlic and mix well.
Form the meat mixture into golf-ball sized meatballs.
Pour 1 tablespoon of oil into a shallow Dutch oven or cast iron skillet and heat to medium. Add the meatballs and sear them, turning once, 1-2 minutes per side. Work in small batches until all the meatballs are seared. Then put all the meatballs back in the pan.
Place the pan in the oven and cook 10-15 minutes until meatballs are cooked through.
© 2023 World Spice Merchants https://www.worldspice.com