Tagged With:
Advieh
Lamb is the perfect pairing for our version of the signature Persian spice blend, Advieh, and this easy meatball recipe will have a flavor feast on your table in no time. You can serve them on a bed of greens, over grains or as a sandwich or as a wrap. Garnish with feta, mint, parsley, and pomegranate seeds and complement with a tangy sumac salad dressing or a mellow creamy tzatziki.  Fabulous! Our version uses Panko bread crumbs as the binder, but for a gluten free option you could use lentils, quinoa, or gluten free bread crumbs.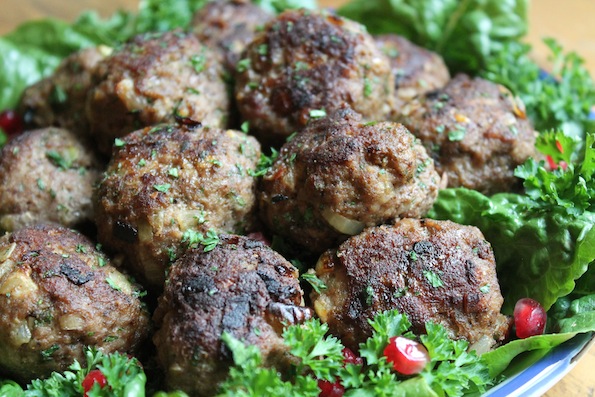 Advieh-Spiced Persian Meatballs
Ingredients
1 pound lean ground lamb
2 tablespoons olive oil, divided
½ red onion, finely chopped
4 garlic cloves, minced
1 tablespoon chopped parsley
½ tablespoon chopped mint
1 egg
1 teaspoon Murray River flake salt
½ teaspoon ground Lampong black peppercorns
1 teaspooon sumac
1 tablespoon ground Advieh
¼ cup Panko bread crumbs
Instructions
Preheat oven to 375 degrees.
In a small skillet, add one tablespoon olive oil and saute the onion and garlic over medium heat until softened, set aside.
In a large bowl, whisk the egg, and then add the remaining ingredients along with the sautéed onion and garlic and mix well.
Form the meat mixture into golf-ball sized meatballs.
Pour 1 tablespoon of oil into a shallow Dutch oven or cast iron skillet and heat to medium. Add the meatballs and sear them, turning once, 1-2 minutes per side. Work in small batches until all the meatballs are seared. Then put all the meatballs back in the pan.
Place the pan in the oven and cook 10-15 minutes until meatballs are cooked through.
https://www.silkroaddiary.com/advieh-spiced-persian-meatballs/
World Spice Merchants https://www.worldspice.com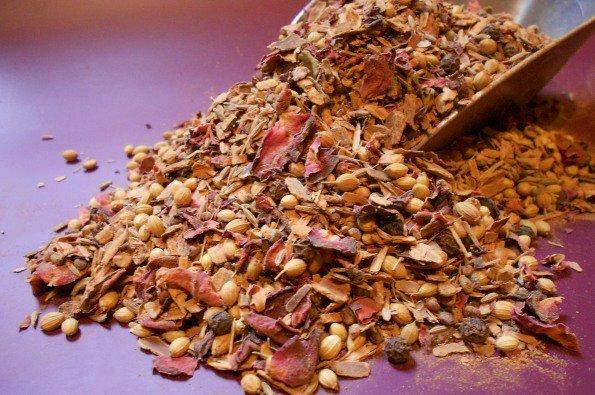 Persian and Iranian cuisines are some of the world's most venerable, loved for centuries for the same reasons that Mediterranean and Indian cuisines are so popular in the western world today. Dishes effortlessly combine sweet and savory, with warm, toasted spices, nuts, and dried fruits alongside lamb and braised poultry.
Much as garam masala is essential to Indian cuisine, Advieh is essential to the cuisine of Persia and Iran. Our latest blend creation is a version of this key ingredient–  an exotic combination of multiple varietals of sweet cinnamon, cardamom seed, and roses, grounded by the earthiness of cumin and black peppercorn and finished with a bright pop of Indian coriander. We've already whipped up some delectable dishes with Advieh,  Persian-Spiced  Lamb Meatballs and these delicious Walnut Rosewater Wafers. Try one of those recipes or use it to season a roasted leg of lamb, traditional kebabs, or to perfume rice pilafs.