Allspice Panna Cotta
\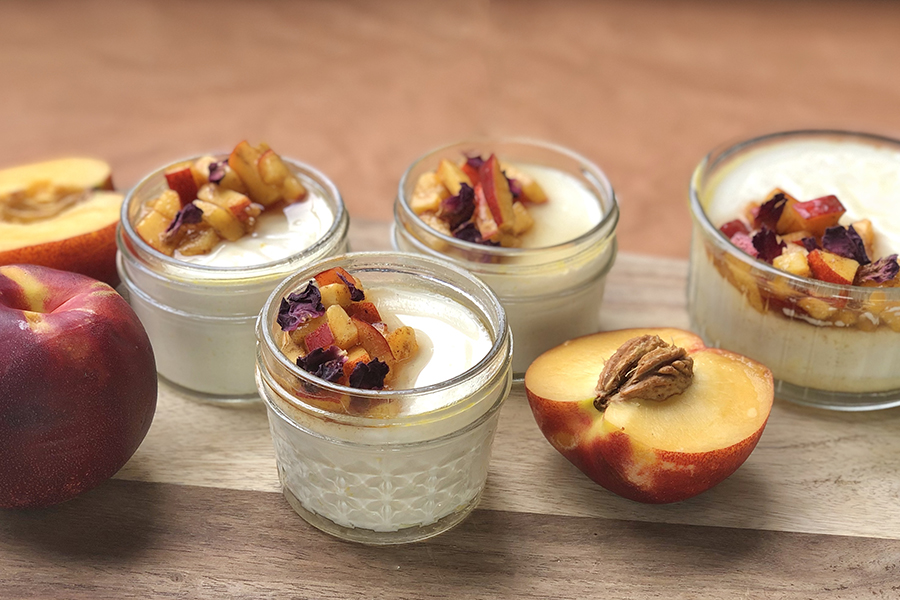 Panna cotta is delicate and not overly sweet, making it a perfect vehicle for showcasing rich and distinctive flavors. For a late summer dessert that pairs well with the bounty of seasonal fruit, we whipped up a batch of this Italian treat and infused it with allspice.
This little berry is a gem of a seasoning, layered with warm and complex flavors. Its taste evokes warm, familiar spices like cinnamon, clove and nutmeg, yet remains distinctly its own. Stone fruit like nectarines and cherries make excellent companions for allspice. They're rich and sweet, and make its bold flavors beam!
Ingredients
Panna Cotta
1-1/2 tablespoons water
Half of a quarter ounce package of unflavored gelatin
unflavored pan spray
1 cup whole milk
1 cup heavy cream
1/4 cup sugar
zest of half a lemon
2 teaspoons cracked Jamaican allspice berries
Garnish
2 nectarines or peaches, diced small
2 tablespoons honey
1 teaspoon Advieh
Instructions
Panna Cotta
To bloom gelatin, add 1-1/2 tablespoons of cold water and gelatin to a small bowl and stir. Set aside.
Lightly pan spray 4 ramekins or half-cup jars.
In a small saucepan, add the milk, heavy cream, sugar, lemon zest and cracked allspice.
Bring to a simmer and remove from heat. Let the mixture steep for ten minutes.
Pour one cup of the warm milk mixture into bloomed gelatin and stir until dissolved.
Pour back into into the remaining milk mixture and mix well.
Strain mixture through a chinoise, or other fine mesh strainer.
Fill ramekins and refrigerate for 5 hours or overnight.
Garnish
In a small bowl, toss the diced nectarines, honey and Advieh. Garnish each of the set panna cottas right before serving.
Notes
Feel free to substitute any stone fruit of your choice to garnish these panna cottas.
© 2023 World Spice Merchants https://www.worldspice.com