Advieh Baklava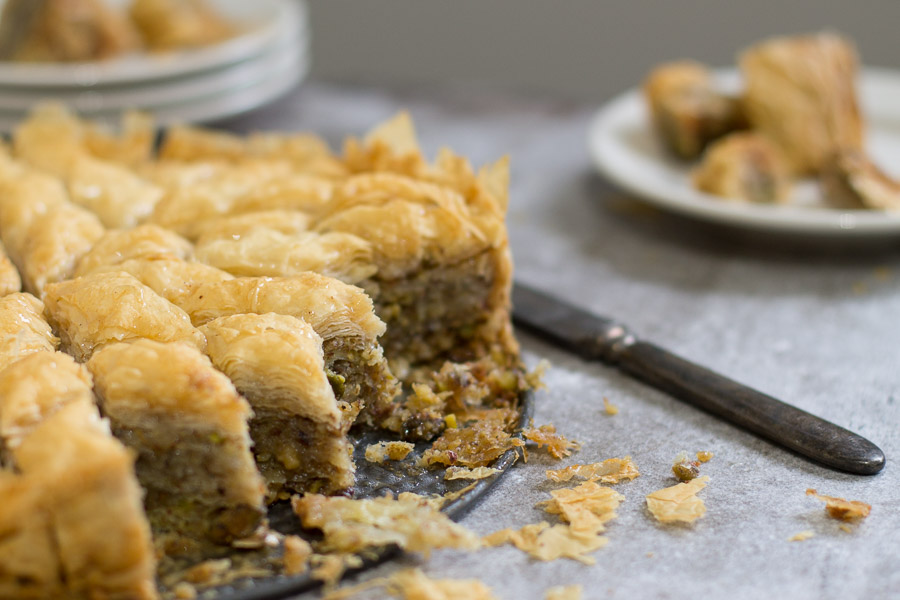 Baklava is wonderful in any and all forms, but for some of us, it can be too sweet. Sacrilege to sweet-tooth's everywhere, I know, but when we added our Advieh spice blend to the mix it came out juuuuuust right. It is still a very sweet pastry, but the spice blend combines hints of savory cumin and coriander with roses and true cinnamon to make a well rounded flavor that complements the nuts and plays very well with the honey. Layered in a springform pan and allowed to set overnight, this dazzling dessert is as beautiful as it is delicious.
Ingredients
1 16 oz. package phylloh dough
1 1/2 cups pistachio nuts
1 1/2 cups chopped walnuts
1 cup chopped hazelnuts
1 cup unsalted butter
2 teaspoons ground Advieh
1 cup water
1 cup sugar
1/2 cup honey
Instructions
Preheat the oven to 350 degrees.
Butter the sides and bottom of a 9" Springform pan and then melt the remaining butter.
In a medium bowl combine the chopped nuts with 1 teaspoon of the Advieh and set aside.
To begin building the baklava, unroll the phylloh dough and cut the stack of sheets in half. Immediately cover it with a damp cloth to prevent it from drying out. Return the damp cloth to the phylloh in between each use.
Place two sheets of dough on the bottom of the pan, trimming corners as needed, and brush with melted butter. repeat 4 times until you have 8 sheets laid as a base with butter between every two layers.
Add a thin layer of nuts, followed by 2 sheets of phylloh dough topped with butter. Repeat the layers until the baklavah is built nearly to the top of the pan.
To finish, add a final 8 sheets of phylloh to the top, brushing butter between every 2 sheets.
Using a sharp knife, cut the baklavah into the pattern of your choice, making sure to score all the way to the bottom of the dish.
Bake 45-50 minutes until the baklava is golden on top.
Wile the baklava is baking, make the syrup. Combine sugar and water in a heavy bottomed pan and heat until the sugar is melted. Add the honey and remaining teaspoon of Advieh. Simmer over very low heat for 10-15 minutes.
As soon as the baklava comes out of the oven, drizzle with the syrup. Allow to cool completely before serving.
Notes
You can substitute your favorite nuts for the ones we chose, and switch up the spices! Cinnamon works well by itself or try Ras el Hanout for another exotic sweet-savory flavor.
© 2021 World Spice Merchants https://www.worldspice.com