Advieh Date Bars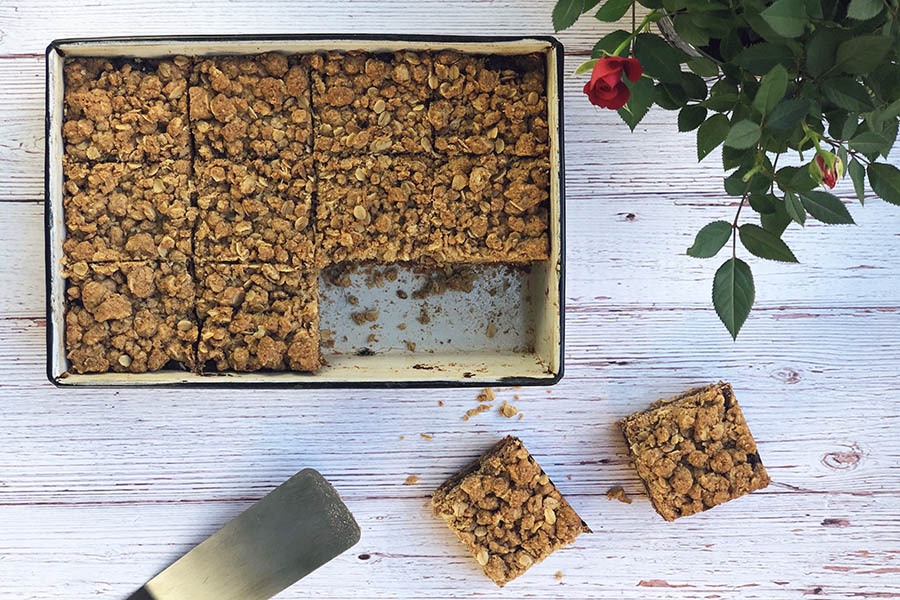 Dates deserve more credit! They have a rich, fruity taste, similar to a raisin, with a honey or caramel sweetness. It's a versatile flavor, making them fantastic in all sorts of food. Growing up, I loved the date bars my mother would make from a mix she found at the grocery store. That mix hasn't been available for a long time, but I acquired a recipe from a coworker, years later, that makes an excellent substitute.Of course, we couldn't resist giving it a few tweaks…
Dates are common throughout Northern Africa and the Middle East, and feature heavily in local cuisines as both a standalone snack and an ingredient in sweet or savory dishes. We seasoned these date bars with the Advieh, a Persian spice blend. With a blend of cassia and true cinnamon, cardamom, coriander, and roses, it's an ideal mix to add depth to the natural flavor of the dates. We went light on added sugar for this recipe, letting the natural sweetness of the dates do the heavy lifting. It's a good thing, too, since you won't feel guilty for eating two!
Ingredients
Dough
1 cup butter, softened
1-3/4 cups rolled oats, or flaked whole grain hot cereal mix.
1-3/4 cups all-purpose flour
1 teaspoon baking soda
1 cup brown sugar
1 tablespoon Advieh
1/4 teaspoon salt
Filling
18 dates, pitted and cut up
1/3 cup sugar
1/2 cup water
1 teaspoon vanilla extract (or scrape the insides of one vanilla bean
Instructions
In a small saucepan, cook date mixture on medium high, stirring and crushing while boiling until dates are soft, about 10 minutes. Remove from heat and add vanilla, mixing well.
Preheat oven to 350 degrees and butter or spray a 9x9 pan.
Mix dry ingredients with butter, until well mixed. Spread half into prepared pan. Spread filling over it, then crumble the rest of oat mixture over filling.
Bake until light golden brown, about 30 minutes. Let cool, then cut into squares.
Notes
Can also substitute half of the butter with coconut oil, and half of the sugar in the dough with coconut sugar. With this version, also substituted coconut sugar for the white sugar in the date filling. Can also substitute wheat, spelt or rye flour for some of the flour in the recipe.
© 2023 World Spice Merchants https://www.worldspice.com